Temple transfer Anthony Lee is a one-year stop-gap for the Buckeyes, who are still in dire need of frontcourt depth going forward. 
Lee, Amir Williams and Trey McDonald will all be seniors in the 2014-15 season, and Dave Bell is the only big man in the incoming freshman class. In Thad Matta and his staff's search for more, the latest name is another transfer – Virginia Tech's Trevor Thompson.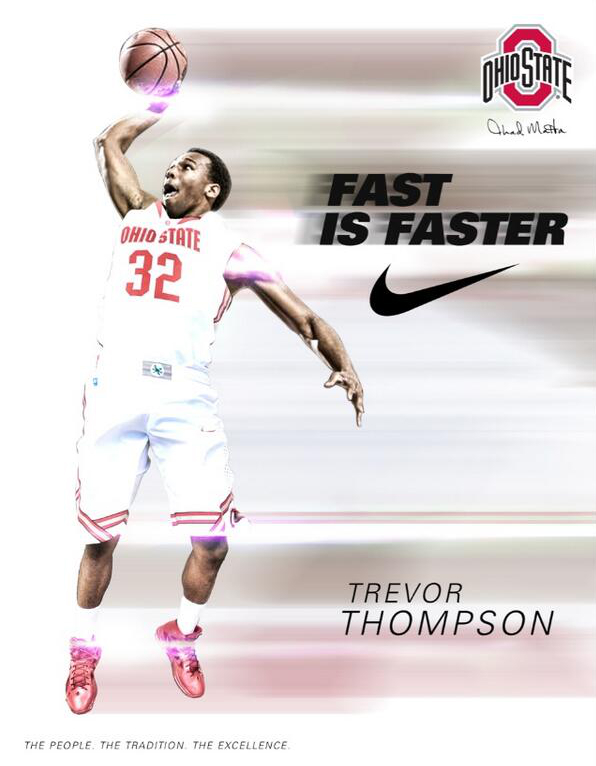 The Indianapolis native is looking to return closer to home after stints in Blacksburg, Va. and at St. John's Northwestern Military Academy (Delafield, Wis.). With interest from OSU, Indiana, Purdue and Butler, among others, he can develop within a solid basketball program, as well. Thompson was not heavily recruited, but Mark Berman, who covers the Hokies for the Roanoke Times, believes Thompson's talent is more evident after one year at Virginia Tech. 
"Coaches probably see potential, see that he still has three years of eligibility left," Berman told Eleven Warriors. "They know that he will be spending a redshirt year in the weight room and believe his freshman season gives them a better sense of what he can do for them than high school big men still unsigned out there."
Unlike Lee, who will finish his undergrad at Temple, Thompson will have to sit out a year due to NCAA transfer rules. When he is eligible in the 2015-16 season, Thompson will be 21 years old and only a sophomore. By that time, he should be able to provide meaningful minutes.
"He's probably a year or two away from being a real force," said Mike Barber, the Virginia Tech beat writer for the Richmond Times-Dispatch. "He could certainly give some rebounding and defense off the bench as a transfer."
In his only season with the Hokies, Thompson played 16.2 minutes per game, averaging 5.0 points and 4.7 rebounds per game. His game against Duke was far from modest, unlike his season stats. Even though it was an 18-point loss, Thompson scored 15 points, had six rebounds and three steals. Much like other freshman, it was an up-and-down season, overall, for Thompson. 
"He got off to a fast start at Tech but then, kind of, hit the wall midseason," Barber said. "He came on again down the stretch and even improved his offensive game." 
The son of former MLB and Columbus Clippers outfielder Ryan Thompson, Trevor's true value lies within his athleticism, which is particularly evident on the defensive side. 
"He's a great rebounder, with tremendous ups and a nasty shot blocker," Barber said. "I don't know that he'd become a star in the Big Ten, but I do think, with his size and rim protecting ability, he can contribute."
Updates from the McDonald's All American Game

Incoming Buckeye freshman D'Angelo Russell is "Mr. Primetime" this week, appearing on ESPN more than Tim Tebow, LeBron James and manufactured debate.
Monday, after competing in the three-point contest, he made a cameo in the slam-dunk competition, helping out Kansas signee Kelly Oubre: 
According to Russell, he was on the phone with Thad Matta. 
Wednesday, Russell was in the starting lineup for the East in the McDonald's All American Game on ESPN. While it's difficult to glean anything from an all-star game, he did display some of the skills that made him a consensus five-star recruit. Russell hit a few jumpers and ran the floor well in playing on and off the ball. He ended up with 11 points and four assists. 
It's surprising he played 15 minutes considering he has a short turnaround for his next set of games. Tonight, at 6 p.m. EDT on ESPNU, he'll be in New York for the Dick's Sporting Goods High School National Tournament with No.1 seed Montverde (Fla.) Academy. 
The tournament will be on the ESPN family of networks throughout the weekend. If Montverde advances to the finals, you can see them play at Madison Square Garden, Saturday. 
Buckeye target Myles Turner was Russell's teammate on the McDonald's East squad. At the 1:48 mark of this video (via USA Today), you can see Russell's attempt to sell Turner on Ohio State: 
In an interview during the game, Turner said he'll make a decision following the Jordan Brand Classic, April 18. He has between April 16 and May 21, if he chooses to sign a National Letter of Intent. 
Slow(er) month of april

Even with Turner's commitment coming soon, coaches are entering a long stretch of dead or quiet periods in recruiting.
From April 3-10, it is a dead period, meaning no in-person evaluation or contact is allowed. Same goes for April 14-17. A short recruiting period occurs April 10-13 and the 18-23, but after that, coaches enter an extended quiet period from April 28-July 5 (a short evaluation period also occurs from April 25-27). In that over two-month timeframe, the only in-person contact or evaluation that can occur is on college campuses (for a more detailed explanation on the calendar, check out this link).
Not to be overshadowed by Turner, 2015 guard Franklin Howard will announce his college decision, April 14. Ohio State, along with Georgetown, Maryland, N.C. State, Syracuse and Virginia, are in the running. Eleven Warriors will have more coverage of Howard, as we get closer to his commitment date.