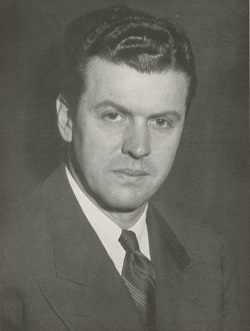 Ohio State On This Date is a weekly look at Ohio State's record on the date of each game day. Today, we delve into the Buckeyes' performance on October 23rd.
FIVE THINGS 10/23
This is the 19th time (14–3–1) Ohio State has played on October 23rd.
The first game played on 10/23 was 125 years ago. The Buckeyes were shutout to host Oberlin, 0-16, in 1896.
Ohio State's largest margin of victory on October 23rd was a 29-0 demolition of Denison in 1909. 
This will be the 15th straight time the Buckeyes have faced a conference opponent on this date. 
The last time Ohio State lost on the 23rd of October was 1943. Northwestern came to Columbus and blanked the Baby Bucks 13-0.
October 23rd, 1948 • Wisconsin • Ohio Stadium
The Buckeyes were back home to take on Wisconsin a week after dispatching Indiana following touchdowns from Jimmy Clark and Whisler. After four games, Fesler's 1948 team already scored more points than his '47 squad. 
Like Fesler, Wisconsin head coach Harry Stuhldreher also felt pressure to perform. In his 13th season with the Badgers, Stuhldreher carried a 44–58–6 career record into the matchup with Ohio State. With his team off to a 1–3 start, Stuhldreher knew he needed a victory against the Buckeyes.
The Badgers took a quick 12-0 lead over the host Buckeyes. It took a quarter, but Ohio State's offense found success through the air and erupted for 20 points in the second stanza. At halftime, the Buckeyes led 20-19.
Inspired by Stuhdreher's words, Wisconsin again led by 12 points in the third. Ohio State fought back but trailed 32-27 heading into the final quarter.
Not long into the fourth, Jerry Krall connected with Alex Verdova on a 4-yard touchdown pass. That proved to be enough for Ohio State to earn a much-needed 34-32 win. Pandel Savic, Krall and Verdova accounted for the five touchdown passes. 
The game was Ohio State's 500th overall, and the program carried a 313–151–36 record.
GAMES PLAYED ON OCT. 23rd

| YEAR | OHIO STATE'S RANK | OPPONENT | LOCATION | SCORE | B1G FINISH |
| --- | --- | --- | --- | --- | --- |
| 2010 | No. 11 | PURDUE | H | 49–0 | 1st |
| 2004 |   | INDIANA | H | 30–7 | 5th |
| 1999 | No. 22 | No. 24 MINNESOTA | A | 20–17 | 8th |
| 1993 | No. 3 | PURDUE | A | 45–24 | 1st |
| 1982 |   | INDIANA | A | 49–25 | 2nd |
| 1976 | No. 9 | PURDUE | H | 24–3 | 1st |
| 1971 | No. 12 | WISCONSIN | H | 31–6 | 3rd |
| 1965 |   | WISCONSIN | A | 20–10 | 2nd |
| 1954 | No. 4 | WISCONSIN | H | 31–14 | 1st |
| 1948 |   | WISCONSIN | H | 34–32 | 4th |
| 1943 |   | NORTHWESTERN | H | 0–13 | 7th |
| 1937 | No. 12 | NORTHWESTERN | H | 7–0 | 2nd |
| 1926 |   | IOWA | H | 23–6 | 3rd |
| 1920 |   | WISCONSIN | H | 13–7 | 1st |
| 1915 |   | WISCONSIN | A | 0–21 | 3rd |
| 1909 |   | DENISON | H | 29–0 |   |
| 1897 |   | OTTERBEIN | H | 12–12 |   |
| 1896 |   | OBERLIN | A | 0–16 |   |
OHIO STATE'S RECORD ON OCT. 23rd

|   | RECORD | WIN % | POINTS | AVG. SCORE |
| --- | --- | --- | --- | --- |
| OVERALL | 14–3–1 | .806 | 417–213 | 23–12 |
| HOME | 10–1–1 | .875 | 283–100 | 24–8 |
| AWAY | 4–2 | .667 | 134–113 | 22–19 |
RECORD AGAINST B1G OPPONENTS ON OCT. 23rd 

|   | RECORD | WIN & | POINTS | AVG. SCORE |
| --- | --- | --- | --- | --- |
| OVERALL | 13–1 | .929 | 376–164 | 27–12 |
| HOME | 9–1 | .900 | 242–88 | 24–9 |
| AWAY | 4–0 | 1.000 | 134–76 | 34–19 |
You Might Like
The Rundown: No. 5 Ohio State at Indiana
Stat Superlatives: Ohio State and Indiana
The Series History: Indiana