So I'm fairly certain we all know who Joey "The Toe" Julius is, right?!
Okay so for those of you who haven't been introduced, allow me: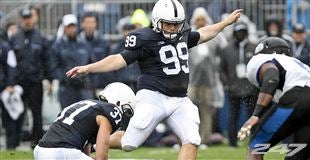 Joey was a member of the 2014 recruiting class at PSU. He redshirted his freshmen year but came out of the gates in 2015 with both barrels blazing and was selected to the BTN.com All-Freshman Team. In 2015, he appeared in 11 games…Led the Big Ten and was No. 21 nationally with an .833 field goal percentage. The kid can flat out kick people, take my word for it.
For a more in-depth look at Joey's past accomplishments and his recruitment, here's a link for the read.
Not to belittle his kicking ability and field goal accuracy but Joey is no slouch when it comes to covering his kickoffs either. He won't be the first man down but he'll be the last man to beat and you better hope he doesn't get a lock on you because when he makes contact, let's just say you probably won't soon forget the experience...
His tackling prowess was evidenced in week one of the 2016 college football season, as shown by this tweet from Brent Yarina @ BTN. Ole #99 for PSU can lay the wood so best grab your popcorn folks, this is about to get fun! Keep a close eye on #99...
The tackle of all Week 1 tackles, courtesy of mammoth PSU K Joey Julius. https://t.co/oPlDFvSbai
— Brent Yarina (@BTNBrentYarina) September 3, 2016
Now let's fast forward to Week 4 of the CFB season and Julius is up to his old tricks again...
College football's favorite heavy-set kicker was back at it again Saturday, delivering another monster tackle on Michigan return man Jourdan Lewis.
Now before you go feeling bad for Jourdan Lewis, let's peel the layers of this play back and see how it all unfolded.
We've all heard about Jabrill "The Clapper" Peppers and his out-of-body athletic ability where he can play linebacker, corner, safety, quarterback, running back, wide receiver, slot back, center, guard, tackle and placekicker.
What you may not have heard about Jabrill is his uncanny blocking ability and how he always comes up with a block to spring his fellow kick returner Jourdan Lewis on these big kick returns... and there's a reason why you haven't heard about it folks. It just doesn't happen. Look at Mr. All Pro Everything setup this play... for Penn State's Joey Julius none the less?!?
Grab one last handful of popped corn and make sure you're sitting down for this one folks!! Full disclaimer: this will take you to BR and their coverage of the events but it's worth the trip!!
Penn State Kicker Joey Julius Punishes Another Kickoff Returner https://t.co/bYe77bFWYE via @bleacherreport
— Andrew P Wagner (@sourkraut69) September 26, 2016
Did you see that block that Peppers layed on Julius?!? It happened pretty fast so take another look, it's easy to miss...
Want a more in-depth look at the play from Saturday, here's a link for more of this top notch entertainment, right at your fingertips.
Now don't feel bad, the 100K plus that filled the stadium up in Ann Arbor, Jabrill Peppers AND Jourdan Lewis both missed it too!!
Who's got it better than us, I guess that depends on who you ask, right?!?
It's Monday people and Michigan and their all-pro all-world all-century September Heisman ALL suck!!
Ain't it a GR8 time to be a Buckeye!!!!