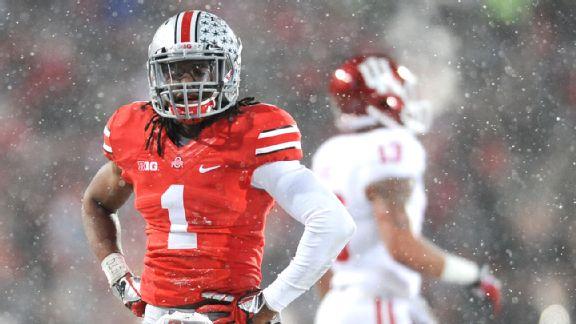 In the 2012 season Bradley Roby had an amazing year, recording 62 tackles, 17 passes broken up, 2 INTs (1 for a TD), 1 sack, and 1 punt block. He also earned All-American honors in 2012. As a red-shirt sophomore he gambled with jumping to the NFL or coming back for one more year to try and win a championship. The biggest worries for someone making that decision is always the "what ifs." Like "what if" he doesn't produce as well in 2013 as he did in 2012. Well now that the 2013 season is in the books...one has to wonder if deep down he feels he still made the right call.
I believe Roby had a good year. Special Teams he was fantastic, and even defensively he was not bad. He was not near the defender he was in 2012, but he was still the highlight of the secondary again this year. This year he recorded 69 tackles, 13 passes broken up, 3 INTs (1 for a TD), 2 punt blocks. So my question...amongst the best to play at Ohio State..where would you put him? Is he even able to be in the conversation as some of the greats?
Here's a few..
Shawn Springs ('93-'96)- After red-shirting as a freshman in 1993, Springs went on to start every game for Ohio State from 1994-1996. He may not have ever recorded an interception in his college career, but that was simply because opponents wisely chose not to test the Williamsburg, VA native. After recording 39 tackles and 15 pass breakups, Springs was named the Big Ten's Defensive Player of the Year in 1996. He was also named a first-team All-American that season, and was an All-Big Ten selection in his final two seasons in Columbus. Springs declared early for the 1997 NFL Draft.
Antonie Winfield ('95-'98)- A two-time All-American, you'd be hard-pressed to find a more accomplished defensive back in Ohio State history than Winfield. The Akron, Ohio native was named the Buckeyes' Most Valuable Player in 1997, when he led the team in tackles with 100. After returning to school for his senior season, Winfield became the first Ohio State player to win the Thorpe Award, which is presented annually to the country's top defensive back. Over the course of his college career, the two-time All-Big Ten selection tallied 278 tackles, including 224 solo stops, 22 tackles-for-loss, 29 pass break-ups and three interceptions.
Malcolm Jenkins ('05-'08)- Ohio State fans knew that they could expect a special career from Jenkins when the New Jersey native managed to crack the Buckeyes' cornerback rotation as a 17-year-old true freshman in 2005. A three-year starter during his time in Columbus, Jenkins was a part of four Big Ten championship teams, and started on two teams that made appearances in the BCS National Title Game (2006, 2007). A three-time first-team All-Big Ten selection, Jenkins was a two-time All-American (2007, 2008, and won the 2008 Thorpe Award. Over the course of his career, Jenkins tallied 196 tackles, including 13.5 for a loss, one sack, 11 interceptions, and 28 passes defended.
Chris Gamble ('01-'03)- Ohio State's 2002 National Championship likely wouldn't occurred without the versatility of Gamble, who started the season as a wide receiver, but finished the year as a two-way player and the Buckeyes' top cornerback. The Florida native started on both sides of the ball five times in 2002, recording four interceptions and several clutch plays during Ohio State's run to a perfect 14-0 record. In his junior season, Gamble primarily focused on defense, where he was named a first-team All-Big Ten selection at cornerback for the second consecutive season. During his time in Columbus, Gamble recorded 65 tackles, seven interceptions, and 21 pass deflections. He also caught 40 passes for 609 yards and rushed six times for 68 yards and a touchdown.
Thanks to Buckeyegrove.com for the following players.