Everything in this post should be taken in context of the schedule played so far. Iowa and Purdue have played only one conference game, everybody else only two.
| | | |
| --- | --- | --- |
| | week1 | week2 |
| ILL | OSU | @PSU |
| IND | Mich | @OSU |
| IOWA | PSU | |
| MICH | @IND | MSU |
| MSU | WIS | @Mich |
| MIN | NW | @WIS |
| NW | @MIN | PUR |
| OSU | @ILL | IND |
| PSU | @IOWA | ILL |
| PUR | | @NW |
| WIS | @MSU | MIN |
With that in mind here are the offensive yards per carry (YPC) and yards per attempt (YPA) from week 1.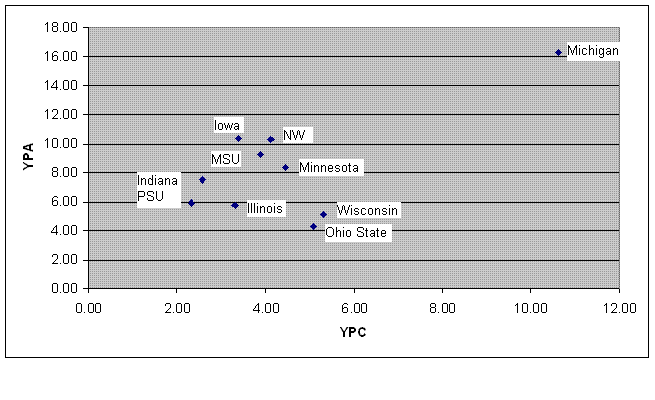 You can choose to believe that Indiana is really bad at defense or that Michigan is really good at offense, but the numbers from week one demand that you acknowledge one (or both) as reality.
As for the rest, Wisconsin and Ohio State can run without passing (though Ohio State's numbers rely on strained quad of TP). Iowa and Michigan State can throw without running (though Wisconsin and Penn State both had good run defenses last season so take this with a grain of salt).
Penn State is really bad at offense or Iowa is really good at defense.
After two weeks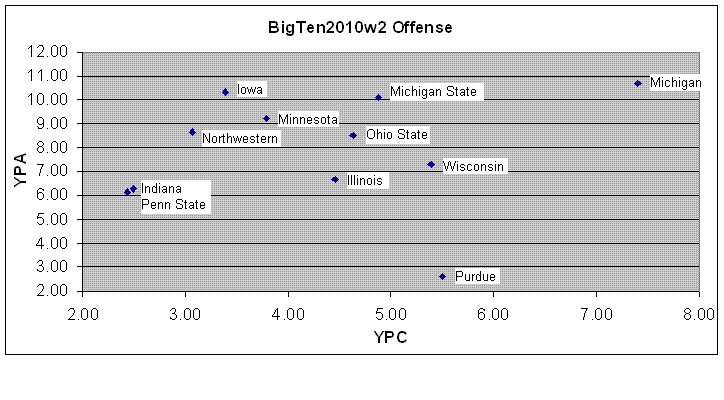 Michigan's offense comes back to the pack a little, though they are excellent. Purdue spent their only game running the ball 42 times on 60 plays against Northwestern, though at 5.5 yards per carry who can blame them. Indiana, Penn State and Northwestern have real problems running the football. Ohio State found their way to the middle by running well against Illinois and throwing well against Indiana.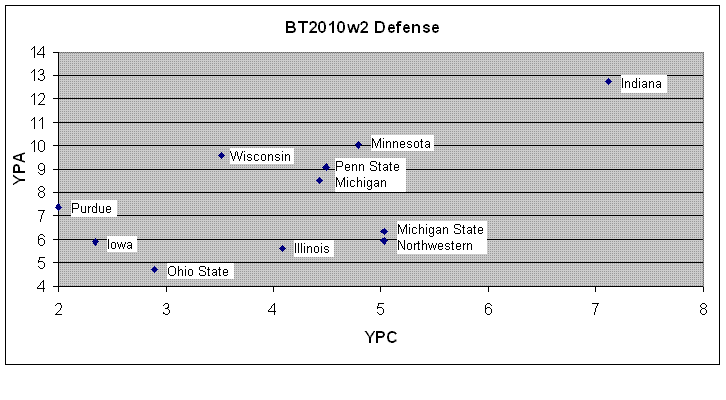 Indiana is horrible on defense, or maybe we should remember that their two games are against Heisman trophy candidates. Three defenses stick out, Purdue likely won't look good for long as their sole game is against Northwestern. Iowa has just one game against Penn State factored in and Ohio State has played Illinois and Indiana. If you look at 5 yards per carry and just over 6 yards per attempt you see two defenses that may travel in different directions as the schedule begins to even out. You likely could not face a stiffer test as a Big Ten rushing defense than facing Wisconsin and Michigan in back to back weeks. Both teams are effective running the football (5.4 ypc and 7.4 ypc in big ten play respectively) and do it with very different methods. Michigan State has faced them both, and walked away yielding 5 yards per carry.