Everything in this post should be taken in context of the schedule played so far.
| | | | |
| --- | --- | --- | --- |
| | week1 | week2 | week3 |
| ILL | OSU | @PSU | @MSU |
| IND | Mich | @OSU | |
| IOWA | PSU | | @Mich |
| MICH | @IND | MSU | IOWA |
| MSU | WIS | @Mich | ILL |
| MIN | NW | @WIS | @PUR |
| NW | @MIN | PUR | |
| OSU | @ILL | IND | @WIS |
| PSU | @IOWA | ILL | |
| PUR | | @NW | MIN |
| WIS | @MSU | MIN | OSU |
With that in mind here are the offensive yards per carry (YPC) and yards per attempt (YPA) through week 3.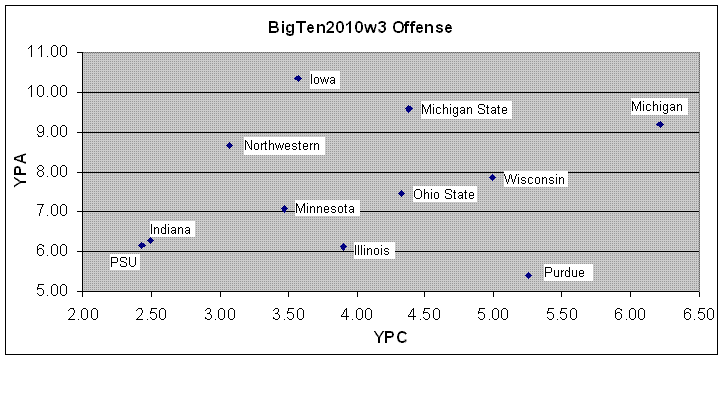 Purdue has gashed Northwestern and Minnesota on the ground, but four of their next five are Ohio State, Illinois, Wisconsin and Michigan State. Michigan, Michigan State and Wisconsin look to be the most well rounded offenses in the big ten this season. Wisconsin plays at Iowa this week and then finishes their season with four of the softest big ten defenses.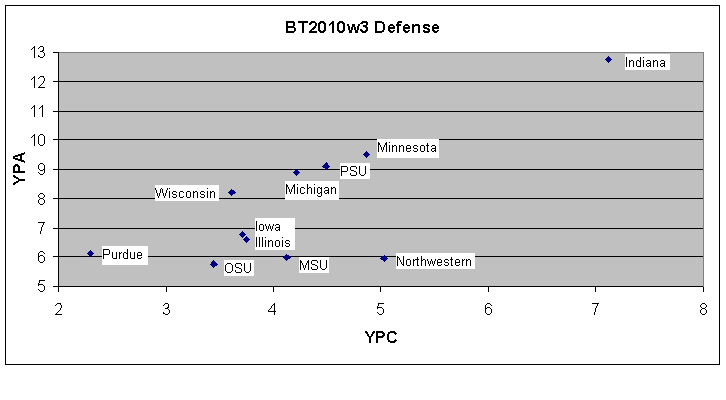 Indiana is horrible on defense, or maybe we should remember that their two games are against former Heisman trophy candidates. Iowa has played against the best and worst offenses in the big ten and came out looking good, it will be interesting to see how they hold up against Wisconsin's running game. Michigan State's defense continues its march towards the lower left hand corner of the chart by holding Illinois to 2.7 yards per carry.
This analysis likes Purdue, Michigan State, Wisconsin, Iowa and Ohio State. Iowa has a questionable running game and a tough schedule ahead. Michigan State has to like their position right now.
You might be wondering why Ohio State's defense looks so good in this picture after what you saw last Saturday night. Looking at the rushing defense, Wisconsin ran the ball 43 times at 4.3 yards per carry (which is not nearly as ugly as I expected after watching the game). Those numbers get balanced out by the 36 carries at 3.3 ypc for Illinois and Indiana running 29 times at 2.4 ypc. Now if these numbers paint too sunny a picture for you, Wisconsin averaged 5.4 ypc against Minnesota, while Purdue average 5 ypc. Without Homan in the middle it is not outside the realm of possibility that we see a game much like Illinois 2007.