Sunday
High St. restaurants began accepting blocks (meal plan units) in students' dreams.
A frat house felt like it needed to take a shower.
Luke Fickell was hired as interim pope.
And the collective campus self esteem went down 35% following the Arnold Classic.
Monday
Ohio State's board of trustees voted to add a second Monday.
Central Classroom Building expressed its desire to have a real name.
(Edit: Central Classroom Building will actually be named Harold L Enarson Classroom Building starting next year)
OSU Student Wellness began offering free lower-back tattoos.
And a regretful President Gee frantically tried to thaw tuition after announcing a tuition freeze three weeks ago.
Tuesday
A high school senior who would have made OSU worse decided to attend Miami.
Carmen Ohio was revised to "Winter's cold and Winter's cold."
North Korea aimed its supreme nuclear slingshot at Columbus.
Gene Smith was excited to direct the new season of the hit drama Ohio State Football.
Ohio State basketball wished Indiana a happy senior night.
And Tom Crean's post-game press conference was just several minutes of sobbing.
Wednesday
President Gee was mugged while crashing his car into a cyclist.
An Indiana student was still crying.
Bigggggg Mike was finally arrested in Iowa after a 2-second foot chase.
With his arrest, Bigggggg Mike's 15 minutes officially ended and his minimum of 15 years with good behavior began.
The student body was both shocked and relieved that Oval snowmen did not possess genitalia.
And the day passed without anyone twisting an ankle on the stone path south of Thompson.
Thursday
University clocks were set at a 50% slower rate before spring break.
A CABS bus got a DUI.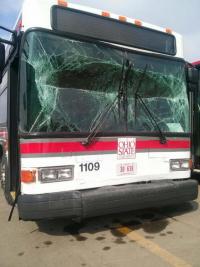 An Indians fan spent a full hour smiling in disbelief at Cleveland's depth chart.
And an Indiana student was still kind of whimpering.
Friday
Winter quarter finally drew to a close.
President Gee failed to call the new tobacco free policy "Nobacco."
And an OSU Mansfield branch student began the long walk home for spring break.
Saturday
Other than our "twinterview" of Evan Ravenel, we took the day off because we are a fake news organization and therefore have no responsibility to do anything.
(You can see Evan's responses to our irresponsible questions on our twitter page.)
For more fake campus news, be sure to follow @TheFakeLantern on Twitter and check out TheFakeLantern.com.