Sunday
Thad Matta desperately asked DeShaun Thomas how tall his son was during the under-8 break in Wisconsin's basketball beatdown of Ohio State.
Following the road loss, the team's plane missed 13 consecutive attempts before finally hitting the landing strip.
And a high school senior involved in both student council and French club committed to OSU.
Monday
Frustrated students were unable to properly honor Presidents' Day due to classes.
The Ohio State University Medical Center added 25 new helicopters to its fleet.
No one at the union really had an actual reason to be at the union.
Ohio State basketball was somehow still ranked in the top 25.
A student wearing "Beats by Dre" was struck by a bus but you know what that's okay.
And Ohio State moved Zach Boren to professor.
Tuesday
OSU Student Wellness began offering free marriage counseling to alumni of their "condom club."
A student who would have founded a $42.5B tech company upon dropping out decided once again to stay in school.
The Big Ten conference began talks to add the Northeast Ohio chapter of Girl Scouts
And Mirror Lake admitted it hates all of us.
Wednesday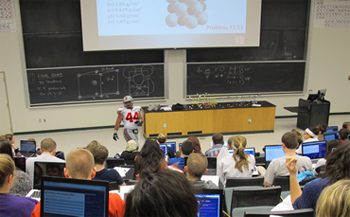 Students were angry at the internet connection THAT FLIES TO THEIR COMPUTERS for temporarily not working.
It was announced that Barack Obama would speak at school-that-essentially-elected-him's spring commencement.
It was announced that Honey Boo Boo's mom would speak at michigan's spring commencement.
Deshaun Thomas declared for the NBA draft, like, right now.
And reports indicated that Tubby Smith is probably a really nice grandpa.
Thursday
Every student skipped morning class.
A linguistics professor was pushin' her descriptivist perspective onto all them students.
Ohio State announced it would begin admitting exclusively international students next year.
Deshaun Thomas tweeted this.
And Fire!
Friday
Due to icy sidewalks, students literally missed class by sliding past the building.
Othello Hunter wondered what Othello Hunter was up to now-a-days.
Campus Indians fans couldn't be any more excited for this season's disappointment.
Campus Reds fans couldn't be any more excited for their second season as Reds fans.
A freshman who snuck alcohol into the dorms became lord over his entire floor.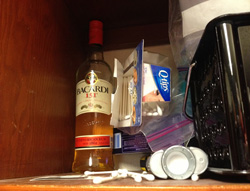 And the Ohio Union Activity Board announced it would host an inspirational "evening with Oscar Pistorius."
Saturday
Ohio State's @#Comm. Dept. hosted a #FREE #socialmedia# literacy presentation in @mershon#auditorium for less tech#savvy students bitly/myspace.com.
The university of michigan faced a prostitution scandal following the revelation that students pay to be in Ann Arbor.
And a drunk roommate tried to FaceTime 911.
For more fake campus news, be sure to follow @TheFakeLantern on Twitter and check out thefakelantern.com.