Acclimatized.
If you were to be taken by plane from sea level up to the summit of Mt. Everest and dropped off in your favorite fur laden survival suit...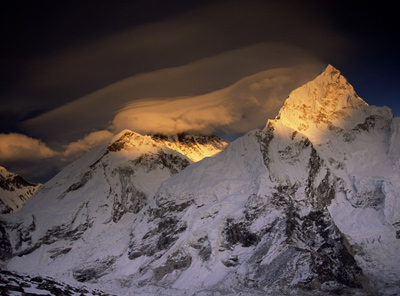 You would double over in pain, be unconscious in moments, and dead soon after.
However, if you were to hike up from a base camp, and take your time, resting, exercising, and eating properly on the way, you would be just fine when you reached the summit, even be able to stay there awhile!
Why? Because your body begins producing an exponentially greater number of red blood cells in order to absorb more of the less oxygen at that altitude, which increases the oxygen carrying capacity of the blood...and by the time you reach the summit, your body is producing twice the red blood cells than it did at base camp!
It is called "acclimatizing." When an organism, or entity...or team...has to adjust to a changing environment.
Ohio State has endured a changing environment in the college football landscape. We're still suffering (recruiting wise, anyway) from the NCAA action that resulted in a ban from post season play. It was an intended hammer at one of football's most storied programs from an entity (the NCAA) desperate to be seen as an actual authority...and all for an offense that is not an offense three years later! In fact, one would have to agree that everyone, including most of the media pundits, seems to be just fine with selling what is personally yours to sell.
Like signatures. And rings. What you do with the money is your business. You can buy grandma a new girdle, stick bills in a stripper's panties, or get yourself a tattoo. I don't know of any laws that have changed, or even NCAA rules for that matter, since 2009, that indicate Johnny should be thought of any differently than Terrelle. Pryor's deal was only made worse because we as fans saw it as a betrayal to see our guys sell those golden pants or a championship ring! But it was still his stuff!
Changing environment indeed.
Respect. When a team from anywhere in the college world is busy winning twenty-two games in a row, it deserves a look see. Yet instead of even modest admiration and acknowledgment, it seems the great majority of college football punditry is on board with a collective narrative that disrespects the tradition of greatness that Ohio State has contributed to the historical narrative of the sport of college football.
This year has been somewhat of a rocky path in itself for some of the climbers. Some were on the precipice of failure. Some had lost their footing and strayed from the path placed before them. But throughout the year, bridges were made from where the team was...to where they are now.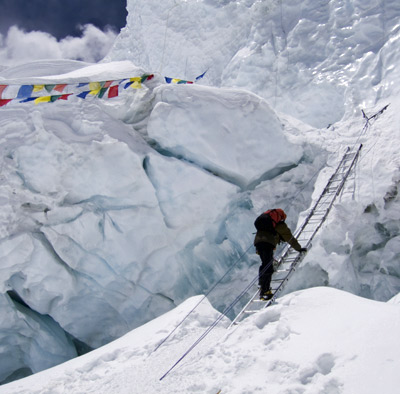 You see...Urban Meyer is acclimatizing. Braxton Miller...and Hyde, Shazier, and the rest of this team...they are acclimatizing. The red blood is beginning to boil. And none of us have to look back at the last team that Urban Meyer got playing pissed off.
And make no mistake about it. This team is pissed off.
They're pissed off at that disrespect. Period. For them, it's truly personal. It is a glove across the face...an accusation against their performance, their manhood. And Meyer doesn't have to concoct some clever plan at creating the critical chip on the shoulder. The media, pundits, and whoever else fancies himself an expert...are doing an admirable job at that.
Ohio State is at the base camp of Mt. Everest. Up quite a ways, despite the odds...and the cries of the naysayers...especially those that live in the bizarro world of the SEC/ESPN/ACC circle jerk. It's a world in which Ohio State has to be ridiculed. Because of the conference, because of the schedule, because of whatever. Just find a reason. Any reason. It doesn't even have to be reasonable. That's the new attitude. The new environment.
But the summit is in sight. Even Urban was a bit distracted at base camp the other day...because he looked up. He admitted to being distracted about "national stuff", but pledged to go back to "getting a little bit better". Please note the psychology of saying that. He is saying that this team only needs a little more to be at that place of greatness. And that he's confident this team can get there. He is saying "elite" without using the word, simply letting the world know he will take his Buckeyes anywhere, against anyone...and will come out on top. And I can promise you...Tom Herman didn't even need to help him with that bit of psychological geniusing.
When they do stand unbeaten at the end of the bowl season...and they will, they'll likely shut a few mouths. A few others might even jump aboard the new train, but ESPN and its witless tongue flappers will prattle on, along with Twitter's Talking Twits...all of them together a collection of anuses incessantly mouth farting...gleefully predicting soon failure, or criticizing some other aspect of how the Buckeyes won or how they wouldn't have won if they had played that other team.
It is, after all, a new environment.
But this Ohio State team is built for the journey over the long haul, and is beginning to understand the hostile new environment.
Well, they are striking camp for the final push to the summit!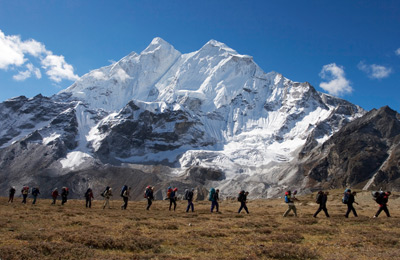 ...And guess what?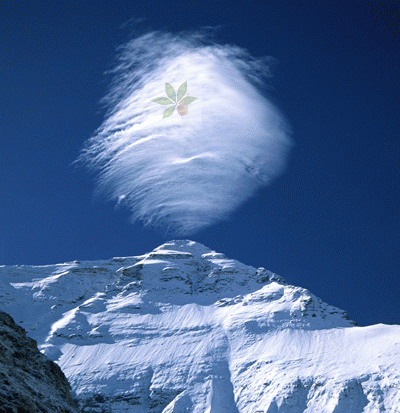 The Signs all point to the fact that they plan to stay there awhile.