It was briefly mentioned in Monday's Skull Session but the news deserves it's own write up.


Asia Doss made her official visit to Ohio State this past weekend, while there she decided it was time to announce her decision and verbally commited to the Buckeyes.
Asia is a 5'7" point guard from Detroit County Day HS and most services rank her as the best senior player from That State Up North in the class of 2014.
ESPN's HoopGurlz decribed Miss Doss as...
"Confident, athletic floor leader with superb court awareness, body control to the rim; A distributor with a scorer's mentality, range to the arc; has emerged into an elite-level game manager."
The newest member of the women's basketball Buckeyes attended the Ohio State - Wisconsin football game with future teammates Kelsey & Chelsea Mitchell, Alexa Hart and Makayla Waterman.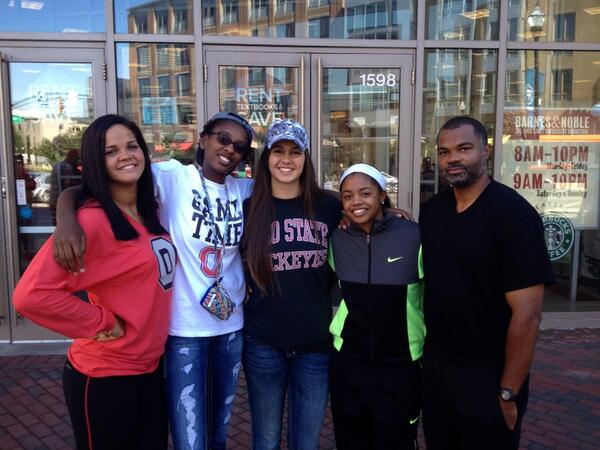 In attendance alongside the Buckeye commits was Waterman's HS teammate & close friend Kathryn Westbeld. The Kettering duo brought home the 2013 state title as members of the Fairmont Firebirds and this past summer joined All Ohio Black 17-U for the opportunity to team up with the Mitchells.
Currently holding the #2 recruiting class, Coach McGuff still has two more scholarships to offer.
In addition to Kathryn Westbeld, top targets include:
Jatarie White - 6'4" lefty from NC, the #1 Center in the class of '14.
Kia Nurse - 6' guard, currently playing for the Canadian National Team.
Kristen Simon - 6'1" forward, tenacious rebounder & defender.
Arica Carter - 5'8" combo guard from Long Beach Poly.
Recruiting Service Rankings:
All Star Girls Report (Top 25), Full Court Fresh 50, Blue Star (Top 100), HoopGurlz/ESPN (Top 100), Prospects Nation (Top 150)
Commits:
Kelsey Mitchell - ASGR #3, FC #3, BS #4, HG #3, PN #1
Makayla Waterman - ASGR NR, FC #47, BS #26, HG #69, PN #35
Alexa Hart - ASGR NR, FC NR, BS #40, HG #82, PN #21
Asia Doss - ASGR NR, FC 46, BS #72, HG #92, PN #47
Targets:
Kathryn Westbeld - ASGR #25, FC #35, BS #17, HG #21, PN #33
Jatarie White - ASGR #6, FC #5, BS #3, HG #3, PN #14
Arica Carter - ASGR NR, FC NR, BS NR, HG #78, PN #62
Kristen Simon - ASGR NR, FC NR, BS #69, HG #47, PN NR
Kia Nurse - ASGR NR, FC NR, BS #10, HG NR, PN NR