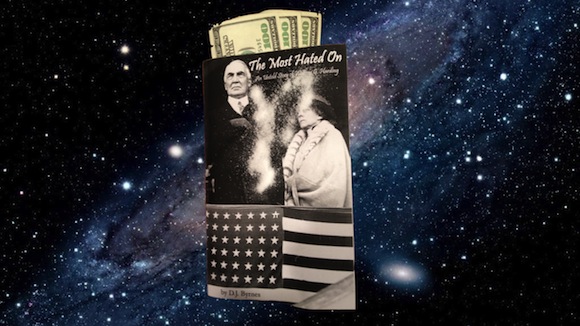 Eleven Warriors denizen and infrequent curator of the $10,000 Presidential Parlay DJ Byrnes has published his untold story of Blooming Grove native and 29th US President Warren G. Harding.
The Most Hated On is an 89-year journey into Marion, Ohio's inner sanctum that follows Harding's return to life decades after being fatally poisoned by his wife in San Francisco in 1923. His life is restored - as is frequently the case in resurrections - via divine intervention.
Byrnes doesn't attempt to obscure his portrayal of Harding as a Christ figure. He raises him from the dead, surrounds him with impoverished followers whose wisdom is layered in both complexity and filth and even fits him with a spouse parsed from a parallel Egyptian Coptic by way of the Rust Belt.
The Gospel, as presented in TMHO is pure and celestial - but unlike that of the New Testament - tangible, because it has been delivered in the form of illicit narcotics. The departure from a straight Biblical portrayal begins with how the Word is spread through trafficking and ends with Harding repurposing forgiveness and peace as virtues with vengeance and payback.
Harding's eventual and triumphant return is unlocked by a man named, appropriately, Lazarus, who does so on Kelley's Island, which Ohioans familiar with Put-in-Bay will quickly recognize as Byrnes' Church of the Holy Sepulchre.
Byrnes' character development is rich and powerful, with each unique figure sharing one common element: They're unsavory addicts with hearts of gold (or more likely lead, gold's atomic neighbor, through which divine alchemy by way of the Cocaine Galaxies gives the false promise of salvation).
TMHO is evenly delivered, complete with cliffhanger indicating that Byrnes plans on penning a third testament. It provides all of the edge, entertainment and blasphemy one would expect out of any necropresidential narco-thriller. At a modest 299 pages, it's a fast-paced time-traveling adventure worthy of your summer leisure reading.