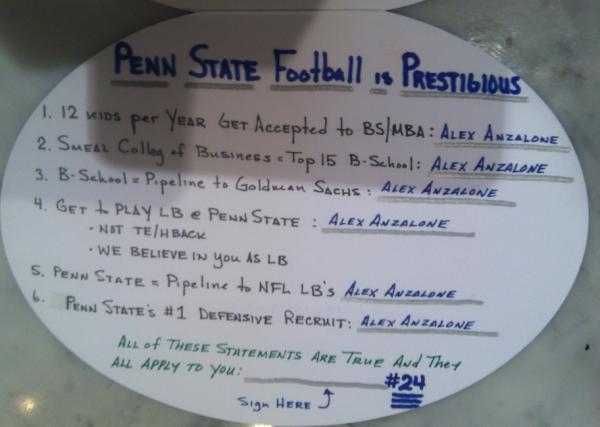 Maybe this is the work of a Nittany Lion fan. Perhaps it came from Penn State recruiting. It does appear to be a card fashioned out of the Penn State oval logo and it was re-tweeted by Anzalone himself, originally posted by an account appearing to belong to his older brother.
The authenticity and/or author of the card isn't as important as the validity of the sales pitch:
1. 12 kids per year get accepted to to BS/MBA: True (and Anzalone has shown interest in that academic path)
2. Smeal colleg (sic) of Business = Top 15 B-School. It's actually ranked 20th by USNWR and 22nd by Bloomberg, but that's inconsequential - it's a world-class joint. The late Frank Smeal (yes, the same guy whose name is on the college) was a partner at Goldman-Sachs. Which leads to...
3. B-School = Pipeline to Goldman Sachs. Penn State as well as a couple dozen other schools mostly in the northeast - and mostly Ivy - that Goldman regularly recruits. Former Nittany LB Brandon Short currently works there. Goldman is a rich, proud and tarnished brand these days...sounds a little too famiiliar.
4. Get to play LB at Penn State | Not TE/HBack | We believe in you AS LB. This seems like a strawman shot at Urban Meyer, who already seems to be good to go at TE/HBack and desperately needs linebacker depth. The use of "We" is technically correct in accordance with the We Are chant and shouldn't be confused with a coach. Unless it is one, which we don't know.
5. Penn State = Pipeline to NFL LB's. Sure. Little or no separation from other NFL pipeline schools, but Linebacker U is everything but a registered trademark.
6. Penn State's #1 defensive recruit. Without a doubt.
Sure, it has all the same cheesy markings of an invitation to a sorority barn dance, but that kind of flowery praise resonates with kids. Recruiting is inherently creepy - it's the courting of immature boys by grown men into a 4-5 year mutually beneficial relationship.
It's a nice pitch to Anzalone. This is how you sell a product: Core value proposition, open competitive positioning and minimal negativity. Mike McQueary could learn a thing or two from this noble effort to persuade Pennsylvania's top prep player to stay in-state.