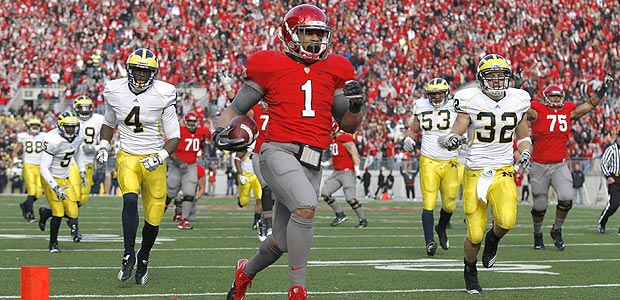 The Gold Pants Club is holding its annual Gold Pants Party on Saturday, November 26 at the Park Street Patio in Columbus.
Come join former Buckeyes Craig Krenzel, Dan Wilkinson, Matt Finkes, Dee Miller,  Bob Hoying, John Hicks, Jim Karsatos and many more to watch Ohio State try for its fourth straight win in Ann Arbor.  Arrive early and your $20 entry ticket will get you unlimited draft beer and reduced-price appetizers.
Cheer the Buckeyes on and enter the raffle to win a cruise for two on the Buckeye Cruise for Cancer benefitting the Stephanie Speilman Fund for Breast Cancer Research at the James Cancer Center. 
The winner will win an oceanview room for two with all meals and much more included. There will also be a one-of-a-kind cycling jersey signed by Jim Tressel, Chris Speilman, Archie Griffin and Craig Krenzel aong with many other prizes.  You can buy ticket online right now or at the door on 11/26.
We will also have a live auction at half time with a Luke Fickell-signed football, a helmet signed by both Mike Vrabel and Matt Finkes, a Green Bay Packers football signed by the three Buckeyes currently on the Packers, an AJ Hawk-autographed Packers jersey and some exculsive signed Gold Pants framed pictures.
Please come join the Gold Pants Foundation in raising money for endowed scholarships to the Ohio State University.