I am addicted to stats and there is no cure for it. Doctors believes I may have dyslexia and labeled me as a nucking fut and I was forced to report to Room 11W at the Nuthouse for my rehabilitation. Still seeing a blur of numbers and blurting out "I-O" randomly when there's nothing, but silence. May the odds of progress be ever at my favor...
Time for Statisticology!
Here's the second part with the breakdown on both teams' Pass Defense and Pass Offense per down. As I mentioned yesterday, Ohio State holds a sizeable advantage when it comes to running with the rock and defending against it. It all depends on how the coaches draw up their game plan against each other because the stats can only tell us so much on paper.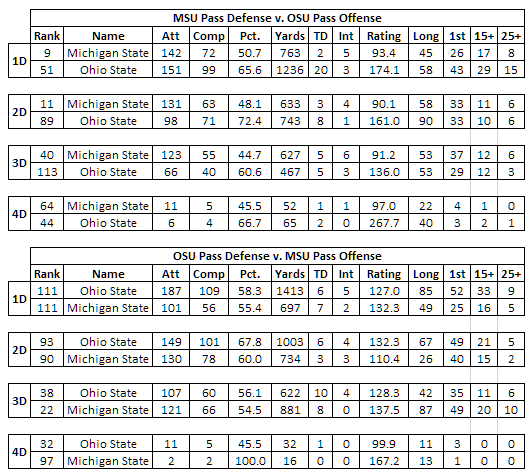 Let's start off with Michigan State's passing defense. It seems like the Spartans really shines on 1st and 2nd downs, ranking in 9th and 11th respectively. They must be good at dissecting the opponent's plays whenever if it's a passing or running play. Coach Meyer and Coach Herman may stay true to their philosophy of being balanced on offense. The Buckeyes aren't as good with their passing game on 1st and 2nd downs like they are with their potent running game. Although, it seems like they do have a solid QB rating, due to their ability to make big plays -- don't we love their big plays?!
Michigan State's aggressive nature may actually make them vulnerable to giving up big plays if Coach Herman can snare them into their play action plays. Ohio State's receiving core is quite underrated because they don't get a lot of attention, but they surely can make big plays once they get in the flow.
3rd downs seem to the Buckeyes' kryptonite when they are being forced to pass at this point. Sitting in the bottom 5% of the nation at this point. Ohio State shouldn't be letting themselves in a 3rd and long situation against Michigan State anyway. They should be taking high percentage plays and take the yards as given to allow their offense to find their rhythm. The comparison on 4th downs is a push, but Ohio State have been successful when they go for it, but I do not know if Coach Meyer would be that aggressive in a game of this caliber -- unless the Buckeyes is in a hole.
---
On the flip side, Ohio State's passing defense is not as impressive as their running defense, but they seem to have the favorable matchup against Michigan State. The Spartans doesn't run an aggressive spread offense like Michigan or Illinois. They are more similar to Wisconsin, which the Buckeyes did quite well against by holding the Badgers to 104 rushing yards -- well under their average at 283 rushing yards per game. It can be even argued that Wisconsin have much more of a dangerous receiving core than Michigan State since the Spartans doesn't even have one receiver with over 500 receiving yards.
One thing we can take away from this is that Michigan State have made a lot of big passing plays on 3rd downs while Ohio State have been respectable in this situation. This may be the major key of the game since Ohio State may be holding Michigan State in several 3rd and long situations and they will need to be able to close it out to force a punt to bring the ball back in Braxton Miller's hands.
On paper, it looks like the Buckeyes would be able to handle Michigan State's passing game since it looks like a push. We can consider that Ohio State have been tested by several tougher passing offenses than the Spartans, but they would need to stay disciplined because the Buckeyes have been haunted by damaging penalties and missed opportunities in their recent big games under Coach Tressel.
The stats are showing more and more favorable for the Buckeyes and we can hope that the coaches will be able to call a great game. It can be expected of them to hold a lead by two possessions against the Spartans at some point of the game this Saturday.
Here's to the next one...
O-H!