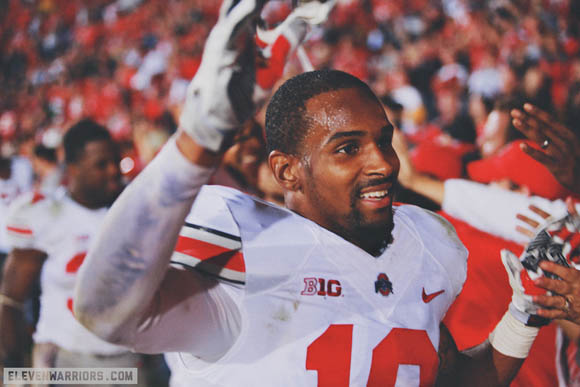 Football is a game, which many of us forget from time to time because we place far too much importance on it. Within that game, things happen. Some of these things are good and some, not so much.
Players train an insane amount of the time, whether taking practice reps, lifting weights, or studying film. They strive to put themselves in the best position to be successful and they work hard at it. No sane human being would put so much effort into an endeavor they didn't care deeply about and try hard to succeed at.
So it should go without saying that players don't make mistakes on purpose. Yet, fan reactions continue to be irrational and idiotic.
When Philly Brown opted not to call for a fair catch on a late third-quarter punt, then subsequently lost the punt, he did not lose the game for Ohio State. After all, Ohio State was still leading by nine points with more than a quarter to play. A defensive stop or continued points from the offense and everything is fine.
Sure, it put the defense in a tough spot, but those 11 guys have scholarships and a job to do, too.
Aside from the obvious aspect that football is a team sport, and one mistake does not decide a game, it not only could, but should, be argued that Philly Brown's contributions were vital to Ohio State even being in the game to begin with.
Here is a brief summary of Philly Brown's positive contributions to the game.
Brown caught the initial first down of Ohio State's first touchdown drive of the game — a 12-yard gain on second-and-11. It got the Buckeyes out of a hole and allowed the offense to find a rhythm.
He caught a pass for 15 yards and added a 15-yard run that helped flip the field, eventually allowing Armani Reeves to down Cameron Johnston's punt at the one-yard line (and therefore helped create the subsequent safety for intentional grounding on Tajh Boyd).
Philly threw the key downfield block on the last man with a shot at tackling Jeff Heuerman on the touchdown that pulled the Buckeyes within 20-15, and blocked well throughout the game for edge runs and Miller keepers.
His 18-yard catch actually helped set up that Heuerman TD by extending the drive on third-and-12.
He caught two passes for a combined 39 yards in the final minute of the first half to set up Miller's second touchdown run, giving Ohio State a 22-20 lead at the break.
Philly posted 31 more receiving yards in the second half.
@11W_Michael one "oh shit" wipes out a whole lot of attaboys.

— TJR (@tjroot) January 4, 2014
Um, no. When you look at his total contributions in context, did Philly Brown do more to help the Buckeyes win or lose the game? One bad play will never trump that many positive ones.
I can hear those out there saying "Yeah, but momentum!" The funny thing about momentum (if you even believe in such a thing) is that if one team can take it, so can the other.
There is plenty of blame to go around for the Orange Bowl loss, if you don't simply want to credit Clemson for playing pretty well.
Obviously the defense was a problem all night. You could also point to a lack of Carlos Hyde late in the game —he carried one time for nine yards in the fourth quarter, after gaining 61 yards on 10 carries in the third, and was not used at all in the drive that followed Clemson going ahead for the last time (with 6:16 to play). And there were three Miller turnovers.
Philly Brown had a pretty outstanding four-year Ohio State career. He played with a stress fracture in his leg this season to help his team win. He is far more deserving of our respect than our scorn.
And he didn't cost Ohio State the Orange Bowl.