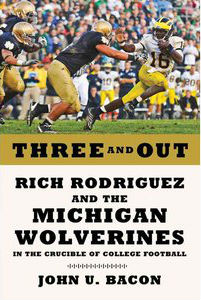 Ed: Bumped because M Man was nice enough to review three of the most painful years of his life. Also, because this review is thorough and well-written.
Happy Tuesday and welcome, to your Eleven Warriors Skull Session – Book Review Edition.
Today marks the release of Three and Out: Rich Rodriguez and the Michigan Wolverines in the Crucible of College Football, by John U. Bacon. (Farrar, Straus & Giroux). It is the most interesting college football book in years, and it just might be the most important college football administration book in a generation. While loving care has gone into the telling of the Rodriguez story, this is not a fan's ode to one team that is very much loved in Michigan and very much hated in Ohio, but rather a very clear-eyed look at the sport we share in common. In working on this book, John U. Bacon was given what no other writer has been given in recent history; complete, unrestricted access inside a major college football program. The result is remarkable.
I suspect that most of you would happily sit down with a cold glass of Schadenfreude and spend a few minutes confirming your worst suspicions that Rich Rodriguez was an incompetent buffoon, and more generally your worst preconceptions about your football rival. And I imagine it would be a relief for just about all of you to dig into a nice football story without any mention of the names Tressel, Pryor or Rife. Well, I have good news, and also better news. With one very small (and needless, in my view) exception, there is not a page of Buckeye-bashing in this book. But the better news is that for most of you, your (mis)perception of Rich Rodriguez will never be the same. And Buckeye football fans, as good as there are in all of sports, will be the better for it.
Basically, this is a book that every Buckeye who is deeply interested in The Rivalry should read. And it is a book that every Buckeye who might be involved in a future coaching search should be required to read.
John U. Bacon is known to many of you through his semi-regular appearances on the Big Ten Network's feature presentations. (You've seen them; "Leaders and Legends of the B1G"; "B1G Legends and Leaders"; "Leaders and Legends and What Have You") Bacon is technically a Ph.D. candidate in American Culture in Michigan's College of Literature, Science and the Arts. He is also a non-tenured Instructor in the school, and the small series of courses he teaches (History of Sports writing, etc.) feature the longest waiting list of any class in the college. He's a past Golden Apple Award winner as the best teacher in the University, and he's been blowing away audiences in speeches since the publication of his last book, Bo's Lasting Lessons. He's now doing some teaching at Northwestern's Medill School, in addition to a weekly Ann Arbor radio program gig.
All that of course is some great Michigan-Man-crap, but we come back to the question of why should any self-respecting-Buckeye-bother? The answer is, because you'll be better, smarter supporters of your own program when you understand what has been going on at That School Up North. Nobody, but nobody, has ever had press access like this to Michigan's football program. I dare say nobody's ever had access to your program like this. Well, maybe Bobby DiGeronimo… I kid. M Man is such a kidder.
So what are the deliverables here? What will you get out of a Michigan book fergodssakes? Here's a list. Eleven points, for Eleven Warriors. It's something of a spoiler list; except that it totally isn't. If you want to win arguments with your friends from Up North (admit, you've got some) or it you want to dazzle your fellow Buckeye tailgaters with your oppo-research, you have to read this book. Anyway, here's what you'll find out:
1. Michigan's coaching search following the departure of Lloyd Carr was messed up. Messed. Up. And process, it seems, matters. When your football season comes to and end this year, there are some things that you are really not going to want to do. This book tells you what those things are. You'll hear a good bit about that in excerpts; and the conclusion, if you don't read the book, might be, "Well the process screwed up, because Michigan ended up with Rodriguez." And if you don't read the book, you might believe that. You'd be wrong to believe that, and I don't think you want to be wrong, do you? But when you find out that Les Miles was never really a candidate, and Greg Schiano of Rutgers was a kind of a committee-pick, and Tony Dungy(?!) was apparently on the Wish List of an unprepared Athletic Director, well…
2. Rich Rodriguez got screwed. Rodriguez was treated badly – almost unbelievably badly – in Ann Arbor. If you are set in your belief system that Rich Rodriguez was a bumpkin who was being dishonest when he wasn't being dumb, strap yourself in for this ride. Treatment of Rodriguez that is merely fair, as this book is (it is not particularly flattering to anyone apart from the student-athletes themselves), is sadly enough to make people's heads spin. It has been that bad for Rodriguez, and this book is a welcome breath of fresh air.
3. There are some villains in this book. Oh yes indeed there are some villains. Meet Michael Rosenberg, columnist for the Detroit Free Press, and Mark Snyder, the Free Press' assigned beat-reporter for Michigan sports. For virtually the first time in paper-print outside of the blogosphere, the lid is totally blown off the Free Press hackery that led to the 2009 NCAA investigation of the Michigan football program. Known to the hippies at MGoBlog as "Stretchgate." Indeed, your favorite MGoHippy Brian Cook is featured in the book, and he ends up looking very good, thank you very little. The triumph of the blogosphere. Yay, MGoElevenWarriors.
4. You boys (and Pam) may need an antacid for all of the discussion of "Michigan Men" in the book. Sorry. Pam can take it, I know; but I'm a little concerned about the rest of you. (Full disclosure: Michigan Man = no direct relation to this author.) As unpleasant as that may be for you, this story is a real tutorial on the clash of tradition-laden program insiders and outsiders with fresh ideas. And no matter what happens with the Buckeye program this year and next, it is a cautionary tale for all of you.
5. One might think that if "familiarity" and "continuity" were coaching criteria to be prized above all, and if The Ohio State University were to use that as its own takeaway lesson, that somebody like Mark Dantonio might be an ideal future candidate in Columbus. Hilariously, Bacon points out that at a Conference meeting in Chicago, Jim Tressel "could not have been more pleasant" in interacting with the Michigan contingent. Mark Dantonio said not a word. Until he arrived at Michigan Stadium for the 2010 Michigan-Michigan State game. A Stadium official assigned to greet opposing team buses offered his hand to Dantonio and welcomed him after Dantonio's brush with a heart attack a few weeks earlier. "Get the hell out of here" was Dantonio's response.
6. Bacon does a fantastic job of explaining the almost incomprehensible pressures (in time and exhaustion) on Michigan football players. Those pressures are assuredly no different from the same pressures felt by student athletes at The Ohio State University. These kids, all of them, are something special. As fans and boosters of our respective programs, we should be in awe of them, not for W-L records, but for what they do all year long. Hail, to the players.
7. Did I mention yet the villainy of the Detroit Free Press, and how effectively it is chronicled in this book? I did? Okay. I don't suppose that you boys can relate to problems with the press. Or maybe you can. The Freep's Michael Rosenberg is also a contributor to Sports Illustrated. You may remember Sports Illustrated from such reportorial hits as Storm Klein's nonexistent tattoos.
8. Rosenberg is also the author of a perfectly fine book, and one that ought to be of considerable interest to all of you: War As They Knew It was the story of the Ohio State and Michigan campuses at the height of the Hayes-Schembechler rivalry and also the Viet Nam war. Quite rightly, Rosenberg's book was reviewed most favorably by Jon Chait of the New Republic for the New York Times Book Review. (Chait and Rosenberg are both former editors of the Michigan Daily student newspaper.) But in the fall of 2009, Chait coined the term "journalistic malpractice" to apply to the Free Press' willing assignment of Rosenberg, an anti-Rodriguez columnist, to an investigative story on supposed NCAA practice-time violations.
9. One of the blogosphere's reactions to the Free Press hatchet-job was a mass neg-bombing, with one-star reviews, of Rosenberg's book at Amazon.com I had thought it an odd little prank; it was one in which I naturally (and to this day, unapologetically) participated. Turns out, as you'll see in Three and Out, the stunt really hurt Rosenberg, who was nearly in tears over the online trashing of his "three years'" worth of hard work on his book. That, my 11W friends, is what you call crocodile tears. Three years, you say? Trashed? Sheeesh.
10. There are some sterling reputations that take a beating in this book. And you are going to hear about how the high priests of Michigania (AD David Brandon, President Mary Sue Coleman, Lloyd Carr, etc.) are so pissed about this book, and how it is leading to World War IV in the new press box at Michigan Stadium. Maybe I should have just told you how many people in Michigan are angry about this book and left it at that; that alone might be enough to sell copies on High Street. Anyway; be careful about those reports and rumors. I urge you to read this book for a much more nuanced appreciation of the story.
11. There have been, I think, three really important Athletic Directors in the Big Ten Conference in this young century. And the best, in my humble opinion, was Andy Geiger of Ohio State. No one in the country can match his success in the three areas of financial productivity, athletic campus improvement, and coaching hires. There is also the undeniable power of Barry Alvarez in Madison; who could possibly have done more with what they have in Wisconsin, than Alvarez. Then there is Bill Martin, Michigan's AD from 2000 to 2010. Martin does not fare well in this book, because the book focuses so closely on the football program alone, for which John U. Bacon got his extraordinary access. Martin's awkward handling of almost everything related to Rich Rodriguez is exposed in this book in a way that even the Michigan cognoscenti probably did not previously appreciate. But Bill Martin was a very good AD on balance, one whose legacy will be secured not by wins on the football field but by the financial soundness and the magnificent physical plant he left for the University. Those of you coming north on November 26 will see what I mean; and virtually all of what you see is owed to Bill Martin. On time and on budget.
That does it, Men of Eleven Warriors (and Pam). Three and Out: Rich Rodriguez and the Michigan Wolverines in the Crucible of College Football, by John U. Bacon; available now if you go to MGoBlog.com and follow the links and instructions there, or at Amazon.com. Please don't vandalize your local bookstore if they decide to stock it. Have a great few weeks, right up until about noon on Saturday, November 26. Hope to see some of you in Ann Arbor. There will be a quiz.
Amazon Best Sellers Rank: #24 in Books (See Top 100 in Books)
#1 in Books > Nonfiction > Education
#1 in Books > Sports > Coaching > Football (American)
#1 in Books > Sports > Football (American)

[Amazon numbers as of noon on Ocotber 25, 2011.]