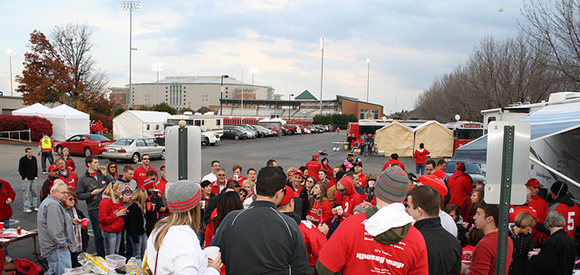 One thousand thirteen days ago, I wrote my very first piece on Eleven Warriors. At the time, I spent 8 hours, 5 days a week answering phone calls from irate consumers entering a world of strangeness and unfamiliarity and helping them make sense of it all. In my spare time, I aimed to provide passageway on a similar bridge, but in the opposite direction.
Today I depart 11W after almost three years of features, news, pop culture references, probably enjoying hearing the sound of my own voice too much, times that can never be taken away from us, and memories we'll never get back. The ride was equal parts terrifying adrenaline rush, humbling plunge into the unknown, exhausting marathon, and Indian Summer. But like all good things, it must eventually come to an end.
The evolution of the site during my tenure has been remarkable. From a space where a low double digit number of some beautifully mad devotees to the likes of P.J. Hill and drive by visitors combined to scrape together four figures of eye balls on a good day, to one that laps all its nearest competition combined. There's no question that the Death Star in the Ohio State blogging galaxy is now fully operational.
I'd be remiss if I didn't thank the man that keeps the 11W trains running on time, Jason Priestas. Under his leadership the site has become the only not optional destination on the internet for Ohio State news and analysis and will unquestionably be the standard bearer for years to come. The entire site leadership core, amongst them Chris Lauderback, Alex Gleitman, Corey Carpenter, and later Ramzy Nasrallah, are every bit as awesome people as they are writers (which is to say, really something) and the heart of the site beats in time with the blood, sweat, and tears they've poured into making it what it is. And of course I have to give special credit to my long time Dubcast cohost and brother in aural arms, Johnny Ginter. I've spent more time in the last two years on "the phone" with him than any significant other and my parents combined; that pretty much says it all. I couldn't be prouder to have had the privilege to have my name printed in the same byline space as so many incredible people.
Finally, I'd like to thank everyone who constitutes the phenomenal readership of the site (ed. note: this means you). The Ohio State fan base has for too long taken a beating and been dragged through the mud unfairly for supposedly being a short sighted, inwardly focused, myopic group of bandwagoneers. Anyone from the great state of Ohio or who's spent longer than a fortnight around these parts can't possibly say anything but otherwise. I can not imagine a more passionate, critical, but above all else, invested group of people, and I'm honored to share the same school of affiliation.
Essentially everything I have good in my life, both professionally and personally, I owe on some level to each and every one of you. I genuinely thank you from the bottom of my scarlet and gray blood pumping heart.
I like to imagine that if we wave goodbye indefinitely, over a long enough time line, we'll simply be waving hello. Until we get there in the continuum, you can follow me on twitter or heck, we're all family here, e-mail me (luke dot zimmermann at sbnation dot com) should the motivation ever strike.
Good luck, godspeed, and of course, Go Bucks.