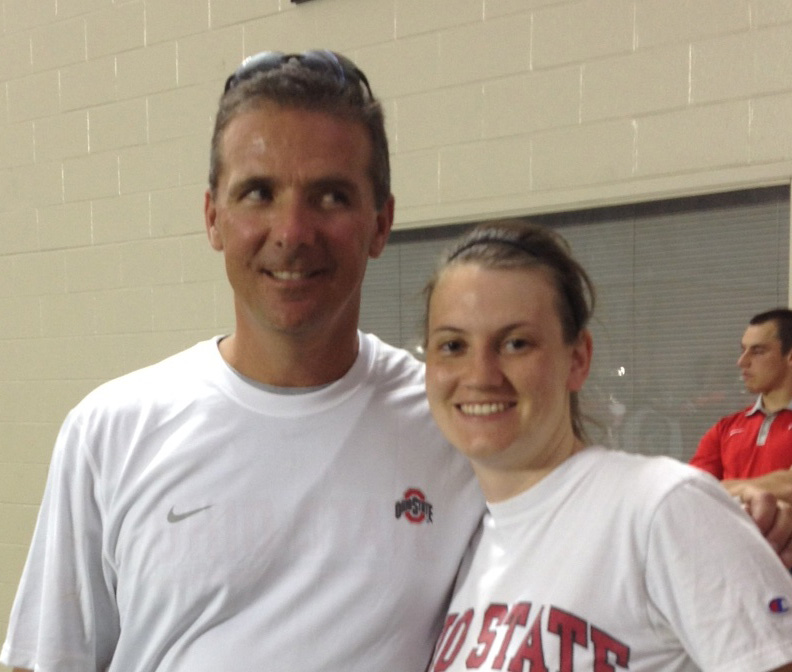 [Ed: Special thanks to Katie Hying for this wonderful wrap-up of the first annual Football Women's Clinic.]
From the time he set foot on campus Urban Meyer set out to assemble the best coaching staff in college football. We'll know more about that in the fall, but at Saturday's first annual Women's Football Clinic 800 women of all ages (I mean all ages – there was proud Buckeye who was 83!) got to experience the staff's passion and intensity first hand. The event benefitted the Stefanie Spielman Fund and provided an up-close experience with the new coaches while learning more about the game of football and taking part in some intense drills.
I am a 2009 graduate from the Fisher College of Business and attended with my mother, a 19XX nursing grad whose claim to fame is that Archie Griffin once held a door for her while she was going to class. Buckeye football tradition runs deep in our family – so we jumped on the opportunity to attend. In the interest of full disclosure, the last time I saw Urban Meyer in person I was sulking down the stairs of University of Phoenix stadium while orange and blue confetti rained down from the ceiling in January 2007. As he was hired on last fall, it took some time to shake my bitterness but as time went on I've become fully team Urban and I gladly stood in line on Saturday to get my picture with him, as did the 800 other women at the clinic.
The other coaches were hanging out to sign autographs and take pictures as well and the lines around Buckeye legends Luke Fickell and Mike Vrabel (dubbed the "prettiest defensive coaches in the country") seemed longer than Meyer's at times. Some of newer faces on the coaching staff had less attention and Stan Drayton made a point to say he had no line to take pictures with him. After the event and his high-energy speeches about "having juice or being juiceless" a lot more Buckeye women will recognize him and the other coaches.
Following the autograph session, Gene Smith shared the responsibilities of the coaches and athletic department. Then each member was introduced of the coaching staff which helped place the names we've all heard in recent months to some of the unfamiliar faces in red coaches' polos.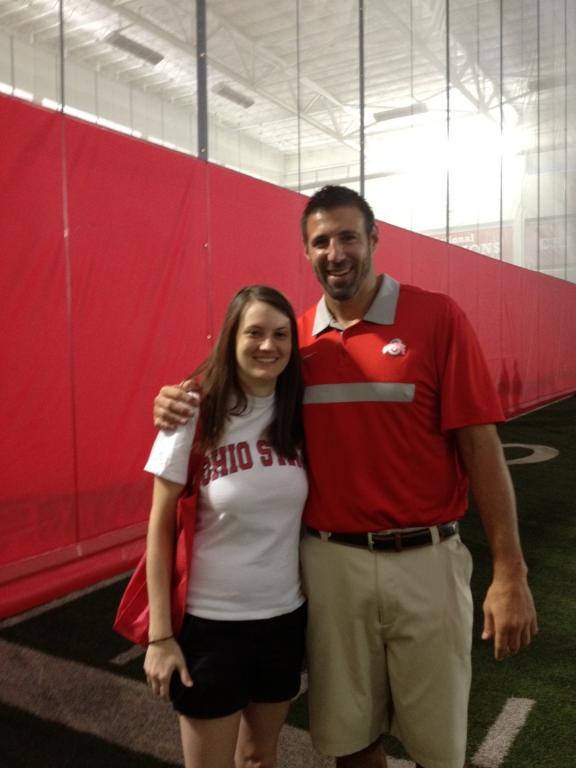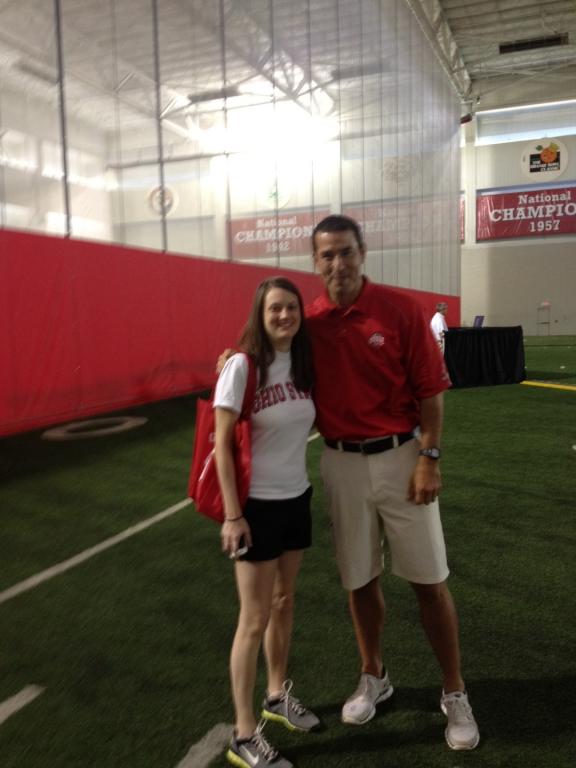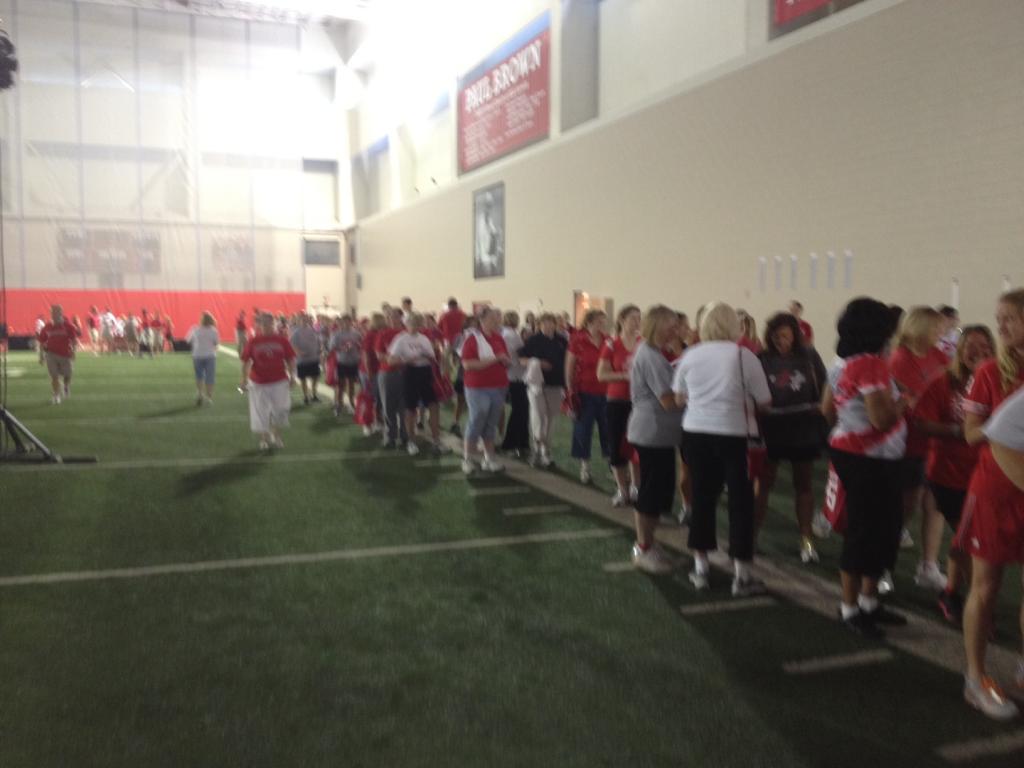 Coach Meyer then took the stage, first reminding us of the great cause the event was supporting. And support it did. There were auctions throughout the day including 4 tickets and pre-game on field passes to the game against the team up north, walking with the team to skull session, and calling the first plays at next years Spring game. That pack alone went for around $7000 dollars, which was a bit too rich for my blood but supported a great cause. The James Cancer team gave a presentation on cancer prevention and proper eating habits to help prevent cancer.
Football-wise, Meyer talked about achieving competitive excellence and taking mental reps. Although he did not mention him by name, he made pretty clear references to a former player (…Tebow) he believed achieved competitive excellence. He did a great job of recalling the participants from the photo shoot, and handed out several awards - to a participant that traveled from Florida to attend, one with the most energy to take a picture with him, one of the oldest participants, and the most creative T-shirt (it said Vrabel's Vixens). Note to self for next year – wear a more creative shirt than one that says "Ohio State". Meyer gave each a leather Ohio State football and I was pretty jealous.

Luke Fickell then took the stage to talk defense. With the help of some volunteers from the crowd, he demonstrated the 4-3 defense and explained how nose tackles (Fickell's college position) get no love but really anchor the defense. He also explained how the defense used the approach Keep It Simple, Stupid (KISS). He quickly corrected a mistake the volunteers made when they put their arms around each other in the huddle, saying it takes away from the defense looking intimidating. Zach Smith then handled the special teams demonstration of a punt formation. A common theme for the day began to emerge when he asked for volunteers and women flocked to the stage like it was an episode of the Price is Right. Tom Herman then took his turn to explain the new look OSU will have on offense. He described the strategy as "exploiting the numbers" by mixing a traditional power running offense with spreading the field. He also took his shots at the defense coaches for being simple (but pretty).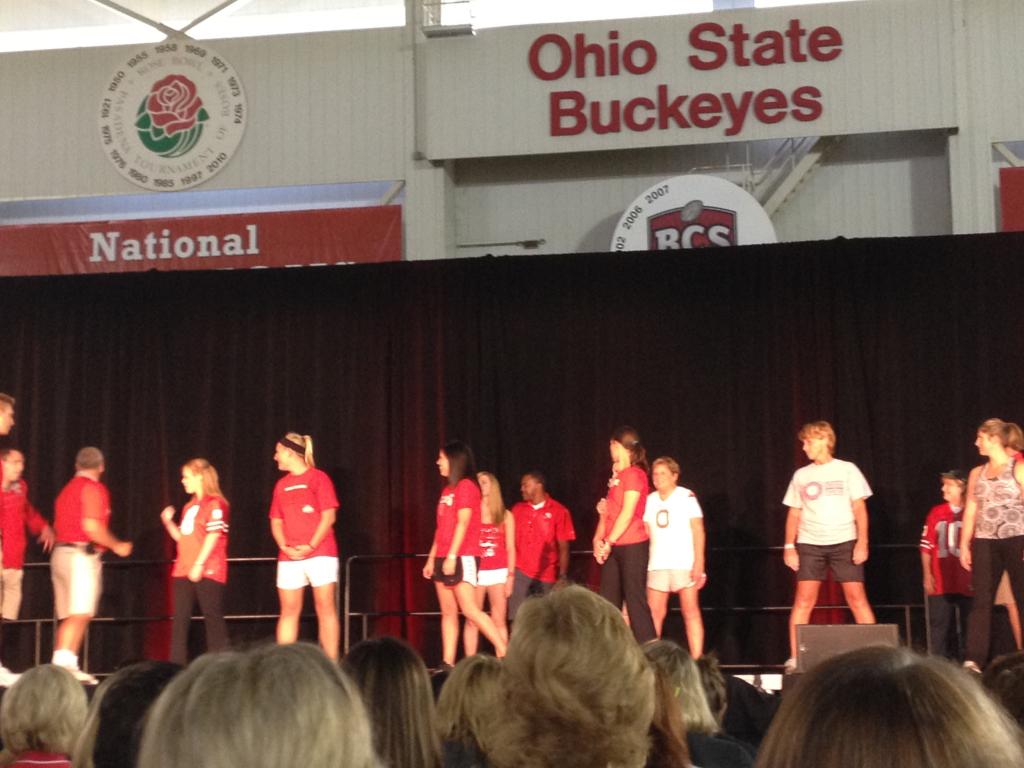 Mickey Marotti was up next and it doesn't take long to understand why Meyer wanted him on the staff. He oozes intensity and quickly had all 800 women screaming at the top of their lungs and hitting their football stance. When he tells you to get into a proper football stance you do it, and if you don't do it to his liking you will be doing it again. I can't imagine what the weight room looks like at the WHAC with Marotti running the show but I'm excited to see the results in the fall.
Urban Meyer's wife, Shelley, provided an insider's view of being a college football coaches' wife – moving across the country at a blink of an eye, having a husband who is constantly on the road, and always having to find a new hair stylist. Shelley herself is no weak housewife. Urban mentioned her dream was to do a cornerback blitz and sack the quarterback's blindside. I would not want to be on the receiving end of that hit.
After quickly downing a turkey wrap for lunch, the afternoon began with an equipment demonstration where former Buckeye All-American and graduate assistant Kirk Barton stripped down to squeeze into some compression shorts and suit up in full pads. He then had the honor of participating in the graduate assistant hazing Buckeyes Got Talent, where each GA had to dance to songs like the Electric Slide to the Macarena on stage. Fortunately, there were plenty of ladies on hand who gladly volunteered to help them out.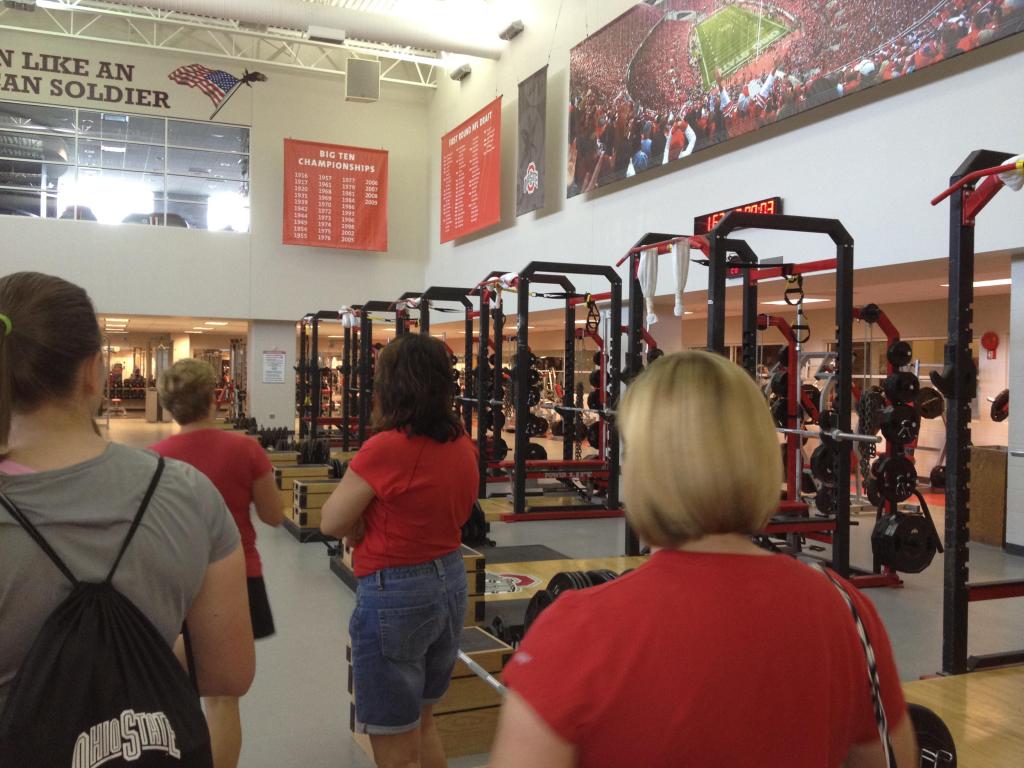 Next we broke down in to smaller groups to tour the Woody Hayes facility. My group was "Scarlet Sloopy" and there was an awkward moment when it became apparent that some of the new staff (not naming names) are still working on saying "Sloopy" versus "Snoopy". We let that slide. We got to see virtually every corner of the WHAC including the game room, locker room and the weight room. It is an impressive facility and a Buckeye fan's dream to stroll between all the trophies and accolades that line the halls.
The group then headed outside to take part in some hands-on football drills. Every coach out there was fired up and ready to make us work as hard as their players. Anthony Schlegel led our stretches and took a shot at Mickey Marotti by saying he didn't have abs. He decided to prove it, and let's just say none of us were complaining. We then broke into stations with each coach. We started by running routes with Coach Zach Smith, and there were several moms out there making some nice snags (and he was not lobbing it either). We then rotated to Coach Herman's station to learn how to properly hold the football (high and tight!) while shuffling through some step over pads. We didn't do any throwing drills which is the coaches' loss as far as I'm concerned - they missed an opportunity to see my nice spirals which led our intramural flag football team to the championship game back in the day.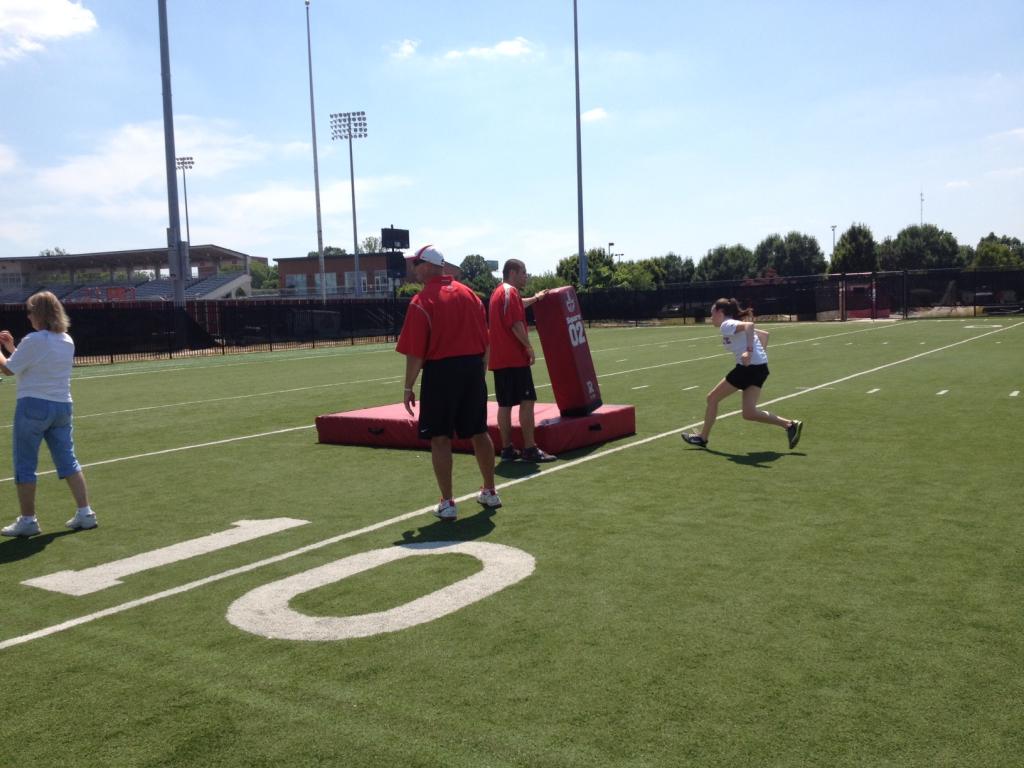 Next for my group was Coach Schlegel and Fickell's station. We did a slide and scoop drill and my personal favorite - the tackling dummy drill. Coach Fickell's made sure to remind us to wrap up. He didn't want to see any breakable arm tackles. It was truly impressive seeing these ladies take a full-out sprint to tackle the dummy. Some of them could really hit! Coach Coombs drill involved the step ladder and a lead tackler and a scooper. Another station had us practicing tackling on arm blocking pads. Coach Vrabel had us run through a defensive line drill of hitting a sled and tackling dummy to get to him to tomahawk the football out of his hands. It was another fun drill where you could really release some anger. Several of the participants didn't mind hanging on Coach Vrabel a little longer than necessary. Coach Hinton's station had us running a tight end route then catching the ball then completing it with the important touchdown dance.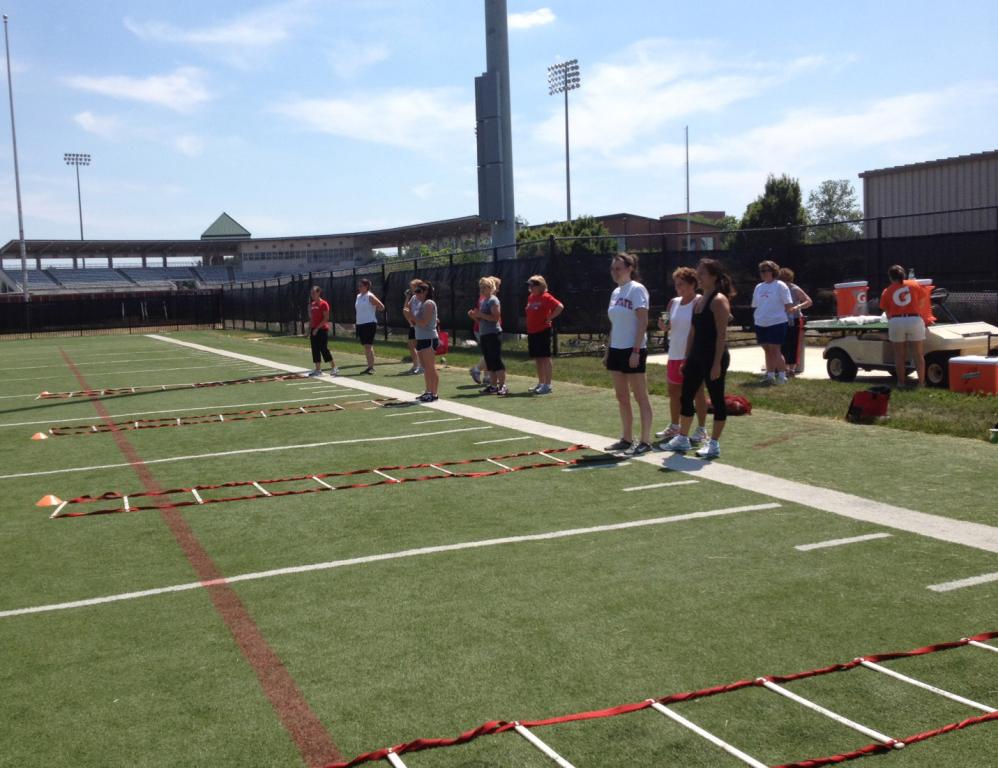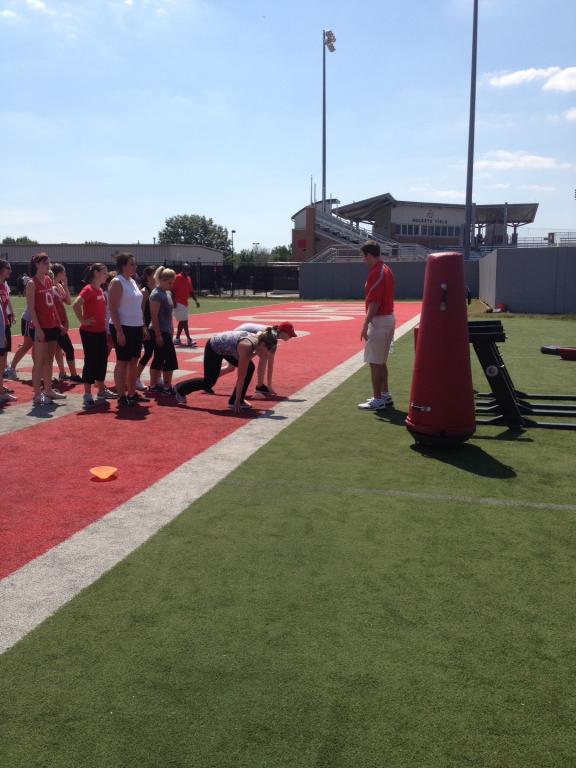 We then went back inside for some competition, including the "world famous" Smokehouse drill. Coach Marotti got everyone pumped with some chants where he yells "smoke" and we yell "house" right back. We broke into age groups and then competed in an all out 40 yard dash. The women 65 and up were booking it. You could definitely feel the competiveness coming out of all the participants. Next was a push-up contest. The girl that won knocked out around 160 push ups. I'm glad she won because she was doing some real push-ups not just arm bends (sorry other ladies I just don't think they count). The band then came out and played finishing with Carmen Ohio.
All in all, it was a great day for a great cause. The coaching staff is made up of great guys and it was fun to see a different side of them than just "game mode". The whole event was impressively organized and a huge success. Great job to the whole staff that organized it! I'm definitely looking forward to going back next year.
Also special thanks to my mom who helped get some of the photos.