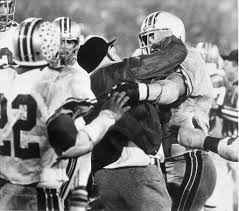 I remember the 1978 Gator Bowl. I remember a game we threw away--but I remember more the great controversy afterwards. I remember the unthinkable--Woody Hayes--Coach Woody Hayes--fired. He didn't resign--Woody didn't quit. He was not a quitter. Right or wrong, he never, ever gave up. Somehow, in the great cosmic scheme of things there has been an imbalance--a travesty of celestial proportions since that fateful day. Woody Hayes, a man not without fault, but a great, great man, truly larger than life and a changer of lives for many people during the short time given to him on this earth. Many of you were not alive when Woody was fired. You relate to it through the Jim Tressel experience--but it was different. Coach Hayes, being Coach Hayes, swinging, screaming, angry, hating to lose, and hitting some guy in the pads. "He didn't hurt me," Bauman said later. There is injustice in the space-time continuum--I'm not talking like the usual injustice in the world, but a major out of whack chasm of wrongness. It is time for that to be undone--it is time to be rectified. You may say this team, this game has nothing to do with that day in 1978. You're wrong.
May the Restless Spirit of Woody be avenged against the Clemson plague on this day. May every Buckeye player be empowered with the punch of Woody, as redemption draweth nigh. Clemson must be pulverized with the 21st century roundhouse punch of Woody Hayes. To hell with all the platitudes and love for Tahj Boyd! It's Clemson, and we hate them! Revenge! All of the rage of that moment in 1978 needs to be bottled and then poured in high concentration into the gatorade on the Buckeye sideline. Clemson is TTUN in orange. Beat them! Beat them! Screw the National Championship! Screw TTUN! Screw the Spartans! Screw Clemson! Screw Charlie Bauman! Avenge the greatest coach in the history of the world!
That's how I feel about this damn game.