As we've said a number of times here at 11W, recruiting is an incredibly fluid and constantly evolving little thing. A fickle monster that cares not for the commonly conceived notions brought forth by even the most dialed in of recruiting "experts." If the constant need for caution that we here at Eleven Warriors stress regularly hasn't provided enough of a reason to not get too riled about a recruit — any recruit — let's take a closer look at the case of Buckeye wide receiver target Noah Brown.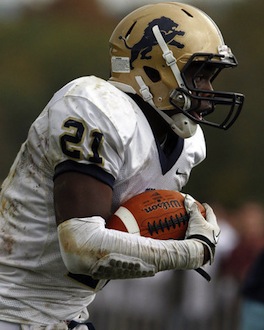 About six weeks ago, Brown made a visit to Ohio State with his mother as a stop on a midwest swing that saw visits to Michigan State and Vanderbilt, as well as Ohio State. Upon the completion of that trip, Brown was quick and eager to name the Buckeyes as the leader for his services and eventual commitment. 
"I definitely still have Ohio State as my leader," Brown told Eleven Warriors in late July. "They have the best balance of high-level academics and elite football that I have seen so far. Plus they have a beautiful campus and great facilities. I really got a good look at all aspects of the program and was happy to get a chance to spend close to an hour with Urban Meyer before he left for the Big Ten Media Days."
After that visit, Brown seemed to be on his way towards a quick commitment to Ohio State, but something happened between his visit and his expected commitment. Something nefarious...something completely unexpected. 
Noah Brown, a 17-year old high school football player from New Jersey, who once posed a child-sized version of an NWA member in Source magazine, changed his mind. 
"Committing on my visit was not in my plans," he told us July, and despite a thought to the contrary, Brown held on to his decision, remaining steadfast and adding a few weeks later. "I think I was getting a bit ahead of myself, and I really needed to take a step back and make sure I had all the information I needed."
So what did Brown do next? He visited home-state Rutgers twice in a two-week period and just like that, the drumbeats suddenly led those "in the know" to believe Brown was all Scarlet Knights. That concept became much more realistic as Brown announced — on the heel of his Rutgers visits — that he would make his commitment prior to his senior season's first game, September 12th, and would do so without another visit to Ohio State. 
It was supposed by many that the Buckeyes had turned their focus from Brown to other options, but as they persisted in their contact with him and he with them it became clear that was not the case, despite the perception that Rutgers, at least according to many, (myself included) had moved into the driver's seat.
Sunday the Sparta (N.J.) star wide receiver announced via his Twitter that he would be in fact be visiting Ohio State again, and doing so this Saturday for the Buckeyes' home game against San Diego State. The visit, an official visit for Brown, has the chance to be a major turn in his recruitment. While I don't believe he had ultimately decided on Rutgers or Ohio State, this weekend's visit would certainly indicate that the Buckeyes have earned the last shot at Brown and puts to bed definitively any thoughts about Ohio State "cooling" on Brown or vice versa. 
Ohio State has maintained all along that Brown was "in" if he wanted to be, and this most recent development speaks to that truth. I had changed my 247Sports.com "crystal ball" on Brown from Ohio State to Rutgers two weeks ago, but this official visit has changed my mind. 
Brown to the Buckeyes makes sense for a number of reasons and with a decision happening before September 12th — very soon after this weekend's visit to Ohio State — I'd be surprised if ended up choosing Rutgers despite his familiarity with their staff and his comfort in New Brunswick.
So what then of Dwyer High School (Palm Beach Gardens, Fla.) standout Johnnie Dixon? Ohio State has long been interested in Dixon and wide receivers coach Zach Smith has worked tirelessly to continue cultivating the relationship with the 5-foot-10 wide out. Dixon has maintained that the Buckeyes and he stay in regular contact with one another and he's penciled in for an official visit to Columbus on September 28th when Ohio State takes on Wisconsin.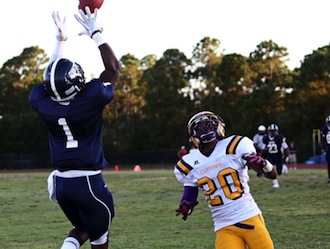 Would Ohio State have the room to take two more wide receivers with Terry McLaurin, Curtis Samuel, Parris Campbell and Lonnie Johnson already committed and all capable of playing wide receiver? Unlikely, barring something significant happening to one of the current pledges, despite their affinity for Dixon and Brown; each of whom bring something unique to the table. 
As things continue to evolve, we're continuing to bring you the latest in Buckeye recruiting, but we hope you realize as we do, things are constantly changing. We're talking about teenagers, remember?