February was a great month for Eleven Warriors. We recorded an all-time high of 2,369,510 pageviews for the month, which is the best single month in our history and good enough for an 714% increase over our February 2011 total of 291,075 pageviews1.
Recruiting -- and Alex taking our recruiting coverage to a new level -- is a big part of this and is highlighted by the nearly 200,000 pageviews we logged on National Signing Day (2/1).
In short, we're growing and having a lot of fun on the ride.
Since we're asking you to help us grow, I think it's important that we share growth updates with you guys2, so I put together a couple of charts breaking down various dimensions of our February traffic.
First up, the top 10 states that visit the site: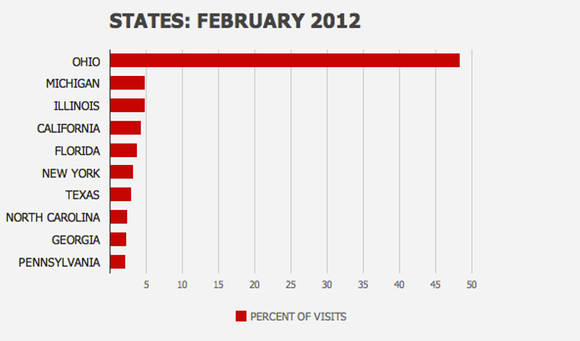 It's no surprise seeing Ohio at the top of the list. The Buckeye state sent us 48.35% of our traffic last month. Michigan at the #2 spot makes sense as well and I'd imagine Ohio would rank highly on MGoBlog. Keeping tabs on the enemy and all.
Next up, the top 10 cities in Ohio: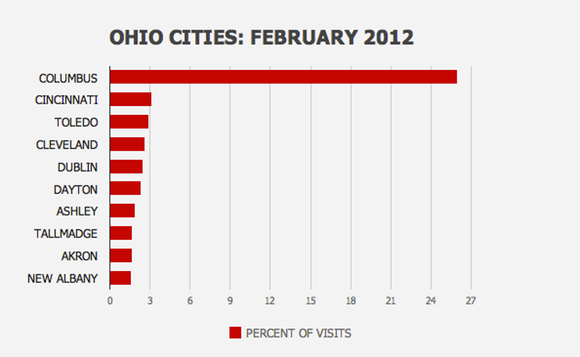 You might figure to see Columbus so well represented, but the fact that we get 26% of our pageviews from the epicenter of Buckeyeland always surprises me. Cincinnati, for all of the heat it takes for not being a Buckeye town actually checks in second with 3.16% of traffic, while Toledo (2.91%) edges Cleveland (2.60%) for third on the list.
Ashley (population 1,216!!) and Tallmadge (population 17,537), we see you. People of New Albany, yes, you can buy a membership to our board of directors.
Moving on, we have the browser breakdown: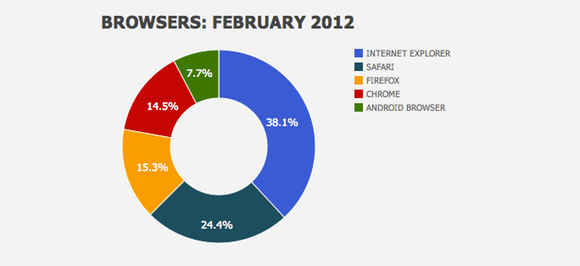 IE, not dead yet. Which owes to the large number of you that visit the site from workplaces that don't give you the option to change your default browser.
Our Safari numbers are a little higher than what you'd see in global browser stats, but only because Google Analyitics groups Safari across all platforms (Mac, Windows, iPad, iPhone, etc.).
Which brings us to mobile device usage: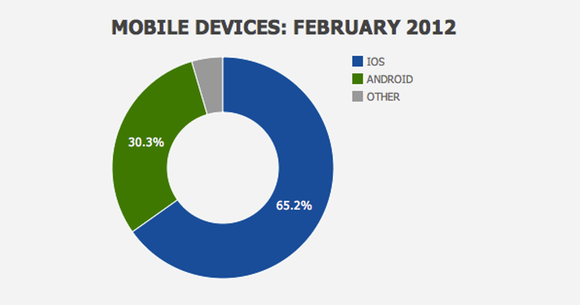 Apple's iOS, thanks to 26.12% of our mobile visitors accessing the site via an iPad does really well here. When you filter down to just phones, it's about 36.27% iPhone to 33.71% Android-based phones.
Hopefully some of you enjoyed this look into our numbers. I'll try to remember to do these every now and then going forward.
1 To be fair, we had one extra day of business in February 2012.
2 Our historical numbers are up on Quantcast for you to check out whenever curiosity strikes.