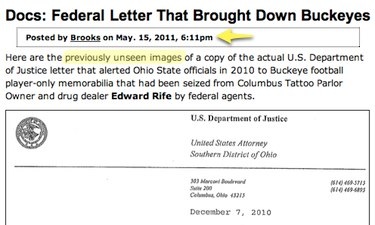 Just two days after delivering the incredibly scandalous (and incredibly incorrect) scoop behind the departure of Shelly Poe as OSU's football SID, SPORTSbyBROOKS is back with "previously unseen images" of the letter from the Department of Justice that started our winter of discontent.
For the first time ever -- EVER I say -- you can take a gander at the letter from the United States Attorney that spelled out the details of the player merchandise found in the possession of tattoo parlor owner Edward Rife, himself embroiled in a criminal investigation.
What's that you say?
The Cleveland Plain Dealer released that document way back on April 28th?
Whelp, carry on then.