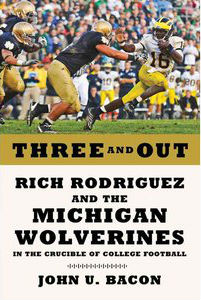 M Man, our resident Wolverine expert, already published the definitive review of Three and Out: Rich Rodriguez and the Michigan Wolverines in the Crucible of College Football, John U. Bacon's behind-the-scenes look at Rich Rodriguez's short tenure in Ann Arbor.
His review is fair, thorough and informative. If you didn't get a chance to read it, you should really make time to do so. Oh, and if you're looking for a good read, pick the book up. You'll get the dirty on the Machiavellian atmosphere on "The Hill" as well as learn a lot about Michigan and Big Ten history along the way.
There's really not much I can add to his review, but I did finally have a chance to squeeze the book in1 and thought I'd share some of the passages I highlighted when reading it.
Part opposition research, part just plain interesting facts, my Kindle notes are yours.
Their FAVORITE SONG is Probably Ripped Off (P. 15)
Either way, Elbel worked with amazing efficiency—perhaps because he seems to have lifted the renowned melody of "The Victors'" from "The Spirit of Liberty," which his friend George Rosenberg had copyrighted seven months earlier.
The Victors, the song you grew up hating, is not original (fast-forward to the 1:40 mark of the embedded "The Spirit of Liberty March"). It's safe to go ahead and add "intellectual property thief" to the long list of characteristics that define the Michigan Man.
Bo Schembechler May Have Thought the Helmets Were Ugly, Too (P. 22)
Although Schembechler made an ill-advised crack during an early speech about changing the team's funny-looking helmets (he maintained it was a joke, though others aren't so certain), he quickly received the help of Canham, Bob Ufer, and his predecessor, Bump Elliott. He learned Michigan's gospel and how to preach it.
While Michigan Men are still debating whether or not Bo was joking, I'm going to go ahead and assume that he wanted to change the helmets but had the common sense to play his way out of the situation. They are pretty ugly.
You and Rich Rodriguez shared the same seat on the Demon Drop (p. 28)
For their honeymoon, all [Rich and Rita Rodriguez] could afford was Cedar Point for one night, but they remember it fondly.
It's easy to think HURR-DURR RICH RODRIGUEZ WENT TO CEDAR POINT FOR HIS HONEYMOON, but it's impossible to read this book without coming away liking the guy. Ipso facto, honeymoons at Cedar Point are now considered charming. Also, this is the first of many documented instances of Rodriguez's stomach dropping in the state of Ohio.
Lloyd Carr is crazy (p. 42)
Each week he went through the game program and circled everything he didn't like—right down to an ad for Velveeta cheese featuring former Ohio State quarterback turned ESPN analyst Kirk Herbstreit—and told the sports information people to make sure it was pulled by the next week. Inside the department, such stories earned him the nickname "Paranoid Lloyd."
I got nothing.
Rodriguez Was a Trash Talker (p. 114-115)
When the tape finished, Rodriguez said, "They don't like us. Weis has popped his mouth off and a few of their players have, too. That's fine. They talk about the Golden Dome and Touchdown Jesus and all those national championship banners. That's fine, too. But let me tell you right now: It wouldn't matter if the pope himself came down and blessed every one of them. From what I know, the pope doesn't coach football!"
And...
Rodriguez finished with a classic coaching tactic: the assumptive victory. "I visualize walking across the field after we kick their asses and shaking the fat boy's hand and saying, 'We can't wait to see you again in 365 days.'"
Told you that you'd grow to like the guy.
Rodriguez the Sailor (p. 263)
In the coaches' room, Rodriguez said, to no one in particular, "They're running the same goddamn play twenty times in a row and we can't fuckin' stop 'em. Fuck me!"
This outburst came after Michigan had turned a three point halftime deficit into a 45-24 beatdown in Madison, handing the Wolverines their sixth-straight loss of the 2009 season.
Rodriguez used a lot of colorful language and you'll recall some pointed to his language as what Justin Boren was referring to when he mentioned the erosion of family values within the program.
I also found it interesting that Rodriguez would use language like this at practice in front of his children, as they attended most of them.
Carr let his players skip class during rivalry weeks (p. 266)
"This week, we will give Ohio State our undivided attention. This is all you'll be thinking about this week, except for classes—and as you know, we expect you to attend." The last bit was a reference to Carr's policy of letting the players skip class during rivalry weeks. By Rodriguez's second year, they knew not to ask him anymore about that.
Let's see: three rivals, 15 weeks of classes during fall quarter... Who wouldn't want to play for a coach that let you skip 20% of our classes?
Mark Dantonio is who you think he is (p. 361)
"Coach Dantonio," he said, extending his hand, "I just want to wish you a speedy recovery and welcome you to Michigan Stadium." Dantonio brushed his hand away. "Get the hell outta here."
That's Michigan State Mark Dantonio talking to a crowd control volunteer at Michigan Stadium.
Imagine the Kenny Powers shower scene in the pilot of Eastbound and Down (p. 366)
When Rodriguez took his postgame shower a few minutes later, it sounded like he might suffer from a rare strain of Tourette's. "Fuckin' defense! Fuckin' long snapper! Fuckin' LIFE!"
That's the head coach, shortly after dropping his first game of the 2010 season, in ugly fashion, to Little Brother.
Cool story, officer (p. 405)
In the second half, the Buckeyes scored on their first three possessions to post a 37–7 score, and it would have been worse if Coach Tressel had not shown some mercy in the fourth quarter. The Buckeyes' infamous fans, of course, showed a little less mercy, yelling and screaming profanities throughout the game. In the words of a U-M police officer assigned to guard the players, "If I was given a free pass to shoot Ohio State fans today, I'd have run out of bullets."
Note to self: Don't get pulled over in Ann Arbor.
Meanwhile, Taylor Lewan lives in a parallel universe (p. 405)
"Let's don't act like they beat us!" Lewan told his teammates back in the locker room. "They didn't. We beat ourselves. We had 'em! We outplayed 'em!"
Remember, this is right after losing to the Buckeyes 37-7.
We were tantalizingly close to getting footage of Rodriguez's Groban Moment (p. 415)
The rumor mill had Fox Sports offering $50,000 for the film and another outlet $100,000. Dave Brandon—a world-class whiz at damage control, who had handled the NCAA investigation so masterfully—quickly quashed that problem by telling the film crew that if they did so, they'd never work for Michigan again...
If I had been aware of a bidding war for the video footage of Rodriguez urging the banquet crowd to sing along to Josh Groban's "You Raise Me Up", we would have held a fundraiser a year earlier.