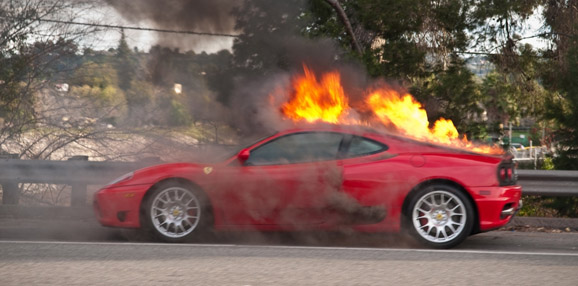 No, really. There are flames and it's hot and OUCH.
So, Derek has accepted a new position and will be taking his talents to Scout Beach. It all happened so quickly and we're very excited for him – he'll bring a fantastic skill set to his role working under Bill Greene.
We're also a bit frustrated, because if you know anything about the major Ohio State subscription sites, Bucknuts/247 is the Hatfields to Buckeye Sports Bulletin/Scout's McCoys. The Hatfields made a move last week, and the McCoys answered. Thanks, eternally feuding pay sites!
So Miles is the last man on Moon Base Alpha but he's a good man and he'll deftly hold things down through this big recruiting weekend, letting you know the moment the class of 2014 grows.
And we have insurance!
We'll be announcing the addition of an all-state talent within days. This person should be up and running ahead of the Spring Game next weekend. And as of this writing, we have over 50 applications – many stellar – to become our third recruiting analyst. We are still collecting applications for the open analyst position, so if you or someone you know might be interested, let us know.
Please join me in congratulating Derek and thanking him for his time and effort.