On behalf of the entire Eleven Warriors team and the Stefanie Spielman Fund for Breast Cancer Research, I want to thank you for purchasing a VIP ticket to Eat Too, Brutus 2011. As you know, the event will be held this Saturday, October 29th, prior to the Wisconsin game. To ensure smooth planning, this guide will cover everything you need to know.
Please join us for a happy hour in the Arena District to kickoff the weekend on Friday night. It's a great chance to mingle with D-list site writers and meet other readers.
This is the main event and will be catered by City BBQ and Cheryl's Cookies. Since you purchased a VIP pass, your food and drink are covered for you. You must only show up, ready to have a good time.
Although you're more than welcome to wear your t-shirt to the event, you do not need to. However, to secure your VIP wristband(s), you must bring a photo ID.
Your food and drinks are covered at this event, but, if you make a mean chili or batch of brownies and you want to show off your cooking skills, you're more than welcome to bring additional food to the event. What quicker way to make additional friends?
Among the activities planned for the event is a charity raffle to help generate even more money for the Stefanie Spielman Fund. We will be selling raffle tickets for $2 each and will be able to accept cash or credit cards. Among the items up for raffle: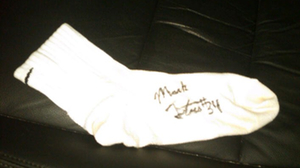 Last, but not least, your VIP wristband will gain you entry to a postgame party held by our friends at SchmooGate, so please don't discard it after the tailgate is over. Once the Badgers are vanquished, there's no telling where the night will go.
If you have any questions, please don't hesitate to contact us. Thank you, again, for your support of the Stefanie Spielman Fund for Breast Cancer Research. We're looking forward to seeing you on Saturday.