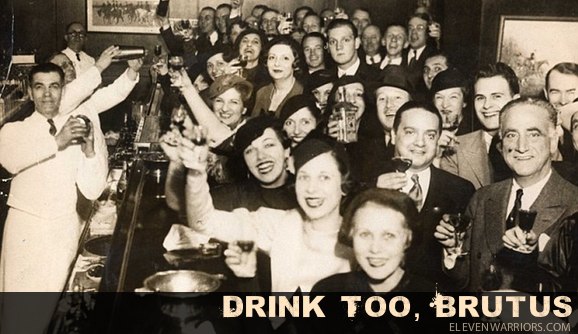 If you plan to attend Eat Too, Brutus prior to the Nebraska game, get your weekend off to the right start by making it out for Drink Too, Brutus on Friday, October 5th.
We're going to gather at Bernard's Tavern in the Short North (Map) at 8pm to eat, drink, talk football and celebrate the buckets of cash you're helping us raise for DownSyndrome Achieves. Bernard's will be supplying wristbands and will have drink/food specials throughout the night and we have a surprise or two in store as well.
This is a great chance to meet your favorite D-list writers as well as site regulars and kind, charitable people. We hope you'll join us.
In bullets:
DATE/TIME: Friday, October 5th @ 8:00pm
LOCATION: Bernard's Tavern - 630 N High St (Map)
SPREADING TO RUN POWER, A SYMPOSIUM: To begin one hour into the night, or whenever Ross starts to tingle.
Frequently Asked Questions
What if I don't have a ticket to Eat Too, Brutus because I am unable to attend the tailgate?
You're more than welcome to come out for Drink Too, Brutus even if you don't have a ticket to Eat Too, Brutus.
Will you be accepting donations for DownSyndrome Achieves at Drink Too, Brutus?
Yes! If you'd like to make a donation to DownSyndrome Achieves, we can accept it at Drink Too, Brutus.
I'm not drinking age. Can I still attend?
Sorry. Bernard's is a 21+ establishment.
I plan to drink. Should I line up a designated driver or look into getting a cab?
Yes. A thousand times yes.
Will Johnny sing The Legend of Air Bud to me?
Yes. But only after 10pm.