We're not huge into blogger beefs, unless you're talking about that one erect turd of a site that accused of us stealing their content, but this is disingenuous at best:
We've known about a possible investigation for the past three days, but have stayed deliberately silent on the matter because of a lack of credible sources. However, with the Dispatch confirmation of earlier reports and ESPN's reporting tonight, the news has spiraled into a miniature scandal.
Really?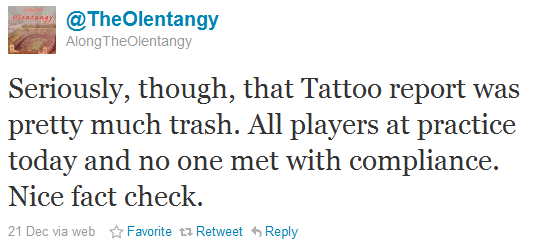 This is part in parcel with the whole Scout/BSB assault on Bucknuts relating to their rivalry and lack of love between each other. Here's one of Scout's "insiders" saying the whole ordeal was "much ado about nada" just two days ago (before claiming to be close to the situation and holding relevant details late last night).
Nobody is right all of the time, but at least be man enough to admit you're wrong (or blindly taking part in site beefs) when you are.
We've never been huge into any messageboard or forum community and right now, I'm pretty thankful for that. You are not effective in reporting news when you have a clear bias against another operation.