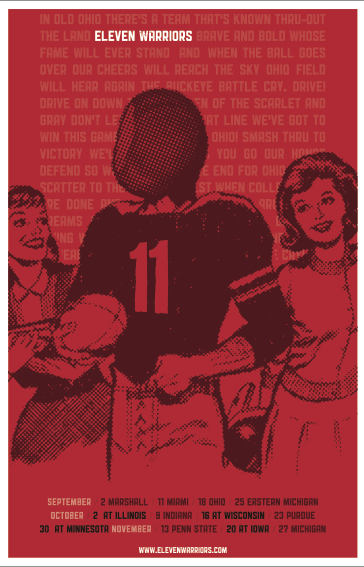 Friend of the blog, and designer of our latest batch of t-shirts, Walt Keys, is also quite the poster artist. He designed the schedule poster you see to the right for us (if you were at the tailgate and managed to grab one, bully for you -- if not, click the image to download a PDF and print your own) and has also whipped up posters for each game on the Ohio State schedule.
The posters are unbelievably amazing.  So much so, that Paul Lukas handed out some love today on the venerable Uni Watch blog.
You read this blog, so naturally you have exquisite taste in all things Buckeye and would wisely like to procure one of these fine posters for your lovely home. Well, you're in luck. His Miami print is on sale through Etsy (signed and numbered) and he has plans to make the other prints available as well.