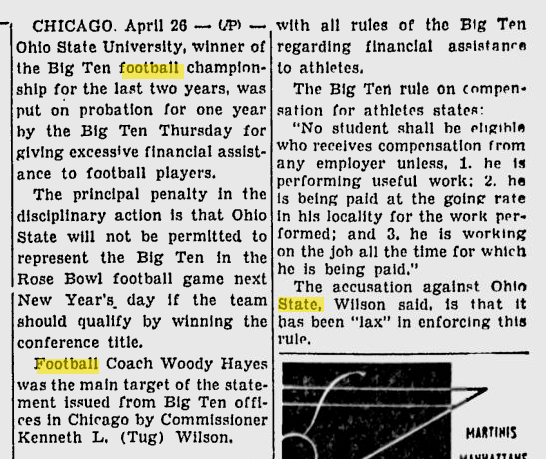 Appearing on his weekly television show during the 1955 season, Woody Hayes was discussing the troubles he had keeping players in school because football kept them too busy to hold meaningful jobs. Hayes then admitted that he often loaned small amounts of money to players that needed help. Oops.
Shortly thereafter, Sports Illustrated ran The Ohio State Story: Win or Else, highlighting the pressure Hayes faced in Columbus and the nature of Ohio State football as a "vast profit-making amusement enterprise with amateur dressing".
Robert Shaplen's exposé featured the "football tail is wagging the college dog" quote from a concerned professor and the requisite story of a star player flunking out, despite the assistance of four tutors. Thankfully, there were no stories of rigged charity raffles, but the piece did not paint Ohio State football in good light. Primarily because of this passage:
Once signed, a recruit can count on some financial help from Hayes if he is "in need." Woody insists that he never forks up for a luxury—another narrow line—but it's certainly also true that he makes sure he won't lose any valuable men by financial default.
Much like 2011, Buckeye fans took to 1955's Twitter to back their coach, but Ohio State had a problem.
Big Ten commissioner Kenneth "Tug" Wilson paid a visit to Columbus as part of a three-month investigation and Hayes admitted to lending about $400 a year to players in need of assistance. Wilson also discovered a "serious irregularity" in the off-campus work program provided to athletes.
The trouble was that in numerous instances the athletes seemed to have collected their wages in advance, without anybody notably concerned if they ever performed the work for which they had been paid. 
Sound familiar?
Unlike Jim Tressel, Hayes told the truth and escaped with his job, though his team received a one-year probationary sentence from the Western Conference, meaning they would be ineligible for the Rose Bowl should they win the conference in 1956.
Under this cloud, the Buckeyes would go on to start the 1956 season 6-1 with comfortable wins over Nebraska, Stanford and Wisconsin1, rising to #7 and setting up a showdown at #6 Iowa. The Hawkeyes, led by tackle Alex Karras scored the game's only touchdown in the 2nd half and emerged with a hard-fought 6-0 victory, locking up the school's first-ever postseason bowl and snapping Ohio State's 17-game conference winning streak.
The following week, the Buckeyes lost to Michigan 19-0 to finish the season 6-3, ranked 15th in the AP poll.
In 1957, the team's first post-probation season, Ohio State avenged the previous season's loss to Iowa, thumped Michigan 31-14 in Ann Arbor and wrapped things up with a 10-7 win over the Oregon Ducks in the Rose Bowl, securing the school's 3rd national championship.
This fall, we kick off 1956 all over again.
1 The lone loss during this stretch was a 7-6 heartbreaker to Rip Engle's Penn State squad. In other news, Ohio State's out-of-conference schedule used to read: Nebraska, Stanford and Penn State.