The first big holiday of 2013 is here as college football's National Singing Day is finally upon us. As is normally the case the last few days and weeks have been a whirlwind of commitments, de-commitments, rumors and guesses but today the rubber meets the road as kids all over the country put pen to paper to fax machine and decide where they will spend the next few years of their young lives. Some stay home and some make their first commute to college via plane ticket. Some even get tattoos and then commit to the rival. The scenarios on NSD are endless, and the 11W recruiting team have already made their predictions for Wednesday's outcome, but the real story today will be told by the kids.
While we all have our eyes directly set on the decisions of James Clark and Vonn Bell, the storilines surrounding Taivon Jacobs and Ezekiel Elliott will insure we're glued to the news stream clear through the afternoon as they both decide if they want to remain close to home or take a one way ticket to Columbus in hopes of one day holding up a crystal football.
The Vonn Bell situation, perhaps the most difficult for anyone to comfortably predict, may have taken a turn for the worse Tuesday night when Tennessee head coach Butch Jones made a cryptic Twitter post of his own...
Ending the night on a positive note, just received some great news a few mins ago! #VFL twitter.com/UTCoachJones/s…
— Butch Jones (@UTCoachJones) February 6, 2013

All is fair in the cut throat world of recruiting and those who follow it from a distance, but there may not be a better one in the game than our own Urban Meyer. His performance on the field over his celebrated career speaks for itself, none of which came without blood, sweat and scheme, but the level of success he's experienced on the field started with the level of talent he brought into his programs from the recruiting trail. Let's take a closer look at Meyer's recent recruiting performance - by the numbers - before he snags his last couple of commits of the 2013 class.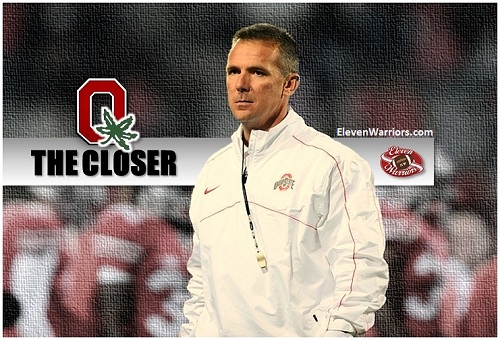 12,411 | Total miles traveled by Meyer's current twenty-four man 2013 class, including Taivon Jacobs and Ezekiel Elliott, to get from their home towns to the campus of THE Ohio State University. That's exactly 126 miles further than the travel required to get from Lane Avenue to -- Haixi, China.
2,212 | Distance, in miles, from Riverside, CA to The Ohio State University, a trip that 6'4" 4-Star TE Marcus Baugh will make in order to wear the Scarlet and Gray.
1,625 | Total combined weight of the defensive linemen Urban Meyer has brought to Columbus since arriving in late 2011, representing a healthy average of 270.8 pounds each.
439 | Days since TSUN last beat Ohio State in football. Five days earlier it was announced that Urban Meyer had been taken off the broadcast schedule by ESPN for The Game, causing 3.1 million sportsgasms to occur within Buckeye Nation in a 24-hour span.
298 | Days until Urban Meyer moves his record against TSUN to a tidy 2-0 while holding the title of head football coach at Ohio State.
80 | Number of commits Meyer has signed from the ESPN 150 since its inception in 2006, including eleven thus far in his current class.
76.25 | Average height, in inches, of the six defensive ends Meyer has signed to the Buckeyes in his first two classes.
57.75% | The percentage of Meyer's 187 commits (108) since his first year in Gainesville who were ranked as 4-Stars by the Rivals recruiting service.
27.27% | The percentage of Meyer's 187 commits (51) since his first year in Gainesville who were ranked as 4-Stars by the Rivals recruiting service.
25 | Number of commits from the state of Ohio that Meyer has signed since arriving in Columbus.
17 | The number of 4-Stars (Rivals) in Meyer's 2010 class, his last with the Florida Gators, representing the most he's ever signed in one class. Empty cupboard, Gator Nation? Cool.
17 | Different states represented by the commits of Meyer's first two recruiting classes for the Buckeyes.
12 | Different states represented by the current commits to Ohio State's class of 2013.
11.76% | The percentage of Meyer's 187 commits (22) since his first year in Gainesville who were ranked as 5-Stars by the Rivals recruiting service.
11 | Number of recruits Meyer has flipped to Ohio State who were once committed to another program, including seven in his first three months in Columbus and four more in his current class.
3.21% | The percentage of Meyer's 187 commits (6) since his first year in Gainesville who were ranked as 2-Stars by the Rivals recruiting service, three of which were kickers including Johnny Townsend in this year's class.
0 | The total number of career intercollegiate losses Urban Meyer's class of 2012 has recorded since officially joining the program at this time last year.
Plenty of these can and will change as signatures come rolling in on Wednesday, and I can't see making any updates to it, but this should get you started for what will undoubtedly be a day of celebration around Buckeye Nation. Need a glimpse of the current roster slots as it stands now? Alex built just that a few weeks ago and has updated it as news has came in ever since, revised through Monday night's commitment of Dontre Wilson.
Enjoy the day, guys and gals. It should be an exciting one.