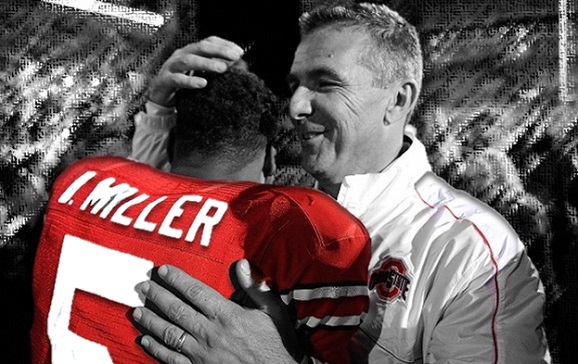 There are plenty of eyes outside of Columbus, Ohio that are currently pinned directly on the football and basketball programs of The Ohio State University. We know this because many are accompanied by a voice commenting on everything from our special teams coach and his 'distaste' for kickers to the color of our point guard's skin.
Nothing goes unnoticed when it comes to the teams of Thad Matta and Urban Meyer, be it on television or behind the scenes, and for good reason: the one-two combination of their programs is as good as you'll find today at the Division-1 level.
The winning ways of Thad Matta – bringing NBA talent such as Oden, Conley, Cook, Turner, Sullinger and Thomas through the Jerome Schottenstein Center in recent years – coupled with the ultra-successful era of Jim Tressel, has brought on hatred from all corners of the college sports world.
Fans from other schools have a strong dislike for the two programs for obvious, competitive reasons. Certain members of the media seem to have an axe to grind with one or both Buckeye programs as well, beginning with ESPN's Mark May who often goes out of his way to speak negatively about the Ohio State football team. Even an Assistant Men's Basketball Coach at Northwest Florida State, as well as a recently resigned high school basketball coach, hates Thad and his Buckeyes.
A few of Urban Meyer's peers became vocal two winters ago when he entered the fray in Columbus and began plucking their verbally committed recruits at will. Were they genuinely calling him out for his ethical standards when their programs have a history of similar behavior, or was it simply their first opportunity to get a dig in on a man they knew had loftier, yet more achievable, goals than them?
Typically in any case such as these I may prefer the media and competition keep the Buckeyes out of their mouths and worry about things they can actually control. In this situation – this set of circumstances – we should welcome the jeers.
These talking heads, be it media or coaches, aren't discussing just how far the Buckeyes have fallen. They're not publishing random opinions as to why either Matta or Meyer is running a .500 program. They aren't even talking about Terrelle Pryor or Bobby DeGeronimo anymore.
No, instead they're talking about how our standout point guard's rosy cheeks, connected to his white body, infuriate people. They call him annoying and, if you're Rick Reilly, ask his teammates if they agree. They may actually be on to something…
For those outside of Columbus who may dislike Aaron Craft it's for many of the same reasons the exact same people disliked Jim Tressel. Both are quiet and unassuming, always find the right words to say, regardless of topic, and generate ways to lead their team to wins.
"You can be a nice guy - or you can be smart - or you can win. But you can't do all three! Rabble rabble."
Sure you can, and Thad Matta found him one in Craft.
Matta already brought a number-one overall NBA draft pick through the program (Oden) with a couple of ringers to help him get to the national championship game as freshmen (Conley, Cook). He attracted an eventual Naismith winner (Turner) from Chicago. He signed up a happy-go-lucky local kid (Sullinger) who bled scarlet and gray and displayed a Magic Johnson-like smile, annoying everyone from State College to Lincoln, while here and then exited stage left to join one of the most storied franchises in professional sports.
Now Matta has this astronaut of a student-athlete who not only excels "in the classroom and in the community," but also has rosy cheeks, is staying all four years AND can lock down All-American point guards without slapping the floor before doing so?
C'mon, Thad. Now you're just trolling America, and they're responding.
How dare you infuse a basketball coach who collects players that can beat us all into a university who already gets its fair share of publicity for what they do in Ohio Stadium. It's too much, OSU.
You must have some kind of ego, OSU, to go through what you did in 2010 and 2011 just to turn around and bring a rock star "home." That guy will almost certainly exceed the successes of his predecessor, who we already grew to hate. You couldn't leave well enough alone when we had our day in the sun celebrating the demise of Coach Tressel?
Hiring Thad put Ohio State basketball back on the national map, seemingly for good. Bringing Urban on board, especially after the turmoil that engulfed the football program over the previous eighteen months, simply added gasoline to a group of outside opinions that were already spewing fire.
Matta is rolling right along, just completing his fourth straight Elite Eight appearance, the longest current streak in America.
Meyer is getting his feet under him in Columbus, doing his "best" to bring a 6-7 bunch up to their potential while loading up with his own talent in the classes behind them. So far so good – he's been the head coach for exactly 491 days and has yet to allow his win-loss ledger to endure a single blemish.
Around this time last year, in a move that surprised most, ESPN teamed up with Meyer and Ohio State and allowed us a rare glimpse into the program under a new regime with their All Access series. It was nothing short of must-see TV for Ohio State fans. Rest assured, enemies of the state were tuned in as well.
Just as they were then, and for the very set of reasons it's a wonderful time to be a fan of the Ohio State Buckeyes, all eyes are on us. Not every pair seeks to lift our sports programs upon their shoulders, but they're present for a reason.
Thad Matta and Urban Meyer have their respective Buckeyes in the national news. It doesn't matter if it's basketball season, football season or the off season.
Whether it's Sam Thompson lifting off to contribute to another #SCTop10 or Devin Smith making a circus catch for six, all eyes are on us.
Whether we're announcing All-Big Ten honors or scholar athlete lists – whether our football coach is too aggressive or our point guard is too white - all eyes are on us.
Think Nick Saban isn't watching every Urban Meyer move from ESPN to The Dispatch? You assuming Jon Calipari has his head buried in the sand and doesn't notice Thad's threat?
If so, in either case, you would be wrong - and we shouldn't want it any other way.