This article was written by, and is still posted on, Inside The Shoe.
When Ohio State didn't show up against Florida in the National Championship game a few years back, experts and pundits everywhere lambasted the Big Ten's lack of speed. Apparently they thought that all 11 Big Ten schools only recruited big, slow, Midwestern farm boys so they could have an offense that runs up the middle and gains 3 yards at a time (and I say that only half jokingly as that appears to be what many people actually believed, and what Mark May still believes. Wow Mark May, classy). Even after all the big games flops in the past 3-4 years, I never felt Ohio State lost because of lack of speed. It felt that was a completely unintelligent analysis of what was occurring on the football field. After listening to Desmond Howard and Mark May emphatically pick Miami to win yesterday, with both citing Miami's speed as a problem for the oh-so-slow Buckeyes, I can't help but do my part to address and correct the common misconception that Ohio State, and the rest of the Big Ten, is simply too slow to compete with the SEC and other big name schools from the south.
First order of business: Prove the Big Ten has the same level of individual talent that the SEC, and southern "speed" schools in general, have. There is a very simple way to do this. I assume we can all agree that while the NFL often times drafts on future potential (resulting in busts), they do not usually draft players who simply do not have the physical tools needed to be successful at that level, i.e. quarterbacks who just have inherently weak or injury prone arms, or skill position players that are just too slow. Would it then surprise you to learn that Ohio State has produced the third most NFL draft picks of any school of all time, with 394? Would it surprise you further to see Michigan with the fifth most picks in history, or Penn State sitting at eighth? If that still does not surprise you, you are most likely a Big Ten fan. But even staunch Big Ten school supporters would not guess that Michigan State is 13th, Purdue is 18th, and Minnesota is 21st. The first SEC school does not show up on that list until seventh, and it is Tennessee. Florida is 11th, and Alabama is tied with Michigan State at 13th. To play devil's advocate, for a moment: These are historical lists. The Big Ten was dominate in the 50's and 60's, but recently, the SEC has been the best conference.

Well that comment won't get much argument from me. The SEC has dominated the BCS as of late, winning the last four national championships. But I am not talking about team accomplishments right now, that will happen in a couple of paragraphs. Rather, I am discussing whether Big Ten schools have the individual talent to match up with southern schools. And I would tend to agree that historical data is not the best way to prove that. So let's look at the NFL talent produced in the last decade only. Ohio State leads the way with 70 players drafted since 1999. That includes a record (which has since been tied) of 14 in one draft in 2004 . Again, to reiterate: In the past 10 years, Ohio State has had more players drafted by the NFL than Florida (55), Georgia (56), LSU (46), Tennessee (59), USC (56), and Miami, FL (65). Other Big Ten schools that rank high in the past decade include Michigan (48), Wisconsin (43), Purdue (32), Iowa (31), and future Big Ten member Nebraska (45). So the SEC has sent more players to the NFL recently than most of the Big Ten (albeit not by very much). But that is to be expected when you win four championships in a row. No other school has had as much success getting players to the NFL than the Buckeyes recently. Devil's advocate again: Sure, Ohio State has sent tons of players to the NFL recently, as has much of the Big Ten. But those are lineman and kickers, not skill position players.

That is a very astute observation. Big Ten schools do send many lineman and special teams players to the NFL. But Ohio State currently has 10 defensive backs and 7 wide receivers playing at the highest level. Those players include former Pro Bowl and former highest paid defensive player in history Nate Clements, Pro Bowler Antoine Winfield, Chris Gamble (with 24 career interceptions in only 6 years) and receivers Joey Galloway, Michael Jenkins, Anthony Gonzalez and Santonio Holmes. All players that have excelled at skill positions in the NFL.

Now that your brain is flooded with information about the high level of individual talent that has resided and currently resides in the Big Ten, I ask you this: Why has a league with so much talent, especially at skill positions, struggled against teams who boast speed as their biggest advantage? My answer to this question lies in schemes that are being run by all schools involved.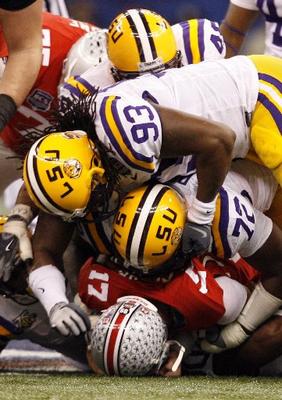 Gulp
Let's look at the games that helped spread the idea that Big Ten schools are slow. Ohio State was beaten handily by Florida, LSU, and USC in big non conference games (the second USC game and the Texas bowl game were close, great games that could have gone either way). The Ohio State defense was a 4-3 base, going to a nickel look on passing downs. This worked great for a long time. But against Florida, LSU and USC, it failed miserably. Florida ran a spread, and a great one. When they put multiple receiver sets in, Ohio State would go to the nickel or even dime packages. However, Florida had a running quarterback in Tebow, a fairly mobile quarterback in Chris Leak, and Percy Harvin, who could line up out wide or as a running back. Nickel and dime packages left the defense vulnerable to the run, which Tebow, Harvin, and Leak were able to take advantage of. After they were able to break some big plays, the defense had t0 guard against the pass while watching of scrambles by the backs. So in defenses with extra defensive backs, they were burned against the run. When stacking the box against the run, they were burned by the pass. Similar stories occur against LSU and USC (although USC didn't have a very mobile quarterback, the depth and talent they had at receiver and running back still made the offense very dynamic).

Fast forward to today, and the defense has adjusted by adding the Star position. The Star, for those that don't know, is a linebacker-safety hybrid, someone who can cover receivers while still being able to take on blockers and help stuff the run. Jermale Hines filled this role well, and now Tyler Moeller is taking it to a new level. The Star gives Ohio State Defensive Coordinator Jim Heacock more flexibility in what packages he calls and what personnel he puts on the field. The results have been nothing short of remarkable. Against Oregon, one of the country's best offenses last year, Ohio State was not a popular pick going into the game. Well, one of the country's best offenses got shut down in that game by a defense that was supposedly too slow. Next big game, against Miami, another team with lots of firepower on offense and defense. Their offense, too, was very limited. Most of their yards came after Ohio State had gone up by three scores and let them drive the field while melting valuable time of the clock in the fourth quarter, securing the win Tresselball style. While I won't give all the credit just to developing the Star position (Wisconsin also took it to Miami in the Champs Sports Bowl last year), it shows the creativity of the staff to adjust, and to get results.

See, we're not that bad!
Finally, one last test: head to head match ups. Per the Big Ten website, not including last season, over the last 5 year period and 10 year period, the Big Ten has played more bowl games against the SEC than any other conference. Over the last 10 years, the two powerhouse conferences have met 27 times in the post season, with the SEC holding a slight 14-13 edge. Over the last 5 years, the conferences have met in 13 bowl game, with a 7-6 advantage for the Big Ten. Including last season, two more bowl games pitted Big Ten against SEC; the Outback and Capital One Bowl, respectively. Auburn beat Northwestern in the Outback Bowl in overtime, and Penn State beat LSU in the Capital One Bowl. That means that over the last 6 years, the Big Ten holds an 8-7 advantage in head to head bowl games against the SEC, and over the lat 11 years the SEC has the edge 15-14. Not quite as lopsided as some major sports networks would have you believe.
***Interesting bonus stat: The SEC schools that have won the last 4 championships are coached by Les Miles, Urban Meyer, and Nick Saban. Miles was an assistant at Michigan for several years, Meyer was a graduate assistant at Ohio State, and Saban was head coach at Michigan State. You are welcome, SEC.***
The biggest conclusion I draw from this is that, while the best team in the SEC has been the best team in the country in the past 4 years, from top to bottom the Big Ten is right there with the SEC, and other conferences top teams are close to their top teams as well. Speed is not unique to southern schools, and the best coaches don't all reside and didn't all get started in the SEC, either. Hopefully, no matter what conference or team you root for, this article has left you better informed than when you arrived. Thanks for reading, I know it was lengthy, but it was something I have wanted to write/research for some time. Any thoughts, comments, questions, or concerns?