I had a chance to chat with Nathan Tomasello, a four-time state champion from Cuyahoga Valley Christian Academy about how he got started in wrestling, his undefeated streak, becoming the 23rd four-time champ *** in state history and why he chose the Buckeyes.
Curt Heinrichs: With one of the more impressive wrestling records in Ohio wrestling history, you had to start somewhere. What made you get your start in wrestling?
Nathan Tomasello: Back in 4th grade, I had a friend that kept bugging me to go to practice. I was in soccer and a few other things at that time, so I was really busy. Soccer got cancelled and I ended up going to wrestling practice. I liked it and just kept going back for more.
CH: You finished your high school career with a record of 178-5 with 3 consecutive undefeated seasons. At what point in your career did you realize that 4 state championships was a distinct possibility?
NT: Probably at the beginning of my freshman year. I just felt like I could win it my freshman year and just go on from there. I never focused on winning 4 titles, but I did focus on winning 1 at a time. After I won each title, I spent my time preparing for the next year. I think taking it one year at a time and handling myself as well as possible was big.
CH: With only 5 losses early in your career, did any of them stick with you more than others or push you to work harder?
NT: Any loss I take, I end up learning from it. I only lost to 3 guys and I lost to 2 of them twice. I just made little adjustments and I never really lost any match by more than 4 or 5 points, so I was in every match as a freshman. It just took little improvements. All of the guys that I lost to were either state champs or national champs and I knew they were good guys. Wrestling them in a close match helped me improve my technique and get better.
CH: You weren't the first CVCA wrestler to win 4 state titles with Harry Lester paving the way and you also spent time with Erik Burnett who won 4 of his own. What kind of advice did Harry and Erik give you in regards to chasing your 4th title?
NT: Erik was the big guy who told me to focus on winning the title each year and not to get overwhelmed by winning all 4. He always told me to work harder than everyone else and wrestle on the mat just like I do in practice and I'll be ok. Going out to Colorado Springs, I was able to stay at Harry's place and talk to him a little bit. One year he said he was sick, so he had to find a way to win without wrestling his best. Some of his technique really helped me out a lot.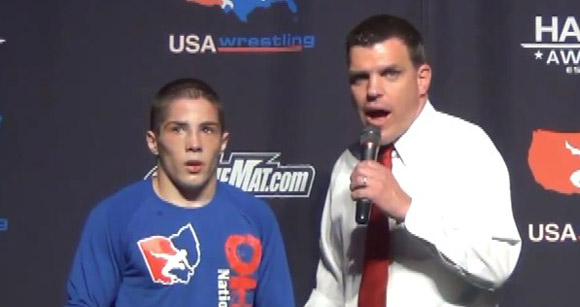 CH: Did you approach the 2013 tournament any differently than previous years? Is there any added pressure knowing all eyes are on you?
NT: There was more pressure, knowing that it's the year that I only had 1 goal left. I knew that if I wrestled my matches and didn't try anything crazy, I could do it. I just left it up to God. I didn't worry about my opponent trying to hit a headlock or what if I get caught on my back. I wrestled the Ironman (Cuyahoga Falls Walsh Jesuit's Ironman is one of the biggest high school wrestling tournaments each year and brings in some of the top wrestlers from around the country), I wrestled the Beast (of the East, held in Delaware). I know that I've wrestled the best guys in the country, and this state tournament can't be too bad.
CH: As one of the top recruits in the country, you no doubt got lots of attention from some of the top schools in the country. What was the recruiting process like for you and what schools showed particular interest?
NT: It was really hectic beginning in the summer. Right before I went to Fargo in July, teams were officially allowed to call. At the end of July, I ended up taking official visits 5 weeks in a row. I had to miss some days of school and got a bit behind in my work. I missed a bunch of Fridays and even had to miss a Thursday to go down to Oklahoma State. I really had to keep in mind what I liked and what I didn't like about each school. I didn't really know exactly where I wanted to go going into this year. I knew I really liked Ohio State, but I ended up taking visits to Iowa, Oklahoma State, Minnesota, Ohio State, and Purdue. Those were the 5 schools that it was down to.
CH: Ultimately you chose to wrestle for Coach Tom Ryan at Ohio State. What factors made Ohio State the school for you?
NT: I knew a lot of people from Ohio, so I knew it wasn't going to be too much of a transition to go to Ohio State. I have a few friends there like the Stiebers and (Johnni) DiJulius. Also, Coach (Lou) Rosselli was a big part of the puzzle. He's a really good coach and helped coach the Olympic team. He has a lot of great technique, so I felt like going from Erik to him was going to be just as good. He's really helpful with improving my technique. The Regional Training Center was a big part of it, too, because I'm really big into freestyle wrestling in the summer and they have one of the best training facilities in the country. The whole situation of Ohio State contending for a national championship in the next few years, and being on that kind of a team, staying in Ohio, and giving back to the fans that have supported me my whole career was important. Staying close to home was also important to me. I want to be able to go home easily if I needed to and it's only 2 or 2 ½ hours from home to Columbus, so that's really good.
CH: You're a highly decorated Freestyle wrestler in addition to folkstyle. Did the proximity of other freestylers like Reece Humphrey and Obe Blanc contribute to the decision to come to Ohio State and are you planning on continuing to wrestle freestyle?
NT: Yeah, after college I want to try and make a world team. When the Olympics come back, I want to make the Olympic team. I want to continue to train because I've always dreamed of competing at that level. I know that I can handle that kind of competition and the Ohio RTC can help me get there.
CH: Taking a look at yourself, what area of wrestling do you feel like you have the most need to improve before hitting the mat as a Buckeye?
NT: Improving on the bottom. I think that's very key. In high school, it's a lot of neutral wrestling and guys don't really want to ride me too much. I know in college, that's going to be a big area to improve on because there's the riding point and that could decide a close match. Also, I need to work on finishing my shots. There will be a lot more contention. In high school, there were guys that would just give up a takedown. I know that I'm going to face tougher competition and in college, guys won't give up the takedown so easily. I need to finish every single shot that I take.
CH: Are you expecting to find a spot in the starting lineup right away, or are expecting to redshirt a year and give way to Johnni DiJulius at 125 lbs?
NT: I'd like to start next year; that's the goal for me. Obviously, I'm going to leave it up to the coaches to see if they think I need a year to get bigger or get better. I'm pretty sure Johnni is going to be up at 133 next year, but I'll have to beat out another guy for 125 for the spot. If the coaches think I'm ready now to get in there and start, I'm hoping I can contend for a national championship. If they think I need 1 more year to mature, I'll do that. Logan Stieber even took a redshirt year and it really helped him.
CH: You're also stepping onto campus with another 4 time state champion in Bo Jordan. Have you spoken with Bo about becoming teammates?
NT: We didn't talk very much. I know he committed pretty early. We're going to be rooming together and I look forward to getting to know him better. We talked a bit at tournaments, but not a whole lot.
CH: For those that haven't seen you wrestle before, is there any wrestler that you looked up to or based your style on?
NT: I looked up to Logan Stieber a lot and I watched Erik Burnett. Those two are the big people that I've modeled myself after. I like to watch guys that are really successful at 125 around the country and see what they're really good at. I like (Illinois' Jesse) Delgado. Some of the moves that people hit are pretty cool and I'd like to see if I can add them.
CH: Your twin brother is an outstanding figure skater, which leads me to believe you've also got some untapped potential in other sports. If you weren't a wrestler, what other sport would you excel at?
NT: Soccer. I was big into soccer until I was a freshman in high school. I played year round on travel teams, premier teams, all kinds of teams. Our teams won state a few times and I think I'd be a soccer player if I wasn't wrestling.


*H/T to reader Denner for pointing out my mistake of saying there were 76 4x State Champions in Ohio. I get excited when talking about wrestling. In actuality, Tomasello was the 23rd in the state of Ohio to win 4 titles, joined this year by Dean Heil and fellow future Buckeye Bo Jordan.