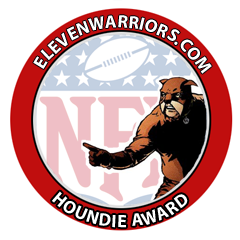 The Houndie is an award formerly known as the Buckeye NFLer of the Week. After 2 years of existence, we searched for a catchier name, so with the help of a well placed typo and the ensuing 11W comments, the current title was created.
The Buckeye alum shook off their collective Hurricane Hangover and a slow start in week one, to produce a much better week statistically in the race for the second Houndie of 2010. Before I give out this week's award, I must give props to the newly found (at least for me) NFL Red Zone channel for their commercial free, non-stop play-by-play of all the scoring chances around the league. As a Bear's fan living in central Ohio, who only watches NFL games for Buckeye and fantasy purposes, this channel is a Godsend. No more eye gouging during Browns or Bengals games.
For starters, Ted Ginn, Beanie Wells, Michael Jenkins and Anthony Gonzalez were each out with an injury, while Santonio is still serving his 4-weed suspension. Ginn has a MCL sprain and is probably out a few more weeks, while Gonzo will be out another 4-6 games with the dreaded high ankle sprain.
Brian Hartline got the week started with an early 5-yard TD catch from Chad Henne in Minnesota. Hartline went on to catch 2 more for a total of 38 yards in Miami's 14-10 win over the 0-2 Vikings. Also in that game, Antoine Winfield was credited with 3 solo tackles and an assist, while Bobby Carpenter got an assist on a goal line stand by the Dolphins.
In other receiver news, Brian Robiskie caught just 1 pass for 12 yards, as the Browns continued their early season woes in a 14-16 home loss to the Chiefs. KC is a surprising 2-0, led by Mike Vrabel's locker room leadership, who registered 2 total tackles and a FF yesterday, while Donald Washington got himself a couple of assists. The eldest Buckeye statesman, Joey Galloway, caught 3 balls for 88 yards, including a 62-yarder in the second quarter that helped lead to a Redskin TD and 13-7 lead, but they ultimately fell to Houston, 30-27.
Perhaps the hot topic amongst Buckeye NFLers was the lack of playing time for AJ Hawk in week one and his agent's subsequent comments about "being open to a trade." However Hawk got the chance to play most of the game, as the Packers beat down the Bills 34-7. Hawk tied for the team lead with 9 total tackles (4 solo), but with Clay Mathew's killer start, Hawk won't see much action against teams that consistently run 3 or 4 receivers. Also, Ryan Pickett recorded 3 tackles, while Donte Whitner was credited with 2 assists in the losing effort.    
The Carolina Panthers are plagued by a QB situation and fell to Tampa 20-7, but Chris Gamble made 6 solo tackles and helped hold the Bucs to 178 yards passing. The Rams once again flirted with a win, before falling to Oakland on the road 14-16. Little Animal lead the Rams with 9 solo tackles and a sack, while week's one Houndie winner Larry Grant chipped in with 3 solo stops and Na'il Diggs with 4 total tackles. The Gun Show snuck into the box score with a single solo tackle in the Jets crucial 28-14 home win over New England. 
In Monday night's action, Malcolm Jenkins, Will Smith and the Saints held on to a 25-22 road win over the 49ers. Jenkins was 4th on the team with 5 solo stops and an assist, while Summertime got 3 tackles. On the other side, Nate Clements was credited with 2 total tackles, but allowed just 8 catches to the Saints' wideouts.
Special mention this week goes to HOFer Dick Lebeau and the masterful job he has done with the Steelers defense through week 2, especially since they are down to their 4th QB. Though Thaddeus Maximus has yet to see the field, Pittsburgh forced Tennessee into 7 turnovers and held Chris Johnson to 34 yards on 16 carries. Early opinions claim that this could be the best defense the Steel City has ever seen and much of that credit is due to the brilliance of Lebeau.
However, this week's award goes to the early leader for comeback player of the year, Mike Nugent. NUUUUGE kicked a career high 5 FG's in 5 attempts, accounting for the Bengals only points in a 15-10 win over Baltimore. Nugent hit from 36, 30, 46, 38 and 25, with the last 2 coming in the final minutes after a couple of controversial penalties on Baltimore's defense. He is now 6 for 6 on the year and trails only Jeff Reed for the league lead and is 1 point shy of the kick scoring lead. The victory allowed Cincy to avoid the dreaded 0-2 start and the fast start should help boost Nugent's confidence for the year.