Like some of you, I had two TV's going yesterday as Ohio State vs. Marquette overlapped with Ohio State vs. Illinois yesterday and since most of my focus was on the football game, I gave the hoops game a re-watch today after cranking out the Illinois version of Five Things. 
I was most interested in taking a closer look at LaQuinton's shot selection, Amir's performance on Gardner and Otule and the anatomy of Ohio State's big 2nd half.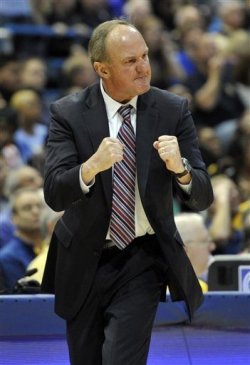 The numbers don't lie when it comes to Q's offensive night. He was 0/6 from the floor including 0/3 from three with a turnover and one o-board in 18 minutes. His first shot of the night was a sign of things to come as he backed down his defender and took a fallaway jumper that hit little chance of finding the bottom. Twenty-five seconds later he took his best shot of the day, a three from the left wing in good rhythm off a feed right into his shooting pocket but it went off back iron. 
Four minutes later, he rushed a three early in the shot clock that was off the mark. Leading into the under-8 media timeout, Ross lost his mind in forcing a drive down the right side of the lane, giving the ref no choice but call a charge. A few minutes later, he took a so-so look from three off a feed from Craft. No problem with him taking the shot but it was a dud. 
Moving to the 2nd half, Ross made another poor decision about five minutes in as he forced the issue off the drive again. He took an off-balance, forced shot in traffic when he had Lenzelle wide open on the wing for three. 
Since his D wasn't exactly lights out and his O was struggling, Matta had pretty much seen enough:
"Q just didn't have it today. He's got to, for what we need from him, he's got to be a little bit better than that."
It really was a poor effort for Ross who is now a combined 3/16 from the floor including 2/8 from three over his last two games, scoring 10 points with six boards and two turnovers. You could see Craft get in his ear a few times trying to extract some energy and emotion but Ross just had that calm, distant look on his face. 
Amir didn't exactly light it up defensively in his duel with Marquette bigs Davante Gardner and Chris Otule but I thought he did some good things on help-side D with five blocks. He added three boards and four points and generally stayed out of foul trouble (3) though he played just 19 minutes after seeing 27 minutes of action against Ohio when he recorded a 14/10 double-double. Gardner did total 10 points and six boards but turned it over three times while Otule managed just four points and three boards with four turnovers. Trey McDonald actually played more minutes than Amir (2), posting two points, a rebound and a block but at minimum, he didn't hurt the cause. 
As for the 29-9 run to open the 2nd half that buried the Golden Whatevers, Shannon Scott, Sam Thompson and Aaron Craft deserve the bulk of the credit. 
The trio combined to score 25 of the 29 points and dished out 11 assists during the 15 minute stretch with Amir doing some work early in the spurt with a out-of-body lefty half-hook, a forced travel on Marquette, an altered shot and a block before Scott took over defensively with a series of steals. Scott also did a great job pushing the ball up the court off empty Marquette possessions, helping OSU post a 16-0 edge in fastbreak points on the day. 
Sam looked confident with his stroke scoring nine points during the run while Craft chipped in eight points with eight assists. The defense on the perimeter was spectacular and Marquette missed 18 of 21 shots during the run. 
Overall, the offense is still a work in progress in the half court but you have to love the defensive effort this team brings.
Though I'm not sure I like how Buzz Williams seemed to buzz Tom Izzo's tower, I loved his unsolicited comments on Matta:
"I have the utmost respect for coach Matta. Love him. If he talked about himself the way most guys who sit in this chair do, he'd be on every Dove commercial there is. But that's not his nature.  He's a great husband and a great father, done a phenomenal job, and he'll be in the hall of fame before he retires."