I have been enjoying a Victory Cigar after (almost) every Ohio State game for several years. I know others have spoken out about their love of a good smoke and others have said that they are considering starting this as a new tradition. I hope that this can be a place where connoisseurs can let others know what they are enjoying and also make good recommendations for those who are new and may be a little intimidated by all the options available at the local cigar shop. Let me know what you smoked and what you thought. I will do a double header this week since I didn't think about posting this for Buffalo.
Disclaimer: Smoking, be it in the form of cigars or cigarettes can be dangerous. Do so at your own risk.
Victory Cigar - San Diego State - Rocky Patel Vintage 2003 Cameroon
This week I smoked a Rocky Patel Vintage 2003 Cameroon I love smoking a nice stick but I won't pretend that I sit there and breakdown the complex taste of every cigar. I just know that I like what I like. . . . And there was a lot to like about this cigar. It had a great taste with a nice even burn. It pulled with just the right amount of resistance allowing in enough air for me to either expel a great thick plume of smoke or blow several thick, billowy smoke rings, as I am in a habit of doing. The cigar was tightly rolled and the ash was about an inch and a half long before it finally gave up the ghost. I smoked a robusto and it was the perfect amount for me. If you want a complex description, this comes from RP's web site:
Vintage 2003 is the newest addition the well received and highly rated 1990, 1992 & 1999 Vintage. The Vintage 2003 features a beautifully aged Cameroon wrapper which covers the 8 year old filler & binder. A solid medium bodied cigar with full rich complex flavor, the Cameroon wrapper gives the Vintage a rich complex flavor with hints of sweet spice, cedar, & notes coffee with a nutty finish. Tasting notes: Medium to full bodied with full rich complex flavors consisting of white pepper, dark chocolate, espresso with a lingering sweet spice that stimulates the palate.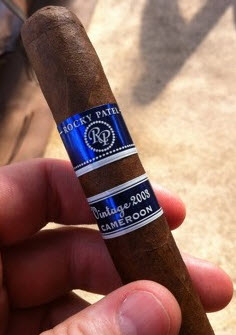 I am no expert, but if I had to grade this on a 100 point scale its a solid 94.
Victory Cigar - Buffalo - CAO Brazilia
I actually missed more of the SD State game than I would have liked as one of my best friend is moving to Brazil and my DVR is on the fritz as of late last week. We started the "Victory" Cigar in middle of the third quarter, but I was feeling confident that the Bucks would ride on to an easy victory. As my friend had long been one of my cigar smoking buddies it only made sense that I offer him one of my old go-to's, from the CAO Brazilia collection (this was also what I smoked last week). It was a nice way to bid him farewell in that we were doing something together that we had enjoyed from our past but by smoking a Brazilia, it was made of leaves from Brazilian tobacco which was symbolic of his future. Like how many people start drinking light, sweet wine like a White Zinfandel (Sutter Home shout out) and make there way to the more complex and drier end of the wine spectrum; the same can be said of cigars. I smoked light cigars at first that were easy to smoke and allowed me to stand upright, but over time I have gravitated towards some darker, fuller, spicier cigars like this one. This is a cigar that will knock the uninitiated on their asses. My buddy who proved his cigar smoking chops with me a long time ago, admitted that he was beginning to feel a little woozy as he made it to the last quarter of this stick. I don't recall the size I smoked because they don't use standard names in their advertising of the product. This cigar has a much thicker gauge than I traditionally smoke which also allows for long ashes and thick, rich smoke. I love the smell of this one in particular, which is likely due to the oily nature of this cigar. You'll note in the picture that it has a little shine on it due in part to the oil. Below comes from Cigar.com as the company website doesn't really describe the cigar.
Brazilia is the fuller-bodied side of CAO. Its dark and spicy wrapper make it very flavorful with a long earthy finish. CAO is the maker of some of the highest rated brands in the world. Previously best known for making pipes, the Nashville based company broke into the cigar industry with authority. The attention they have attracted has not just been from their first rate tobacco either, their concepts and cigar packaging are trendy, appealing to a new generation of cigar smokers. For years CAO dreamt of a cigar that uses premium Brazilian tobacco, but finding good Brazilian leaf at the end of the cigar boom was not an easy task. At the time Brazilian tobacco was not at the top of its game. However, CAO stumbled on a beautiful dark wrapper leaf from the coveted Bahia region and the rest is history. After its launch this cigar brought attention back to Brazilian tobacco and essentially was the rebirth of Brazilian cigars in the US cigar market, as other cigar makers flocked to South America in attempt to recreate CAO's success. The rich Brazilian wrapper gives CAO Brazilia a full-bodied and full-flavored aroma that carries a long and spicy finish. It is a truly unforgettable cigar, and a powerhouse addition to the humidor.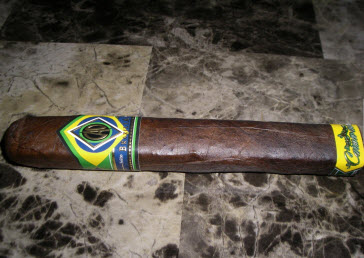 This guy right here is a 92 out of 100, all day long.
Let me know what you're smoking and give me your recommendations. I am happy to say that I can strongly recommend both of these fine cigars to be your next Victory Cigar, though go with the RP 2003 Cameroon if you are new to cigar smoking. Here's to lighting one up for victory next week against the Golden Bears! Go Bucks!