I'm not intending to step on toes... Andy Vance, my apologies, but I just thought I'd throw something up here in the waning hours of day 29!
There were tough shoes to fill after Eddie George's tenure as Ohio State's main ball carrier, and that was left up to running back Pepe Pearson, donning the number 29 jersey for the Buckeyes. In 1995, George led the Buckeyes with 1,927 rushing yards with 24 TDs that was capped off by winning the Heisman Trophy in December. Pearson did a solid job following that up with 1,484 yards and 17 TDs in 1996 as a junior, a season that brought a Rose Bowl victory against Arizona State, followed by 869 yards and 10 TDs in 1997 as a senior. In the 1996 29-16 victory over Notre Dame in South Bend, Pearson rushed for 173 yards and 2 TDs. Pepe ranks in at #7 in rushing yards for a season from that 1996 campaign, and #6 for rushing yards in a career ('94-'97) at 3,076 yards.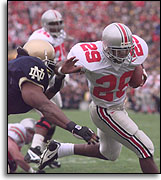 Pearson had a career limited to the practice squad in the NFL, and became a running backs coach for Ohio Dominican University in 2004, a position which he holds today. Hats off to you, #29!

Feel free to add/correct any details... I'm not a writer! Any other nominations for #29 out there?