Following another incredible season in which the Ohio State University wrestling team finished as national runner-up to juggernaut Penn State, the Wrestlebucks will host two storied conference rivals at the Jerome Schottenstein Center. The Steelwood Radio podcast (h/t FloWrestling) released the team's 2017-2018 schedule earlier this week, highlighted by back-to-back home duals at the Schott versus Minnesota and Iowa.
2017-2018 Ohio State Wrestling Schedule
soundcloud: https://t.co/N0DSwM4arc
itunes: https://t.co/D6KaHhCRXR
— Steelwood Radio (@SteelwoodRadio) August 14, 2017
Although last season's primetime matchup against Penn State didn't turn out in the Buckeyes' favor, more than 15,000 fans descended upon The Schott to cheer on the home team, and the atmosphere was electric. With three NCAA champions on the roster (two-time heavyweight champ Kyle Snyder, 2016's 174-pound champ Myles Martin and 2015's 125-pounder Nathan Tomasello) surrounded by a slew of All-Americans and NCAA finalists, the reigning Big Ten Champions figure to contend once again for conference championship and national title finishes.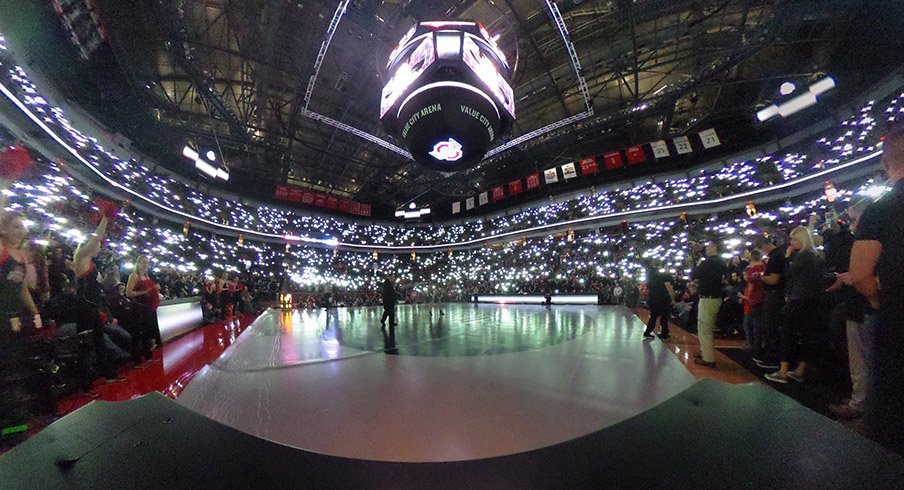 Head Coach Tom Ryan's squad will open its season on the road at the Princeton Open November 4 before coming home to St. John Arena for a pair of non-conference dates featuring Arizona State, Cleveland State and Kent State. The team will spend the first weekend in December at the annual Cliff Keen Invitational in Las Vegas, before opening its conference slate against Indiana at Cuyahoga Valley Christian Academy, the alma mater of redshirt senior Tomasello.
Last year the Buckeyes opened the conference schedule against Northwestern at Wadsworth High School, the alma mater of senior Nick Tavanello. The heavyweight won three state titles for the Grizzlies before a solid career in Columbus was cut short by injury. This year the team will host "home" duals at Ohio high schools, with the final matches of the regular season will be versus Purdue at St. Paris Graham High School, home of brothers Bo and Micah Jordan (redshirt senior and redshirt junior, respectively). Coached by their legendary father Jeff Jordan, the Graham wrestling program is consistently one of the top in the country.
In addition to the marquee matchups against the Gophers and the Hawkeyes in Columbus, the Buckeyes will travel to face Maryland, Rutgers, Michigan State, defending national champion Penn State and That Team Up North. The Buckeyes will also spend a weekend in Raleigh at North Carolina State before heading into postseason competition.
The Big Ten tournament will be hosted March 3-4 in East Lansing, and the NCAA Tournament will be held in Cleveland March 15-17.
2017-2018 Ohio State Wrestling Schedule

| DATE | OPPONENT | LOCATION |
| --- | --- | --- |
| Nov. 4 | Princeton Open | Princeton, N.J. |
| Nov. 12 | Arizona State | Columbus, Ohio |
| Nov. 21 | Cleveland State/Kent State | Columbus, Ohio |
| DeC. 2-3 | Cliff Keen Invitational | Las Vegas |
| Dec. 10 | Indiana | Cuyahoga Falls, Ohio |
| Dec. 17 | UT Chattanooga | Atlanta |
| Jan. 5 | Maryland | College Park, Md. |
| Jan. 7 | Rutgers | Piscataway, N.J. |
| Jan. 12 | Minnesota | Columbus (Scottenstein Center) |
| Jan. 19-21 (TBD) | Iowa | Columbus (Scottenstein Center) |
| Jan. 26 | Michigan State | East Lansing, Mich. |
| Jan. 28 | Purdue | St. Paris, Ohio |
| Feb. 2-4 (TBD) | Penn State | Happy Valley, Pa. |
| Feb. 11 | That Team Up North | Ann Arbor, Mich. |
| Feb. 16-18 | NC State | Raleigh, N.C. |
| MarCH 3-4 | Big Ten Tournament | East Lansing, Mich. |
| March 15-17 | NCAA Tournament | Cleveland, Ohio |