I took my parents to see Nebraska get stomped for their first-ever Buckeye football game this year. We had an absolute blast even considering the pesky column that came with our seats. They got to experience the great Skull Session, the amazing video game halftime performance by TBDBITL, as well as all of the post game traditions (we ventured down to A deck for this part). All in all, it was an amazing night.
Our Seats for Nebraska and the Infamous Column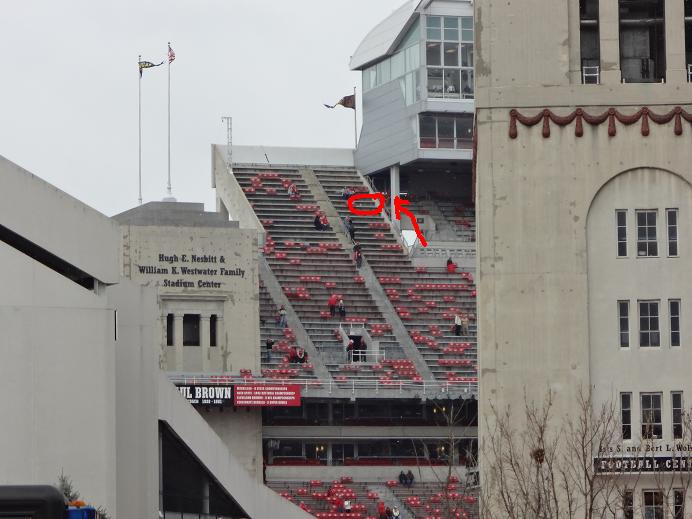 After getting home I immediately began looking for tickets to go to the game. I asked my Dad if he would want to go since they would be back in the are for Thanksgiving. He initially said no, because he thought it would take too much time from being able to visit our other family members, but I eventually convinced him that the opportunity to see UfM's first win against *ichigan would be a far better use of our time. I procured three tickets for Dad, my brother, and me (making sure there were no obstructions in the area) and we began the long, slow wait to the biggest game any of us had ever been to.
After what seemed like eons, but was only a month, the day finally arrived! We bundled up the best we could and ventured forth to what glorious moments might await us. We pulled into the parking lot just South of Ackerman at 9:30am and began the long trek down Fred Taylor Dr toward Lane. We could hardly contain our excitement as our first glimpse of Ohio Stadium greeted us through the dim mid-morning light and snow flurries.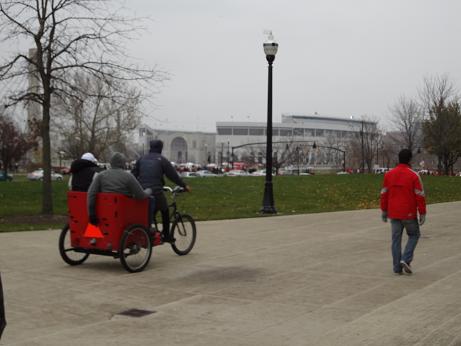 We made our way to the stadium through the happy throngs, and eventually found our seats. Does it get much better than the 50 yd line in C deck? I would argue that no, it does not!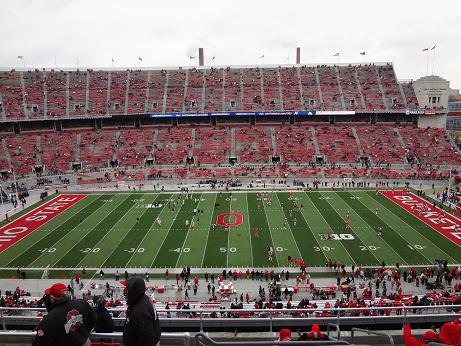 We found many sources of entertainment in the hour leading up to kick-off. Watching Hoke try to run across the field, the players warming up, the team getting in *ichigan's face as they ran onto the field for warm-ups.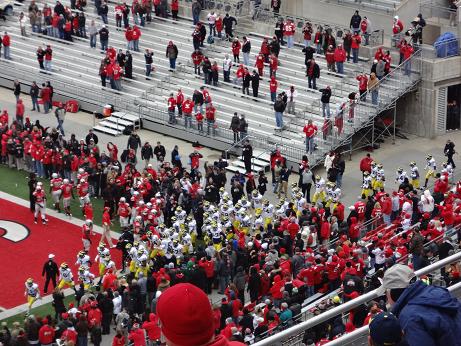 The most amusing moment was probably when one of the attendees in one of the boxes behind us began flying a roll of toilet paper out the window, letting it flap about in the cold wind that whipped through the stadium.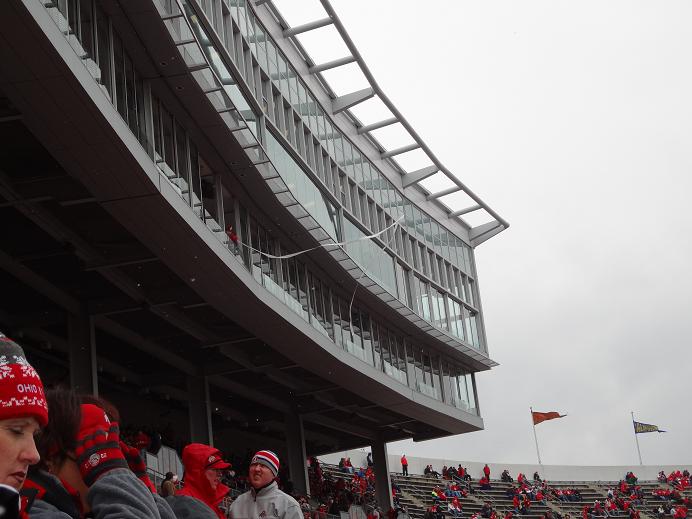 The team led the South stands in the final Quick Cals of the season. I was extremely impressed to see the entire South stands participating as well as some people in the East and West sections of The 'Shoe!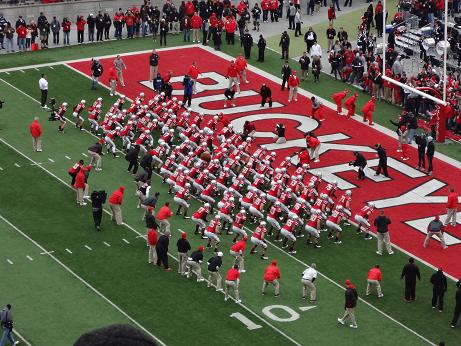 The marching bands came out and played the opposing team's fight songs. The Buckeyes (sans seniors) ran through the Block O. The seniors were called one-by-one to run out and greet Urban at mid-field in recognition of their hard work and sacrifice, culminating in this, the greatest show on earth. Finally John Simon walked out onto the field. Until that point I had no idea that he was hurt and would not be playing this day.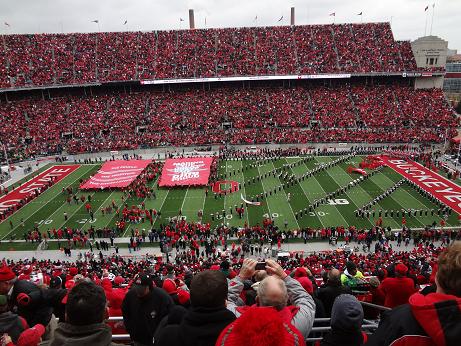 With this unhappy news in mind, I stood as the game started, and watched as our Buckeye heroes began their battle against That Team Up North.
At some point during the first series, my viewing bliss was interrupted by someone behind me tapping me on my shoulder:
"Are you planning on standing the whole game?" he asked with a sneer.
"I'm thinking about it!" I replied with a grin.
"Look around you," he said sticking his nose in the air, "no one else in this section is standing." (This was untrue as my brother and Dad were standing right next to me.)
"Are you serious?" I asked incredulously. "It's Ohio State vs. Michigan!"
He ended the conversation with me but continued to grumble. Later I saw him talking to the cop at the entrance to our section, pointing in my direction. The cop looked at me, smirked, shook his head and dismissed the tattle-tale.
"Oh, its on!" I thought as I proceeded to stand for the entire first half through the passive aggressive remarks being made at my back.
I sat down for half-time and recorded TBDBITL's rendition of Fantasia, which was fantastic. I especially like the dancing figures, mop and bucket, and fire bird they created. Immediately following their performance, another man stepped in front of my Dad to address me yet again (why they kept talking to me when my Dad and brother were also standing I still don't know).
"I didn't want to say anything because I saw you were recording the half-time show, but you are ruining the game for about 10 people behind you." he said with a glower.
"Why, because I'm standing, cheering, and supporting my team?" I asked in disbelief. "If I wanted to sit for the whole game, I would have stayed home where there aren't any metal benches to freeze my butt off!" I continued.
With that, he turned to my Dad and asked, "Is that your son?" When my Dad replied yes, he said "I thought so!" before storming off in a huff.
The second half went pretty much the same as the first half, with me standing. My Dad had a conversation with the younger gentlemen sitting next to him who's Father apparently owns the season tickets to the seats we had purchased.
"Oh, it's the same thing every game someone else gets those seats," they claimed. "Those guys always try to intimidate the new guys to get what they want. Just ignore them!" And that's exactly what we did.
Even with all of these wonderful interactions, I was able to watch the whole game. It had all of the ups and downs that one would expect from The Game, though the referees received a lot of fan's displeasure for the blatant missed calls they appeared to make. When the Buckeyes made their last first down. I looked down and saw Urban bouncing down the side line, jumping so emphatically that it appeared his knees kept hitting his chest. He ripped off his headset and launched it into the air to the crowd's enormous appreciation. As the team assumed the victory formation to run out the clock on a hard fought win, my Dad, brother, and I celebrated with high-fives and cheers. We watched as the team and then the fans began to rush the field as the clock wound down with huge grins on our faces.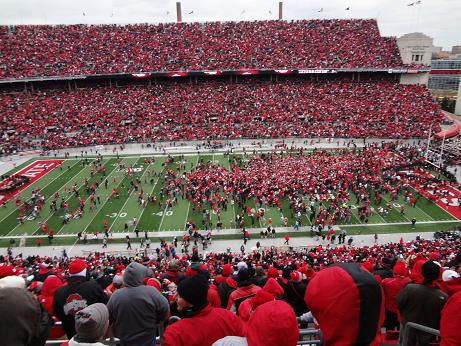 We decided not to run down and join them, as by this point we were all getting decidedly chilly (though I dare say the crowd would have been warmer) and we began to make our way to the exit. As we were getting ready to enter the tunnel to the area under the stands, one of my new friends behind where we sat yelled down to me, "Next time sit in the student section if you want to stand up the whole game!" I gave her a thumbs up with no intention of that ever happening. These seats were too damn good!
We made our way back to my waiting car where we quickly warmed up and began to recount the experiences we had that day. We looked at each other and grinned as we began to contemplate which games we wanted to attend next year!
I'm so thankful that we had the opportunity to watch two great games in person to kick off the Urban Meyer era at Ohio State! Thanks for all of the memories, and GO BUCKS!