I think we focused on the bowl ban because it had an immediate impact. One could easily argue that it cost us the National Championship. I'll take our chances against Notre Dame over Florida State any day. (ahh, Gene Smith) We knew TTUN was going to be our bowl game.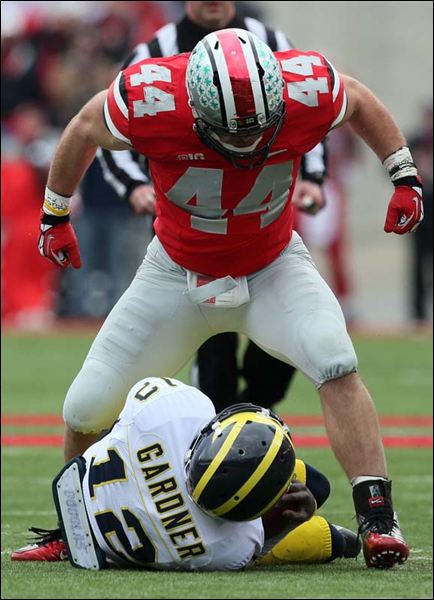 3 star, Zach Boren was a difference maker in 2012
The 2 year probation, meh. Forfeiting the 2010 season. Come on, we know who won those games. The scholarship reduction? "Hummm... that's not good", and at the time I couldn't see the impact. But I'm sure Urban Meyer could.
All told, 9 scholarships were lost over a three year period. This meant in order for us to have a normal sized recruiting class, we'd have to...ummm act like the SEC and find new homes for some upperclassmen. And at first it didn't mean much. The 2012 class, Urban's first, had 25 members, a big class by OSU standards. This was because Urb knew there would be players that didn't fit into the new spread offense. In 2013 we again signed a decent class of 24 members. The 2010 class had a lot to do with it. 8 of the 20 members are no longer with the team. This helped open spots for the penalized classes too.
It looks like this years class, 2014 will end up around 23-25. Not too bad considering that will be the last recruiting class affected by the scholarship reduction. The 2015 football team will be at full strength, 85 scholarships. Looks like we came out pretty good, right? Well consider this:
Florida State had 7 players starting on their Championship team who graded below 90pts. This means they are not blue chip prospects, they were 3 star, low 4 star guys that worked their way into starting spots.
Urban lost 9 chances to offer those types of guys. The blue chip 5 stars will always have room on any team they wish. It's the 3 and 4 stars that turn into 5 star starters that make the difference. Some of the best players are 3 stars. A full 1/3 of Florida State's team is of "lesser talent", guys that other programs passed on.
When I look at our 2014-17 teams I think they will have a distinct disadvantage for 2 reasons:
First, they will be down scholarship players. While we return to 85 in 2015, we can never get back the lost scholarships. This means the 2014 class will have a disadvantage of 3 less members all the way through their Sr. year in 2017.
Second, Florida St. has taken 29 players so far this year! Tennessee, 34. The B1G has had rules in effect on oversigning for years.
"The Big Ten has no issue with oversigning because it banned the practice in 1956. The conference actually loosened its rule in 2002 to allow schools to oversign by three players, but even that rule is drastically different from the NCAA rule now in effect. According to Big Ten associate commissioner Chad Hawley, schools are allowed three over the 85-man limit, not the annual 25-man limit. If, for example, Michigan ends a season with 20 open scholarship spots, then Michigan may sign 23 players. No more."
http://sportsillustrated.cnn.com/2011/writers/andy_staples/01/24/oversig...
When you force players to leave, you get more chances to turn your 3 stars into 5 star starters.
Finally, we can see this played out in the rankings. 247 Composite is a ranking system that aggregates all the major recruiting services. I averaged all the Florida State starters against the Ohio State starters. The numbers were dead equal. Both FSU and OSU scored an average of 92 pts. on offense and 95 pts. on defense. That means the average ranking of each player on each team was equal. How much impact can a solid 3 star to 5 star starter have on a team?
Just ask Zach Boren from Pickerington, OH. A 3 star recruit who flipped from fullback to middle linebacker. He helped sure up a sinking Ohio State defense in the second half of an undefeated season. Or what about Carlos Hyde, a low 4 star, 30th ranked recruit in the state of Florida. Jaamal Berry was also a RB from Florida the same year we got Hyde. If we had 3 less scholarships in 2010, there is no way we would have signed Hyde.
So is Ohio State talented enough to win a National Championship? From top to bottom? I don't know. It seems like we really could have used some of those scholarships this year to fill holes in the D, or to develop an elite receiver. But going forward, our coaches must use younger, more talented kids on the field to make up for the holes the lost scholarships created. I think they have fulfilled that on the offensive side, where Meyer has complete control. And now with a new leader, Chris Ash, on defense, I expect those younger players to step into prime time. If they can develop sooner, I think anything is possible.