As a member of the Ohio State marching band, I was given the opportunity to get to meet the team and march them through Script Ohio at the WHAC indoor field in what has been an established tradition for beat _*ch*g@n week for a very long time, and this account is going to echo much of what Ramzy said about appreciating this team. This is a special, SPECIAL team full of bigger than life personalities, excellent coaching/leadership, and just genuinely great people. After meeting the team for the second year tonight, I realized how unique this team is.
They're GOOD, which we already know, but out of pure chance I was selected by Tyvis Powell to march my spot in Script, and after meeting him I began to realize just how special every member of this team is. Let me explain how this evening works: First we watch them wrap up practice, upon which time they are released and can choose whatever instrument they want and the person they choose will help them march through Script Ohio while holding or attempting to play said instrument.
What usually happens first is a mad dash to the percussion section, because who doesn't like to bang on some drums when you don't know how to play any instruments? After the first year players sheepishly realize they have absolutely no shot at receiving a drum (there are only 29 of them to choose and the most senior players get their picks first), they turn to find the next most desirable instrument (which is a sousaphone) only to realize they spent so much time looking for a drum that those were gone too (I'm basically describing Vonn Bell, because this is what literally happened to him) and then kind of settle for a horn or a trumpet or some other instrument. This is why Tyvis stood out to me once again, when the players were released he understood all of this and immediately sought me out and plucked the Trumpet from my hands. I couldn't help but think just how intelligent he was to do so, until I remember this wasn't the first time he made a well thought out, accurate decision.
This link immediately sprung from my memory, and one of my favorite players on this team became my favorite. This was a mere 3 star recruit (vastly underrated and correctly spotted by Fickell and co.) who decided to pledge his affirmation to the school he had always loved, regardless of the turmoil that had and that was about to engulf the program. This was someone who 'gets' it, and I could not have been more lucky to get to show him how to go through Script Ohio. While marching around with him, it was a real special treat to get to see the players joke, have fun, and just have their guards totally down because this wasn't a media interview or some forced press conference they had to sit through, there were no over watching PR employees of the university, no public to judge them and every move they make. I got the chance to see the real people that they actually are.

After we were finished and given time to mingle with the players and for the 4th and 5th year members to get autographs signed or whatever they wanted, I stood and talked to Tyvis, a player the average fan would not know and certainly most from the band did not know him. I thanked him for marching with me, as I had a great time, but then I told him how much I appreciated him, how much he meant to me and this university, and the statement he made by staying with us during our most dire moments. I thanked him for working hard and making an impact, and that we couldn't play loudly enough or make people cheer enough to equate what he had done. At a loss for words, Tyvis just smiled after a moment, said it was no problem and that he loved being here, shook my hand and made his way to the locker rooms, beaming at everyone he saw along the way.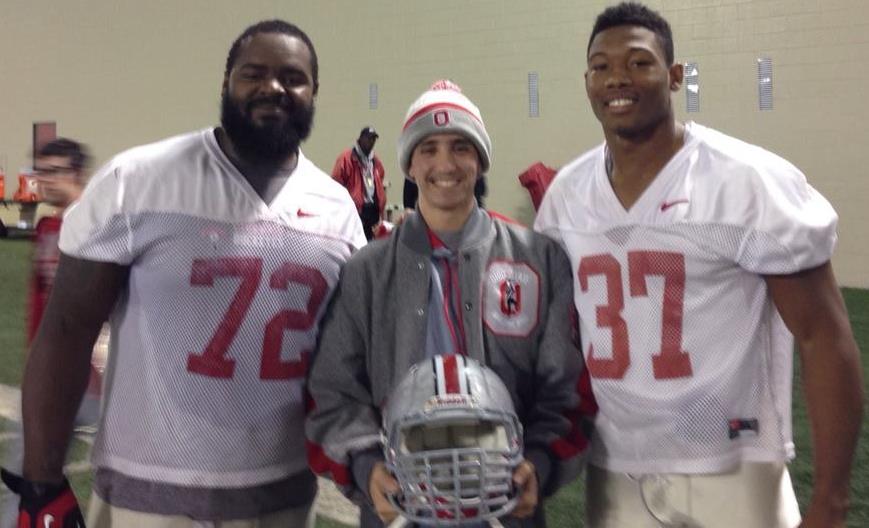 (as you can see, they are large human beings, unlike myself)
This is what we need to be doing to the players. Instead of judging them so harshly, and not appreciating what they have done to be here and to be on the precipice of greatness, we need to just sit back and enjoy the product they are putting out on the field, week in and week out. I spoke to Jacoby Boren, who only wanted to know about our 52 year old member Kris Tikson and how she made band, and then chuckled and stated he wished he could be in that good of shape when he was done with football. I spoke to Kenny G (who was our I-dotter today, complete with sousaphone), I spoke to Joshua Perry and Chris Carter, and I spoke to Stan Drayton who was hanging around by himself. I told them the same things along the lines of what I told Tyvis.
"Thank you for what you do, thank you for working so hard and giving up so much", for there was one common theme among those I spoke to: no one else sought them out. No one else knew who they were. No one cared who they were (with the exception of Guiton). No one ever expressed appreciation or praise for what they do, contributors or not. This team is FULL of people like them. The foundation of this team is laid by their hard work, forcing the uber talented blue chips recruited above them to push and work to become better as well. They are the glue, the amazing individuals who grease this well oiled machine Urban operates. These guys are only used to regurgitating statements to the media, and never hear things like this. These are players who are often swept under the carpet by their greater counterparts. Carlos Hyde and Braxton slipped away relatively soon upon being released, as did most big name players and coaches because they were used to dealing with fans all the time and know how to escape doing so after a short while. I hope that I made an impact on their day by thanking them as much as they make an impact in my life everyday by being great.
This is my charge to you, fellow 11w commentariat: thank them. Tell the players how much you appreciate them. Buy tickets to the remaining games this year, and go take in and experience the atmosphere, the excitement, and the really REALLY good product they are putting on the field in hand with the W's they are gathering by the truckload. This all may be over soon. Urban may retire again at any time, we are losing basically our entire line, best DB, two senior safeties, our bruising starting running back, several wide receivers and special teams contributors, and possibly our heisman finalist QB and outstanding linebacker. Next year we may see the win streak come to an end, it could be any game they play. But it hasn't happened yet. Despite the continual media noise and churned out stories about how we will get jumped by this team or that team, they have prepared like champions and carried out their business on a weekly basis for two years. That is something that may never be accomplished again, and this streak now extends into new territory for a program as rich with history and great football as ours is. Take a moment and step back, and just enjoy what this year has been, and what it will be when you look back upon it.

Before I slip back into anonymity (I comment on here like once a month) just listen to my few words of advice.

Enjoy what's left of this wild ride.
Appreciate this team for what they are.