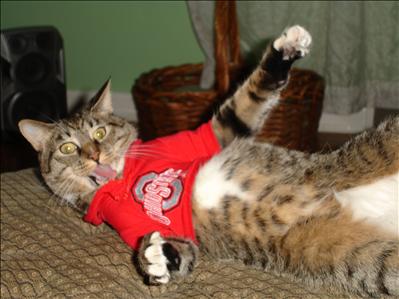 If you've always wanted to get your Buckeye thoughts out to an audience that numbers in the dozens, here's your golden opportunity: We are currently looking for someone to join the team as a staff writer.
We'll be looking to bring someone in after the bowl game, so it may be a while before you get a chance to write about the beautiful game (ours, not yours, world), but if you're interested in helping 11W Corp get a seat on the UN Security Council and getting your work out to other Buckeye fans, we'd love to hear from you.
Requirements:
Know Buckeye football in and out (special consideration if you bring strong hoops chops to the table)
Understanding of the differences between publishing for traditional media and writing for blogs and/or the web
Killer command of the English language
Be willing to write two stories per week and able to "create your own shot" during the offseason when topics are scarce
Experience with Twitter, YouTube, Facebook and other web apps/technologies
A sense of humor
Things that will earn you bonus points:
Interest in and knowledge of football recruiting
Being a current student at Ohio State and/or living in the Columbus area
Mad photography, photo-editing or video skills
PHP, Python, Javascript or SQL skills
Love and appreciation of web memes
A private jet
So, if this sounds like something you'd be interested in doing, please submit a sample of your writing (links are fine if you already have something up) along with all of the other great things that would make you perfect for the gig to contact (at) elevenwarriors.com.
If you have any questions, we'll do our best to answer them in the comments below.