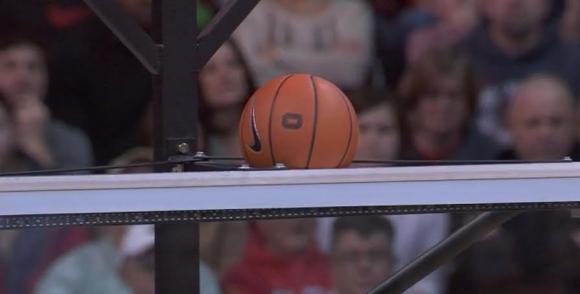 Well, it wasn't easy and it wasn't pretty. But Ohio State put an end to a hideous two-week stretch that included four consecutive losses. In dispatching Illinois 62-55, the Buckeyes continued shooting poorly but reverted back to their stingy defense.
The Illini shot 41.2 percent from the field and turned the ball over 15 times. During its four-game losing streak, 17th-ranked Ohio State allowed three teams to shoot better than 45 percent, including two that connected on more than half their field goal attempts. It was a far cry from where the Buckeye defense was their first 15 games.
Rayvonte Rice, the Big Ten's third-leading scorer, finished with zero points, three turnovers and four fouls.
"We did not play perfect, but I loved our energy on defense," Ohio State head coach Thad Matta said. "We played extremely hard on defense and got back to rotating. Offensively, the first half was rough. However, the kids had a different look in their eyes this game. Our problem is not solved, we have a long way to go."
Prior to Thursday's game, Sam Thompson pointed out defense has been a "staple" at Ohio State. The offense wasn't great in the non-conference season, but the Buckeyes still won because of defense, the junior forward said.
"As long as I've been here, we've been one of the top defensive teams in the country," Thompson added. "We've been a team that has gotten offense out of our defense, and a team that can really control the game from the defensive end."
Midway through the second half, Ohio State held Illinois scoreless for more than four minutes and created four turnovers. The 9-0 run gave the Buckeyes a six-point lead, the largest of the game for either team.  But the Illini tied the game, only to be outscored 16-9 over the final six minutes. That time period was Ohio State's nemesis in losses to Iowa, Minnesota and Nebraska.
LaQuinton Ross scored 14 of his team-high 18 points in the second half and Lenzelle Smith Jr. made four three-points en route to 16 points. Aaron Craft, mired in one of the worst stretches of his career, finished with 11 points, six rebounds, five assists, two steals and just two turnovers. He was averaging nearly five per game during the losing streak.
The Buckeyes shot 54.2 percent from the field in the second half – 41.7 percent for the game – and 8 of 19 from 3. They also converted 14 of 19 free throws, a massive improvement from recent woes. 
"Everyone was connected tonight and there was a lot of togetherness," Ross said. "You saw guys jumping up and down, our bench jumping up and down and we were able to get our crowd into it. It felt good to be home too and having the crowd's support."
The uncharacteristic sloppy play Ohio State displayed the past four games largely disappeared, though the Buckeyes did turn the ball over on the game's first possession. They finished the night with 12 turnovers.
Illinois only scored 22 points in the paint after Ohio State surrendered 120 in its past three games – all losses. Amir Williams' lackluster play also was under the microscope. He didn't play in the second half at Nebraska, and responded with his play during the first half on Thursday.
Williams had five points, two rebounds and two blocks in the opening minutes. He ended up with seven points, nine rebounds and three blocked shots.
"We need Amir to play well," Matta said Wednesday. "We need him to play consistently at both ends. We've got to get him back to tracking the ball, to blocking shots and challenging shots. When he has played well, we've played well. I know that."
Both teams' first-half shooting percentages rivaled the sub-freezing temperatures outside. Illinois was making 30 percent of its attempts with the Buckeyes beginning the game on a 3 for 14 tear. The Illini held a 25-24 advantage at the half after Ohio State shot 29 percent (7-24).
The Buckeyes, 16-4 overall and 3-4 in the conference, go on a weeklong hiatus before hosting Penn State Wednesday.
"The time off will be a great time to recollect, reflect and get healthy," Matta said.