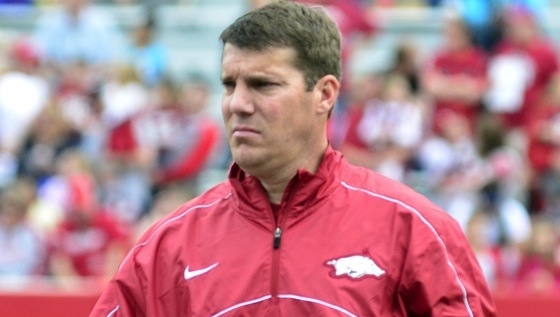 Chris Ash probably won't overhaul the entire Ohio State defense. He might not even be calling plays. But there's an area of expertise where Ash will likely make an immediate impact – the secondary.
During an 18-year coaching career, Ash has made a name for himself by producing results in the secondary. That becomes the No. 1 goal for the Buckeyes, whose porous unit ranked near the dreggs of college football last season. Ohio State went through a season-long bottoming out, ranking 112th in pass defense. 
In comes Ash who's had success fixing leaky defensive backfields from the West Coast to the Midwest to the South. He's quiet, mild-mannered and effective on the recruiting trail, but his on-field work is what's drawn praise.
As the defensive coordinator at Wisconsin and Arkansas, Ash used an aggressive 4-3 scheme that put pressure on the quarterback, forcing opposing offenses to react to what the defense presented. Press coverage is assumed to be part of his philosophy with the Buckeyes. Ash used a nickelback against high-powered spreads in the SEC. 
"We want the guys to play aggressive," Ash told the Wisconsin State Journal in 2011. "When you talk about being aggressive, everyone thinks it's calls, but you don't have to do that. It's how they play when the ball is snapped."
His football IQ is said to be among the best in the country in regards to defensive principles. Tom Herman, a former co-worker of Ash's at Iowa State, raved about the 2012 Wisconsin defense that nearly defeated the eventually 12-0 Buckeyes.
"I felt like I got out coached," Herman told BTN. "He was very simple. He did not call one blitz on first or second down. He called one front and one coverage. Within that front and coverage, he could adjust to any formation or motion we gave him. And he had his kids extremely well coached up on recognition of plays and alignments.
"We were trying to run the ball into a nine-man front. I did a poor job in not having confidence in our throw game. You have to throw it over their heads and our guys have to make plays if they are going to commit both safeties to the run the way that they did. Even though we won in overtime (21-14), Chris had his guys more prepared than I did. I learned from it. And it's better to learn from a win than to learn from a loss, I can tell you that."
The biggest question surrounding Ash's hire is who will call plays. Will it be Luke Fickell or Ash? In his updated Twitter bio, Ash lists his job title as co-defensive coordinator and defensive backs coach. But there was a mystery for a few hours Thursday when the "co-" designation wasn't present.
"Our scheme is built on discipline. Our scheme is built on team defense, where guys have to be in the right spots."
It's possible the true answer will never be made public on which defensive coordinator is calling the shots on game day. It's unlikely that head coach Urban Meyer would strip Fickell of play-calling duties. But it's just as unlikely that Ash would come to Ohio State and not call plays after being a defensive play caller for three seasons. And what about Kerry Coombs — will he become solely a special teams coach?    
Everett Withers' departure appeared to be an amicable split. Meyer and Withers said as much and Withers' presence at the Orange Bowl seemed to indicate he left Ohio State on good terms.
But it became obvious over his two-year tenure in charge of safeties that breakdowns became too severe. That was never more evident than when senior Christian Bryant suffered a season-ending ankle injury in late September. An already shaky unit became dismal. Still, Withers said he'll look back fondly on his time in Columbus.
"It was a great two years," he told Eleven Warriors. "You win 24 games, man, that's unbelievable. You win 24 games anyplace, that's unbelievable. I enjoyed being around the coaching staff, the players – a great group of kids. I really enjoyed it. It was a fun experience for me, and I'll always take a bunch from this experience into my future endeavors."
The writing may have been on the wall for Withers to leave, especially when you consider he took at least a $200,000 annual pay cut. But he said the decision to leave the Buckeyes was difficult.
"Anytime you leave anyplace that you like and you enjoy, it's hard to leave whether you're going there for bigger and better things or not," Withers said. "But I've always had a burning desire to be a head coach. To be able to do it at a place I think has a chance to be special was almost overwhelming to me."
Ash's numbers at Wisconsin and Arkansas are evidence of the possibilities next season. In one season with the Razorbacks, he improved their pass defense from 113th nationally (285.8 yards per game) to 72nd (235). His three years in Madison were even better.
Year 1 – 2010 – produced three all-Big Ten players in the secondary. In Ash's second season at Wisconsin, the Badgers fielded the nation's fourth-best pass defense, limiting opponents to 163 yards per game. In 2012, Wisconsin ranked 23rd in pass defense. It won the Big Ten and reached the Rose Bowl all three seasons.
The success in the secondary came with two- and three-star recruits, not the high-end players Ash will have at his disposal at Ohio State.
"Our scheme is built on discipline," Ash told the Milwaukee Journal Sentinel in 2012. "Our scheme is built on team defense, where guys have to be in the right spots."
Ash doubled as the defensive coordinator his final two seasons with the Badgers, and his units ranked in the top 15 nationally and top three in the Big Ten in total defense.
It doesn't come as a shock that Buckeye fans are excited for Ash's arrival, especially after a year Ohio State ranked 112th in pass defense (268 yards). The final three games resulted in a combined 1,143 yards passing and 12 touchdown passes for Michigan, Michigan State and Clemson.
"The more consistent you are with your package, the more knowledge the guys are going to gain," Ash said. "When you've got knowledge and fundamentals, you've given yourself a chance to win."
With Braxton Miller returning and talent remaining on defense, an appearance in the first four-team playoff is expected for the Buckeyes. Turning the defense from poor to adequate to elite (again) looks to be Ohio State's ticket. Any of its defenses during the Jim Tressel era could have meant a national championship last season.
The hiring of Chris Ash could be the final piece of the Buckeyes' crystal puzzle.