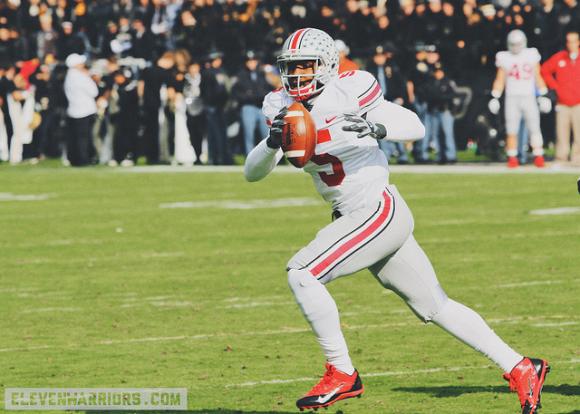 One week ago, Braxton Miller was being pounding into the Sun Life Stadium turf in between turnovers. Following a second straight loss, this time in the Orange Bowl, Miller stood next to his locker and laughed when reporters asked him about his impending decision – staying or going?
It had to the feel of a going away party. But a week later, Miller started his spring semester of classes and quietly announced he'd be returning to Ohio State for his senior season. Now, he can leave a legacy with few equals.
"I want to help this team win a Big Ten championship next year," Miller said in a statement. "Plus, I want to improve as a quarterback in all aspects of my game. I'm looking forward to working for another year with Coach Meyer and Coach Herman.
"And I want to graduate, so this will help get me closer to my academic goal."
The decision greatly changes the outlook on the 2014 season, the first with a four-team playoff. Instead of starting a first-year starter, the Buckeyes get the services of a four-year veteran. Ohio State is projected as a consensus top-10 team for next season.
Only five starters return on offense, where there will be four new starters on the line, a new running back and several inexperienced wide receivers. But Miller's presence cancels out much of the mystery surrounding a revamped offense. Sources inside the program indicated the wide receivers could be better, even with the departure of Philly Brown.
Devin Smith and Evan Spencer return, and Corey Smith, Mike Thomas and Jalin Marshall should all take on bigger roles. Corey Smith in particular has been raved about and described as the total package for his route running, speed and pass-catching ability.
Despite receiving a mid-to-late round grade from the draft advisory board, Miller grappled with his decision until reportedly sitting down with Urban Meyer on Thursday. It's believed Miller was leaning toward staying throughout the process.
"We look forward to having Braxton Miller return to this team for his senior season," Meyer said. "He has been an extremely valuable member of our team and he is also a fine student. His desire to lead our team to a championship, to earn his degree from The Ohio State University next spring and to continue to improve as a quarterback are his motivation."
"I want to help this team win a Big Ten championship next year."
Miller likely would have cost himself a considerable amount of money if he left this year. A host of quarterbacks, including Teddy Bridgewater, Johnny Manziel, Blake Bortles, Tajh Boyd, A.J. McCarron, Zach Mettenberger and Aaron Murray, were all projected to go higher than Miller, who could have fallen to as low as the seventh round. 
One scout told Eleven Warriors he believed Miller could move into the first or second round with a big senior season. Other quarterbacks presumed to be part of next year's draft class are Jameis Winston, Brett Hundley and Marcus Mariotta.
In December, Miller was asked if he was NFL-ready to which he answered yes emphatically.
"Of course, definitely," he said. "It's just another step in life."
A three-year starter, Miller is the reigning two-time Silver Football Big Ten MVP, offensive player of the year and quarterback of the year. He'll be favored to complete the trifecta next fall and be a front-runner for the Heisman Trophy. There are numerous school records that could be in jeopardy as well, a majority of which belong to Art Schlichter. 
Miller is 505 yards shy of passing Schlichter's total offense record of 8,850 yards. Miller needs 2,256 passing yards to eclipse Schlichter's school-record of 7,547. Miller's only one touchdown away from tying Schlichter's 85, and he needs 11 wins to reach 37 and become the winningest quarterback in school history. Six touchdowns passes for Miller will get him to 58, one more than Bobby Hoying's career record.
Missing from Miller's resume is a conference title and bowl victory.
During his three-year career, Miller has amassed 3,054 rushing yards, already more than any other quarterback in Ohio State history. He has 32 rushing touchdowns. Running comes to mind first when the subject turns to Miller, but his passing accuracy has improved steadily each year.
He's gone from a 54 percent passer to 58 to 63.5. The latter two seasons were under the tutelage of Meyer and Tom Herman, who's expected to stay on as offensive coordinator and quarterbacks coach for 2014. The past year was a bit bumpy for Miller. He missed three games with a sprained knee, and after completing 72.5 percent of his passes there was a major drop off the final five games.
"Last year, I felt he was an athlete playing quarterback. Now, he's a quarterback," Meyer said in late October. But from that point on, Miller regressed.
Miller told the Chicago Tribune that he grew tired of being hit. But he backed away from those comments prior to the Orange Bowl.
Although Miller is returning, that doesn't mean there won't be a quarterback competition during the spring and fall. Kenny Guiton's graduation opens the backup position, leaving Cardale Jones, J.T. Barrett and Stephen Collier to compete to be No. 2 behind Miller.
"I'll just take it day by day and get better," Barrett said after the Orange Bowl. "[You have to] make sure that you show the coaches that you're able to run the show."
He'll have to wait until 2015 for that audition, because Braxton Miller is back.