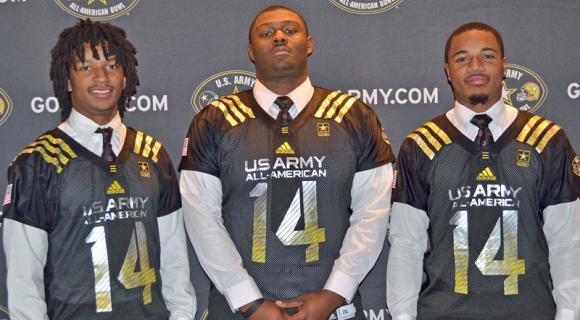 Bowl season is upon us, which means high-profile matchups, two weeks of non-stop football, conferences going head-to-head and watching seniors (and some juniors) play their final games as student-athletes.
But bowl season also means getting a chance to see the best high school football players face each other in a college-like atmosphere in their last live game action before heading to college. Over the last several years the significance of the high school all-star games has continued to escalate. These all-star games not only feature the best players in the country going head-to-head, they also feature several top recruits announcing their college decisions. With nine Buckeye commits playing in all-american games along with several targets, there is plenty to be excited about for these games. A couple Buckeye targets will even be announcing where they will be playing football next fall.
Join us after the jump for a breakdown of the All-American games and why you should watch each one.
Under armour all-american game
WHEN: January 2nd, 4 p.m.
WHERE: Tampa, Florida
TV: ESPN
Expect Raekwon McMillan to be in Tony Brown's ear all week, a last-ditch effort to bring him to Ohio State. McMillan and Brown will be on team Nitro, while Jamarco Jones will team up with Buckeye target John Smith on team Highlight, probably going to do some recruiting himself. Meanwhile, an abundance of future Wolverines team up with 'Kwon on team Nitro.
Why you should watch: To see a defense with Raekwon McMillan, Da'Shawn Hand, Jabrill Peppers, Tony Brown and Lorenzo Carter go up against an offense with Leonard Fournette, Deshaun Watson, Speedy Noil and Damian Prince. Look for Jamarco Jones to go head-to-head with potentially Hand or Lorenzo Carter, while 'Kwon will go up against top RB Leonard Fournette. You should watch to see why Urban wanted Deshaun Watson so badly, to see why Raekwon McMillan is the top inside linebacker in the nation and to see what Michigan has coming in with Peppers, Drake Harris, Ferns and others. 
Offense-Defense All-American Bowl
WHEN: January 3rd, 5 p.m.
WHERE: Orlando, Florida
TV: ESPNU
Why you should watch: To check out Brady Taylor, a Columbus native who could be picking up a Buckeye offer in the near future. Taylor heads to the game with several other Virginia Tech commits, so it will be interesting to see how the dynamics between the commits plays out amidst the swirling rumors of Taylor potentially flipping Ohio State. You should also watch to check out Chase Winovich, Derek Barnett and Thad Snodgrass in particular. All three are players Ohio State showed a lot of interest in, with Snodgrass at one point thought to be a lock to be a Buckeye commit by many.
Army All-American Game
WHEN: January 4th, 1 p.m.
WHERE: San Antonio, Texas
TV: NBC
Damon Webb and Demetrius Knox team up with Solomon Thomas and Malik McDowell on the West team, and will surely be recruiting the Buckeye targets hard. Interestingly enough, Webb and McDowell are both from Michigan, while Knox and Thomas are both from Texas. This really couldn't have worked out much better for the Buckeyes, as Webb and Knox can serve as de facto "hosts" for McDowell and Thomas respectively.
The rest of the Buckeye targets and commits are on the East team. Similar to the opening, the days leading up to the game will be a Buckeye showcase, and I would expect Ohio State to gain some momentum with Thomas, McDowell and Nnadi this week, especially with likely commitments from Lattimore and Smith at the game.
Why you should watch: To see several future Buckeyes in action. Ohio State already has seven Army All-Americans committed and at least three more that could eventually be Buckeyes. You should watch because Marshon Lattimore and Erick Smith will be announcing their college decisions (time TBA). Also, we may get a chance to see Damon Webb go head-to-head with Johnnie Dixon and/or Curtis Samuel.
There are several players that Ohio State showed interest in at one point playing in this game as well as a few players committed to other Big Ten schools. After watching plenty of highlights, it will be exciting to see the future Buckeyes go up against some of the best of the best. A few more interesting matchups to watch are: Dante Booker against RB Joe Mixon, Jalyn Holmes against Knox and Jaden Gault (Wisconsin commit), Knox against Derek Nnadi and potentially Solomon Thomas against Marcelys Jones.
Semper Fidelis All-American Bowl
WHEN: January 5th, 9 p.m.
WHERE: Carson, CA
TV: Fox Sports 1
Why you should watch: To check out some players Ohio State will face in the future. Zack Darlington was at one point a top target for the Buckeyes, and is a tremendous player that Nebraska is getting. Darlington is not playing in the game due to an injury, but Clayton Thorson, Johnathon Thomas and George Panos are all highly-touted players that the Buckeyes will have to deal with in the future. Additionally, Ohio State will have to go up against the 6-foot-5 talented WR Dallis Todd when they face Oklahoma in 2016 and 2017 (his junior and senior seasons).