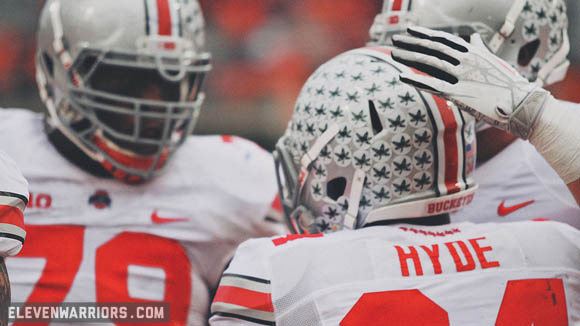 You can trace back to several instances where Carlos Hyde became an Ohio State running back. In the 2011 season-opener, Hyde gained 104 total yards and averaged five yards per carry. At Nebraska that same season, he rumbled for 104 yards rushing and two touchdowns. But East Lansing is where Hyde became a household name.
It wasn't the 49 yards rushing that impressed coaches, teammates and the viewing public. Hyde's status grew out of three rushes for 18 yards and two crucial fourth-quarter first downs in September 2012 at Spartan Stadium.
"Everything changed last year for us. Now everything is one the line for us," senior center Corey Linsley said about the Buckeyes' 17-16 victory over Michigan State last season.
Ohio State was 4-0 at the time, but just went though an unimpressive stretch in the non-conference schedule. Close wins over Central Florida, Cal and UAB did not leave voters – or much of anyone – spellbound. That's why the Buckeyes found themselves ranked No. 14. The looming conflict with the Spartans would reveal much about Ohio State.
So, with 4 minutes, 10 seconds remaining in the game, the Buckeyes clung to a one-point lead. Michigan State had two timeouts left, which meant it would take three first downs for Ohio State to end the game. It got all three – two via Hyde – and never attempted a pass.
Six plays, 38 yards rushing. Ohio State 17, Michigan State 16. The Ohio State Buckeyes, Carlos Hyde and the offensive line were introduced to college football.
"The offensive line took over the game," said Linsley, who, along with Jack Mewhort and Andrew Norwell, was named first-team All-Big Ten on Monday. "We ran off the final four minutes of the clock. That's definitely been a point of pride. We're going to have to do that again this year."
Except it will take four quarters, not four minutes. But chances are they'll be successful with Hyde carrying the load.
"The offensive line took over the game. We ran off the final four minutes of the clock."
Since Sept. 29, 2012, Ohio State has lost zero games. Meanwhile, Hyde has tallied 11 100-yard rushing games and two 200-yard performances. In the past 16 games, he's recorded 2,102 yards rushing and 24 touchdowns. Hyde's per-game average during that span is 131 yards. 
"I have the best offensive line in the country," Hyde said. "I'm thankful. That helps me showcase my talent."
Perhaps it's another Ohio State running back who truly changed the course of the Buckeyes. Butler By'not'e played at Ohio State from 1990-93, gaining 1,742 yards from scrimmage and scoring 11 touchdowns. He's most well known for his speed as a kick returner. By'not'e was part of the track team at Ohio State and helped set an NCAA record in the 4x400.
But last September, he delivered a message to the Buckeyes on choice, sacrifice and time (CST). Then came 11:22 p.m. inside a hotel ballroom in East Lansing. Meyer gave an impassioned speech complete with a toast of "championship water." He challenged any doubter in the room to take a sip of the beverage and from that point forward buy in and give everything they could to themselves, their teammates and the football program.
Some seven hours later, Hyde ran out the clock on Michigan State and a wild celebration erupted on the Spartan Stadium turf.
"We started a tradition that day that will forever be part of Ohio State football history, because it was part of one of the undefeated teams," Meyer said. "That speech wouldn't have been very good if the kids didn't buy in."
A switch was flipped that day and the light is still illuminated in the Woody Hayes Athletic Center. On Saturday, Ohio State will try and transport the glow to Indianapolis. The Buckeyes' stacked deck begins with Hyde, the Big Ten's running back of the year.
While his numbers going back to the 2012 Michigan State game are impressive, Hyde's nine-game totals in 2013 are even more attractive – 1,290 yards rushing, 143 yards per game, eight yard per carry and 14 touchdowns. It's a combination of Hyde's powerful running style and the O-line's authoritative blocking.
Michigan State linebacker Max Bullough said physicality is a must when combatting Hyde. Cornerback Darqueze Dennard said he won't shy away from contact. The Spartans allow fewer than 65 yards on the ground per game.
But all Hyde may need is 18 fourth-quarter yards to put Ohio State in the national championship game.
"Games like these," Dennard said, "are what everyone remembers."