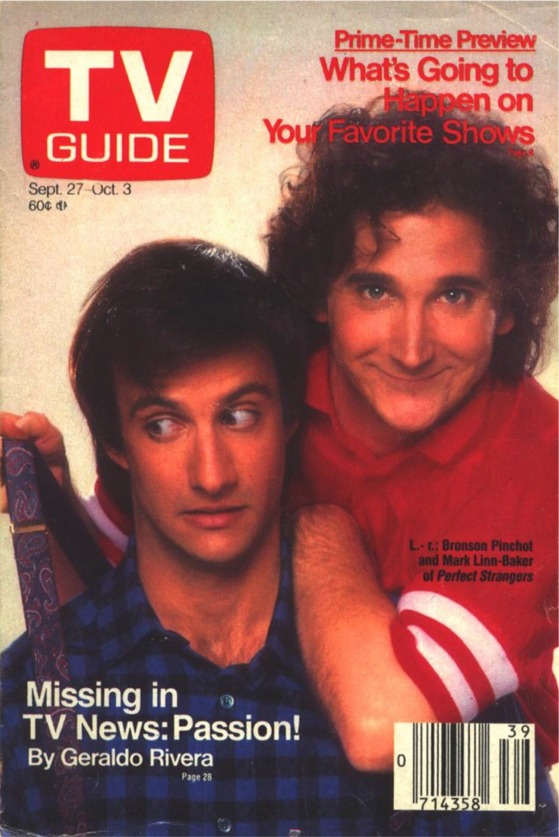 For all intents and purposes, Week 6 is the start of conference play for just about everyone, minus whoever is playing Notre Dame in the particular week. No longer do I have to put a smile on this feature and tell you why you should find Michigan at Connecticut, or Alabama-Birmingham at LSU, to be compelling matchups. A lot of the games in Week 6 speak for themselves.
This week's TV Guide cover, almost perfectly coinciding with the days of this particular week, is of the sitcom Perfect Strangers. Much like Mark Linn-Baker's character moved from Wisconsin to Chicago in the pilot episode, so too does Ohio State transition from Wisconsin to the Chicago area to play Northwestern.
Here is your schedule for this weekend.
Thursday
Texas @ Iowa State (ESPN, 7:30 p.m.). Thursday night football gives us not one, but three, college football games on the evening. The first is a Big XII conference game, where Texas, which apparently plays on Thursday now, travels to Ames to play the Iowa State Cyclones.
Since Kiffin was just fired, and DeLoss Dodds announced his retirement this week, I think we can expect more than a couple references to Mack Brown's job security during the course of this game. Beating Kansas State the week before its bye, for Texas' first win in the series since 2003, should not be conducive to job security at a program with Texas' resources and expectations. That Kansas State has a loss to a FCS team on its record does not help Mack Brown's case.
Speaking of losses to FCS teams, Iowa State began its season with one of those against Northern Iowa. The Cyclones have their only win on the season from a 38-21 win at Tulsa in a game last Thursday. A Texas loss here could only be construed as embarrassing.
Texas' next game is against Oklahoma in the Cotton Bowl. Bad could get worse for Mack Brown real quick if the Longhorns don't leave Ames with a convincing win.
If you're jonesing for Sun Belt football, Western Kentucky kicks off at Louisiana Monroe on ESPNU at this same time.
UCLA @ Utah (FOX Sports 1, 10 p.m.). Who would have guessed in 2003 that, ten years later, UCLA would far and away be the class of the Pac-12 South? Assuming that the college football fan in 2003 had the necessary foresight to anticipate the Pac-10 expanding by two with Colorado and Utah and splitting into two divisions (North and South), that college football fan would likely have guessed USC would retain its position as hegemon of the conference. No one is that good at anticipating the future. C'mon, now.
UCLA is rolling. Even if that first half against Nebraska was as bad as it could get, the Bruins rattled off 38 unanswered points and won by 20 in Lincoln. Coming off a bye last week, UCLA opens up the Pac-12 schedule with a few softballs before going to Stanford on October 19.
Utah is 3-1 on the season so far, but neither of its two victories against FBS teams (Utah State and Brigham Young) were entirely convincing. It also has a loss to Oregon State and, thus, a transitive loss to an FCS team.
Friday
Brigham Young @ Utah State (CBS Sports Network, 8 p.m.). For those of you that have CBS Sports Network and want to get your Friday night started an hour earlier, you have this Beehive State showdown. It would otherwise be for the Beehive Boot, the trophy given to the winner of the three-game series involving all three teams from Utah. However, Utah already has it won.
Brigham Young is just looking for some meaningful victories at this point. A trendy 10-win selection in the preseason, the Cougars now have losses to Virginia and Utah on the record. It still has to play at Wisconsin and Notre Dame in November. The game next week against Georgia Tech may not be a lay-up either.
Nevada @ San Diego State (ESPN, 9 p.m.). Friday night is the right time for Mountain West football. The conference has solidified its position on Friday night lineups.
Remember San Diego State? They were one of the teams we scheduled once Vanderbilt walked from its trip to Ohio Stadium in order to round out its SEC schedule. We scheduled San Diego State as, ideally, a worthy adversary. The Aztecs won nine games last season. This season will likely not match that win total. After beginning the season by being routed 40-19 by Eastern Illinois, an FCS team, it was similarly dismissed by Ohio State in Week 2.
It got its first win of the season last week against New Mexico State, a team so routinely terrible that it was one of two teams to be turned away by the Mountain West when the WAC finally closed shop.
Ohio State could use some good resume-building wins by proxy. So, go San Diego State! Nevada's two losses on the season so far can be understood as quality losses: at UCLA in Week 1 and at Florida State in Week 3.
Saturday​
Air Force @ Navy (CBS, 11:30 a.m.). Good news, everyone! This game will go on as scheduled. Army will also play at Boston College as scheduled. That game, if you wish to see it, will be on ESPN3 and starts at 1 p.m.
Maryland @ Florida State (ESPN, 12 p.m.). Don't sleep on Maryland football. It's not just because Maryland's uniform combinations are horrifying and could probably devour you whole while you sleep. The Terrapins are the AP no. 25 team, landing in the AP Top 25 for the first time since 2008. The future Big Ten East squad is undefeated and riding high after its most recent win, a 34-0 shutout of West Virginia in Week 4.
However, Maryland's conference includes less than desirable opponents, like Florida International, Old Dominion, and Connecticut. Florida State is still Florida State, and will have the advantage of hosting the Terrapins. Florida State gets a bye after this week. Next for the Seminoles: a trip to Clemson.
Texas Tech @ Kansas (FOX Sports 1, 12 p.m.). I might question your priorities if you're watching Kansas football at noon. Spoiler alert: Texas Tech, the AP no. 20, wins. Kansas, which just beat its first FBS team since September 2011, loses.
Penn State @ Indiana (Big Ten Network, 12 p.m.). Both teams, like most of the conference, are coming off byes. This will also be the conference opener for both.
This is an important game for both teams. Penn State is an overachieving squad handcuffed by depth limitations that follow scholarship restrictions. Having to throw two quarterbacks onto the field, one a true freshman and the other a recent arrival from junior college, doesn't help matters either. This leads to an error-prone squad. It doesn't show in penalty yardage, for which Penn State is among the best in the conference. It does show in turnover margin, for which Penn State -3 on the season so far. This puts Penn State at 10th in the Big Ten.
Meanwhile, no one can figure out Indiana. Allowing 463.3 yards per game on defense is a great way to offset how great its offense is, which manufactures 547.3 yards per game. Its defense is .5 yards per game removed from being the worst in the league while its total offense is best in the conference by almost 30 yards a contest. Such a formula, which resembles last year's team, is great for making life hell for Ohio State, but is also conducive to losing to Navy in two straight years.
The loser of this game is going to have that label reinforced going forward. Penn State is either 70% of a good football team, or Indiana is too stupid to be anything coherent or formidable in the broad scheme of things.
Illinois @ Nebraska (ESPNU, 12 p.m.). Who would've thought in the preseason that this game could be a trendy pick for Illinois? Illinois has played mostly awful teams, like Southern Illinois, Cincinnati, and Miami of Ohio, but at least seems to have more purpose than the Cornhuskers. Further, Illinois has found an offense. Averaging 478 yards per game is a 180 yard improvement from last year's woeful effort, even if it puts Illinois at only the average in the league.
Meanwhile, what has happened to the Blackshirts that could make the 2007 unit seem almost "stingy" by comparison? Maybe that's hyperbole. The 2007 Nebraska defense conceded 476 yards a game in what was Bill Callahan's final year in Lincoln. The 2013 Cornhuskers are conceding 463.8 yards per game, the worst in the Big Ten.
I think Tim Beckman is safe for a third year, which was questionable at the season's onset before Illinois routed Cincinnati. An Illinois upset in Nebraska might make things more uncertain for Bo Pelini, even if openings at Southern California and, potentially, Texas would make it impossible for Nebraska to get a home run hire. Maybe Al Golden will follow Shawn Eichorst to Lincoln under those conditions, but that's not a given, and it's a separate question entirely.
Illinois and Nebraska open each other's Big Ten schedules for the next five years. I actually like this and think most Big Ten openers should feature regular opponents, much like the SEC used to do this every year (and still mostly does) with Alabama and Arkansas, Florida and Tennessee, and Georgia and South Carolina.
I think it would be great if Ohio State opened every Big Ten schedule with Michigan State, for example. It's a great way to signal the start of the conference schedule. In a 14-team Big Ten, some matchups may be uninteresting or odd fits, but so was Arkansas and Alabama when that started in 1992. I still argue it's worth pursuing.
Michigan State @ Iowa (ESPN2, 12 p.m.). Iowa's offense is actually competent this year. The whole team is, rebounding quite nicely after that season-opening loss to Northern Illinois. Still, Michigan State's offense is as listless and poor as ever. I cannot trust that this game will be fun to watch, not when last year's contest between the two will go down in history as one of mankind's most awful crimes.
Rutgers @ Southern Methodist (ESPN News, 12 p.m.). It's here if you want it. I should hope you don't.
Clemson @ Syracuse (ABC/ESPN2, 3:30 p.m.). I know I keep mentioning this, but Ohio State needs a Clemsoning this year if it is going to compete in the BCS National Championship Game. Right now, Clemson would lock Ohio State out, and understandably so. Clemson's schedule looks better than ours, even if Clemson has two FCS teams on the schedule. That should be unforgivable, says the fan of the team whose athletic director found it advisable to schedule Florida A&M.
I doubt we get the Clemsoning this week. Though I expect some jitters to start the game, Clemson should roll the Orange, even if the Orange are riding high from a 52-17 win over Tulane before its bye last week. I'm still finding it difficult to refer to Syracuse as something other than the "Orangemen". That'll never not be alien to me.
Georgia @ Tennessee (CBS, 3:30 p.m.). This is your CBS game of the week, and will get the full treatment from Verne Lundquist and Gary Danielson.
Gary Danielson is an easy guy to hate, since he has the charm (and, ostensibly, the smell, through my television) of a used car salesman. However, he is brilliant. It's hard to reconcile how good he is as a color commentator and how sharp he is with Xs and Os for a general audience, with how he almost wants people to hate him. He will volunteer dumb, brash, or abrasive things toward that end. I swear it's like he secretly aspires to be Clay Travis, or something.
Anyway, I mention that because I find myself conflicted with how much I hate Danielson with how he routinely offers sound commentary on college football games he's watching. One such point he raised a few weeks ago for Tennessee's game at Florida likened Tennessee under Butch Jones to Ohio State under Jim Tressel in 2001. That, naturally, got my attention.
The point he raised is that Tennessee will encounter impossible odds this season. Its schedule includes visits to, and almost guaranteed losses at, Oregon, Florida, and Alabama. It hosts Georgia and South Carolina. It could still go to a bowl game, but the point Danielson raised is that Butch Jones needs some type of signature win like Tressel needed that win at Michigan in 2001.
This season was effectively lost before it started. This Tennessee team was never going to be any good. Jones is trying to build toward the future, much like Tressel used that win over Michigan to get buy-in toward the future. This comes from the current players and the incoming recruits. The returns were immediate for Ohio State in 2002. It won't be for Tennessee, in all likelihood, but Jones may start losing his recruiting class one-by-one if there's not at least one immediate payoff.
With that in mind, here are the uniforms Tennessee will wear this game, because, yuck. Yuuuuuck.
Georgia Tech @ Miami (FL) (ESPNU, 3:30 p.m.). This is your ACC Coastal game of the week. If you're into that kind of thing. Not that there's anything wrong with that. We don't judge here at Eleven Warriors.
Minnesota @ Michigan (ABC/ESPN2, 3:30 p.m.). We're all Gophers Saturday afternoon. With that in mind, it still floors me that the Big Ten gerrymandered Legends and Leaders the way it did to preserve rivalry games like Minnesota-Michigan, and Ohio State-Illinois, all the while sticking Wisconsin on an island to itself without Iowa or Nebraska.
As cool as the history of the Little Brown Jug is, it's not a trophy game worth saving for every year. Bo Schembechler killed that rivalry, and with prejudice. Michigan is 37-3 in the series since 1969 (losses in 1977, 1986, and 2005). It has won by an average score of 37-12 over that time.
Michigan and Minnesota will be in different divisions next year.
Kansas State @ Oklahoma State (ABC, 3:30 p.m.). If you live in the Dust Belt, you may get saddled with this game. Sorry.
LSU @ Mississippi State (ESPN, 7 p.m.). USC, Texas, and Nebraska are the focal points of "hot seat" conversations in college football. Maybe Dan Mullen should, or shouldn't, be on there as well.
Since starting 2012 7-0, he's 3-7 since. He also gave Northwestern its first bowl win since 1948. In-state rival, Ole Miss, is now running laps around it. Auburn and Arkansas will soon supplant it, if they haven't already. This would leave Mullen's Mississippi State team as the de facto worst program in the SEC West. There's almost nothing that Mullen is doing to change that.
Maybe there's nothing he can do. Mississippi State is the oddest program that has a spot in the SEC, which is saying something because the conference includes Kentucky and, now, Missouri. It lacks almost all the resources to compete against schools like Ole Miss and Alabama, which are separated from Starkville by about an hour and a half of driving. Mississippi State is the SEC's "little school that could", and "could" with a lot of cowbell.
Even if firing Mullen is inadvisable, I can see Mississippi State having a trigger finger right now. The Bulldogs, right now, are predicted to lose seven games this season. This is a very real "domain of loss" right now in Mississippi State's athletic department, which should precipitate a risky move like firing Mullen.
LSU should also do mean, nasty things to it on Saturday night. Mississippi State has not defeated LSU since 1999. Most of the games are not even close.
Texas Christian @ Oklahoma (FOX, 7 p.m.). I would say I feel for Oklahoma this season, though no school that knows no other song than "Boomer Sooner" should ever be an object of much empathy. Much like Ohio State loses votes in the rankings for beating teams, some of which they were not predicted to beat, so too does no one seem to buy Oklahoma.
A perennial power that started the season as the no. 16 team in the country, it climbed only to no. 11 after beating Notre Dame in South Bend by two touchdowns. Since that win knocked Notre Dame from the AP top 25, they too find their goalposts constantly moved by voters who expect them to wang it eventually.
Maybe that starts this week against the Horned Frogs...
Arkansas @ Florida (ESPN2, 7 p.m.). I'll reiterate that loss at Rutgers is going to haunt Bert. He's in the middle of a gauntlet run that started with Texas A&M, continues this week at Florida, and concludes with South Carolina and a visit to Alabama. Arkansas still has to play at Ole Miss and at LSU. The loss to Rutgers could be the difference between a 6-6 and 5-7 season.
Ole Miss @ Auburn (ESPNU, 7 p.m.). One such reason why the Big Ten may want to consider moving more Saturday games into 7 or 8 p.m. kickoffs is to force ESPN to decide between a game like Illinois-Nebraska, and this. You can't convince me ESPN would televise Ole Miss at Auburn over a game like Illinois at Nebraska, ten times out of ten. ESPN may piss on the Big Ten a lot, but it knows where potential viewers are located.
Arizona State @ Notre Dame (NBC, 7:30 p.m.). I've praised Notre Dame's schedule in previous TV Guides this season, so I won't belabor here how enamored I am with Notre Dame's schedule.
I will, though, rake both programs over coals for choosing to dress like this for this game. Notre Dame uniforms for this game (warning: mute) underscore that it seems to forget who it is now, and Arizona State's helmets are bowling balls. Bowling balls.
Ohio State @ Northwestern (ABC, 8 p.m.). This is the game you're watching, The second of two consecutive night games to start the Big Ten schedule for Ohio State, ESPN's College Gameday is in Evanston for this kickoff accordingly. It is Gameday's first trip to Evanston (i.e. not Wrigley Field) since 1995.
Stay tuned to Eleven Warriors for further coverage of this game, including a game preview tomorrow.
West Virginia @ Baylor (FOX Sports 1, 8 p.m.). You're not watching this game, but Baylor, man. Baylor is going to win the Big XII this year. It's going to do it. Fun fact: Baylor's offense has yet to have a 3-and-out this entire season.
Washington @ Stanford (ESPN, 10:30 p.m.). If all goes according to plan in Evanston, you may find yourself wanting to bask in the glow of that contest while watching the second half of this game. It is the third and final game of the week to feature two teams in the AP top 25. The Pac 12 North gets very screwy, very quickly, if Washington upsets Stanford on the farm. It may have taken five years, but Sarkisian might finally guide Washington to more than seven wins in a season.
Also, Sarkisian might bolt for USC, if presented the opportunity.