The Buckeyes went to the left coast to handle the Golden Bears of California this weekend and did so with Kenny Guiton taking the snaps as Heisman candidate Braxton Miller stood idly by watching nursing a knee injury. With Miller on the sideline, Guiton lit the Cal defense on fire with precision passing, timely (and correct) option reads and the Buckeyes put up an easy 52 points and seemingly didn't miss their star junior signal-caller even a little bit.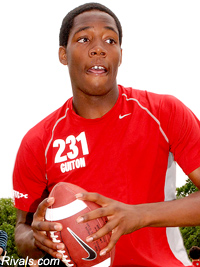 While I watched the Buckeyes lean on Guiton, BuckeyeSports.com staffer Ben Axelrod tweeted that without some quarterback "misses" for the Buckeyes in 2009 — namely Clemson's Tahj Boy and Miami (Ohio) Austin Boucher — Guiton would never have been a Buckeye, and the tweet got me thinking about the nature of recruiting as it pertains to "hits" and "misses." When you miss on a player like Boyd, there's a pang of disappointment and a lot of griping about "Tressel couldn't close," but when you take a chance on a player like Guiton as all other options are seemingly exhausted? That is what truly separates the wheat from the chafe in recruiting and it was something that Jim Tressel and his staff excelled in.
Simply put, it's guys you do land that don't pan out that hurt the program the most, not guys that succeed or struggle elsewhere. As the nation's 35th-ranked "dual threat" quarterback in 2009, Guiton was a reach for the Buckeyes, a player that had only visited one other school — Prairie View A&M — when he made his surprise visit to Ohio State in late January of 2009, a week before signing day. 
A major part of being a "program player," like Guiton knew coming in he was going to be, is the ability to humble yourself and to recognize that whether you never play a down, you're getting an opportunity most high school players can only dream about. Guiton entered Ohio State as the third quarterback on a roster that included the nation's top 2008 recruit in Terrelle Pryor and savvy vet Joe Bauserman. He then gave way to the "next" phenom in Braxton Miller following the 2010 season, yet Guiton never wavered in his commitment to Ohio State and never took for granted any chance he would receive. 
"I am going to come in and take the third string snaps and they say that reps are key with them," Guiton told Rivals.com the day he committed. "I am going to come in and get a lot of reps and a lot of throws in."
That boys and girls, is the type of player and person you hope every single recruit turns out to be. Oh yeah, for comparison's sake, the fifth-ranked dual threat quarterback in 2009? Tate Forcier. 
Moving on to the guys coming into Ohio State next year and beyond...
JONES ANXIOUS TO GET BACK ON THE FIELD
Most Buckeye fans are aware of the season-ending injury to Kyle Berger, the 2014 Buckeye commitment who tore his ACL in St. Ignatius' final preseason scrimmage. Berger is not the only Buckeye commitment who's yet to see the field in his senior season though. Jamarco Jones, the Chicago De La Salle Institute offensive tackle, has been recovering from a torn labrum all summer and is still rehabbing his injured arm. This past weekend he was on the sideline as his teammates were handed a 55-20 defeat, and the sitting out is starting to take it's toll on the 6-foot-5, 300-pound Jones.
"It's getting tough to keep being out," Jones told Eleven Warriors. "Especially because it was hard for us to move the ball and I know I could've made a difference. I mean, I am doing well and getting back into football-related things, which is good."
For Jones, the challenge is not just getting back on the field but also making sure that he doesn't lose his mental edge. He sees this injury and subsequent rehab as a big test, but he believes he will be better off for it.
"I've just been constantly reminding myself that I'll be back soon," Jones said when asked how he's staying positive despite the injury that could cost him much of his senior year. "The harder I work the better I'll be when I do return."
MCLAURIN LEADS THE WAY AS CATHEDRAL IMPROVES TO 2-2
In a back and forth contest, Terry McLaurin's Cathedral teammates scored the game-winning touchdown with less than sixty seconds remaining and improved to 2-2 on their young season in a 37-35 win against Bishop Chatard. The win went a long way towards answering questions about his team's maturity, according to the Buckeye commitment and senior leader for the Irish.
"It's a matter of finishing the game simple as that," McLaurin said when asked what's made the difference between two losses and two wins. "The last two games we have played to the final whistle despite our mistakes. We have fought through them and came out on top and the first two game we hurt ourselves a lot and didn't finish very well."
McLaurin did his part on the field once again, finishing the game with 12 receptions for 72 yards and two scores; he also added a 96-yard kickoff return for a score, showcasing the elite speed and athleticism that led to his Buckeye offer and subsequent commitment. He's not been on campus at Ohio State since Friday Night Lights at the end of July, but McLaurin told Eleven Warriors that he's ready to set up his official visit to Ohio State.
"I'm going to be on campus for the Wisconsin game," he said. "I want to set that up as my official visit so I'll let the coaches know when I talk to them this week. I know Stephen (Collier) and Dame (Webb) will be there that weekend too, we've all been talking about getting there."
Before then, McLaurin and his teammates will make a trip to Cincinnati this upcoming weekend when they face Cincinnati St. Xavier and touted 2015 linebacker recruit Justin Hilliard — who also plans to be at Ohio State for the Wisconsin matchup — and Cathedral is aware of the talent Hilliard possesses.
"We've heard of (Hilliard)," McLaurin added when asked what he knows about St. Xavier. "We've heard he's pretty good and to keep an eye on where he's at."
High School Football Review
| Position | Player | School | Opponent | Comment |
| --- | --- | --- | --- | --- |
| QB | Stephen Collier | Lee County (Ga.) | Albany Westover (Ga.) | Three touchdown passes in 24-6 victory. 14 passing scores this season. |
| WR | Parris Campbell | St. Vincent-St. Mary (Ohio) | Woodridge (Ohio) | Three scores including 48 yard punt return in 49-12 victory. |
| WR | Terry McLaurin | Cathedral (Ind.) | Indianapolis Chatard (Ind.) | Won 37-35 |
| OT | Jamarco Jones | De La Salle (Ill.) | New Lenox Providence Catholic (Ill.) | DNP, lost 55-20. |
| OT | Kyle Trout | Lancaster (Ohio) | Canal Winchester (Ohio) | Won 37-14 |
| OG | Marcelys Jones | Glenville (Ohio) | Cleveland Heights (Ohio) | Glenville won 32-13 in rivalry matchup. |
| OG | Demetrius Knox | All Saints Episcopal (Texas) | Addison Greenhill (Texas) | Won 56-14. |
| DE | Jalyn Holmes | Lake Taylor (Va.) | Amherst County (Va.) | DNP - suspended |
| DE | Dylan Thompson | Montini Catholic (Ill.) | West Chicago Wheaton (Ill.) | Won 56-0, limited action due to big margin of victory. |
| OLB | Kyle Berger | Ignatius (Ohio) | Erie Strong Vincent (Ohio) | DNP (Knee), Won 35-8 |
| OLB | Dante Booker | St. Vincent-St. Mary (Ohio) | Woodridge (Ohio) | Won 49-12 |
| CB | Damon Webb | Cass Tech (Mich.) | Detroit Renaissance (Mich.) | Cass Tech won  |
| S | Malik Hooker | New Castle (Pa.) | Ambridge (Pa.) | Scored rushing touchdown and collected six tackles on defense. |
| ATH | Noah Brown | Pope John XXIII (N.J.) | Randolph (N.J.) | Won 40-28, 22 carries for 210 yards and 3 TDs along with 5 catches  for 70 yards. |
| ATH | Sam Hubbard | Moeller (Ohio) | St. Michael's College (Toronto, Ontario) | Won 64-13, led 42-0 after first quarter and didn't play. 2 PBUs in limited action. |
| ATH | Lonnie Johnson | West Side (Ind.) | Riverside-Brookfield (Ill.) | Won 76-49, multiple scores including an 86-yard TD run that is a new school record. |
| ATH | Curtis Samuel | Erasmus Hall (N.Y.) | Brooklyn Boys & Girls (N.Y.) | Won 20-0, Samuel scored two touchdowns. |
| K | Sean Nuernberger | Oldham County (Ky.) | Crestwood South Oldham (Ky.) | Lost 41-21, 3/4 on FGs (missed 58 yarder wide left) and 4/4 touchbacks. |
| WR | Johnnie Dixon | Dwyer (Fla.) | Palm Beach Gardens (Fla.) | Won 33-0, two catches including a touchdown. |
| TE | Mike Gesicki | Southern Reg (N.J.) | Freehold (N.J.) | Won 26-6, 3 catches for 96 yards and a touchdown. |
| OT | Chad Mavety | Nassau C.C. (N.Y.) | Monroe College (N.Y.) | Won 34-7 |
| OT | Damian Prince | Bishop McNamara (Md.) | Silver Oak Academy (Md.) | Lost 42-0. |
| DT | Thomas Holley | Abraham Lincoln (N.Y.) | Sheepshead Bay (N.Y.) | Won 44-8. |
| ILB | Raekwon McMillan | Liberty County (Ga.) | Johnson (Ga.) | All over the field in another win for Liberty County. |
| S | Erick Smith | Glenville (Ohio) | Cleveland Heights (Ohio) | Hauled in a 61 yard TD pass in last nights 32-13 win over Cleveland Heights. |
| ATH | Marshon Lattimore | Glenville (Ohio) | Cleveland Heights (Ohio) | Lattimore had a big game last night, with 2 TDs offensively as well as an interception in the win. |