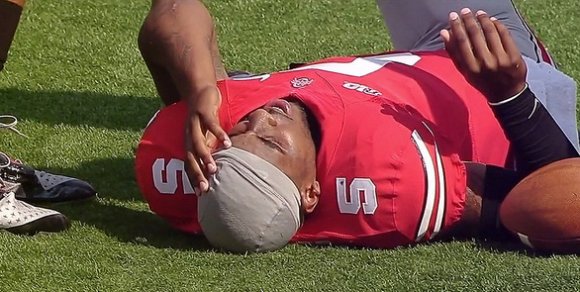 Looking for an upgrade in performance following a season opening win over Buffalo that featured a general lack of intensity, Ohio State again started fast, overcame a knee injury to Braxton Miller and absolutely smothered an over matched San Diego State squad in a 42-7 win. 
Urban Meyer welcomed back Bradley Roby, Rod Smith and C.J. Barnett and the staff was able to empty the bench in a lopsided affair that saw Ohio State rack up 35 points in the 1st half.  
The story of the game was easily Braxton's injury, and the subsequent smooth jazz orchestrated by Kenny Guiton but more on that in a bit. 
The win improves Ohio State to 2-0 on the young season, a week before they head to Berkeley to take on the California Golden Bears but before we turn our attention to the tree huggers out west, let's take a last look at Five Things that stood out in the dominating win over the Aztecs. 
CORNERING THE MARKET
With Bradley Roby back in the fold alongside first year full-time starter Doran Grant, the Buckeyes appear to have one of the more formidable corner tandems they've rolled out there in recent years. 
Obviously, it's way too early to know exactly how good Grant will be over the course of the season but the early returns are impressive and we already know Roby is a legit #1 corner on any team in America.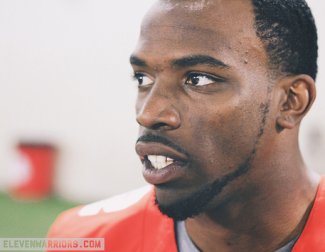 Yesterday, the combo combined for eight tackles, three pass breakups and an interception. In the 1st half alone, the pair helped limit SDSU passers to a combined 9/20 through the air for a meager 72 yards with an INT. 
It will likely be a rare event that Roby's game stats jump off the page simply because opposing teams will avoid throwing in his direction but he did make a nice play on the Aztecs' third possession of the game, blanketing Tim Vizzi on 3rd and 8 to force a punt. Later, on SDSU's last possession of the half, Roby came up big on 2nd and Goal from the OSU 9-yard line with a big hit on Colin Lockett at the 3-yard line. Grant took it from there, likely making Aaron Craft squeal, using textbook form to break up a slant in the end zone intended Ezell Ruffin to end the half. 
Doran's interception came gift-wrapped from Curtis Grant who drilled Adam Dingwell just as he let go of the ball, giving the Buckeyes possession at the SDSU 45-yard line. 
Beyond Grant's cover skills, he has also shown himself to be a sure tackler and someone committed to his craft. In fact, I didn't realize this but his OSU bio notes he was one of two Buckeye skill players to be awarded the Iron Buckeye Award last winter, given to the "student-athlete(s) who best exemplifies unquestionable physical training dedication, determination, discipline, toughness and leadership".
With Grant doing his part on a starting secondary loaded with experience at the opposite corner and both safety spots, the green front seven is poised to enjoy a legit security blanket as they evolve throughout the season. 
KENNY GUISMAN
After Braxton went down with a knee injury on the Ohio State's 7th play from scrimmage, the Buckeye offense again turned to the smooth jazz courtesy of backup quarterback Kenny Guiton. 
The unflappable senior captain took over the controls and produced 235 total yards and three touchdowns in the most extensive single-game action he's seen during his time in Columbus, nearly breaking Twitter in the process. The 235 total yards eclipsed the 224 yards he'd racked up in his career before yesterday's game.
Guiton completed 19/28 throws for 158 yards with two touchdowns and one interception along with another 83 yards on the ground including a 44-yard touchdown run.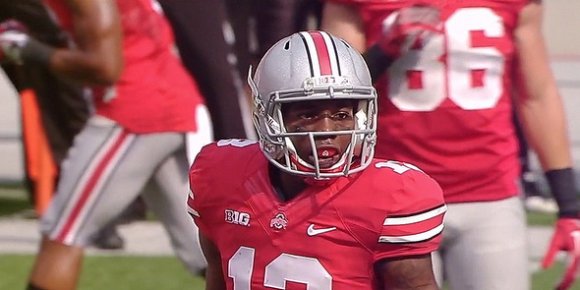 As Meyer noted after the game, Guiton doesn't possess crazy arm strength and isn't all that fast but he's a born leader that relishes his role on the team and while he's no Braxton from a skill-set perspective, the kid is pretty damn good at playing within himself and executing the offense. 
His interception was a perfect illustration of what he isn't – a strong downfield passer – but his strengths are notable. Without question, he runs the option and zone read plays better than Miller despite significantly less reps and his presence in the huddle and on the sidelines post-possession is also starter-esque. 
His option pitch to Jordan Hall on Ohio State's last possession of the half was a thing of beauty. On 2nd and 12 from the SDSU 26, Guiton shuffled left, made the end commit, and pitched to Hall in stride triggering a 25-yard burst to set up a touchdown and a 35-0 lead. 
Through the air, he found Philly Brown twice for six with a pair of strong, well-placed throws into decent coverage. 
The first, a 27-yarder on his first full possession of the afternoon, found Philly streaking down the left sideline as Guiton calmly stepped into his throw knowing he would take a strong hit from a blitzing linebacker just as he released a perfect spiral for six. 
The second, a 24-yarder on Ohio State's 2nd possession after halftime, was a thing of beauty as he split two defenders with another perfectly lofted football that only Brown had a chance to catch. 
It was a truly an outstanding performance by a truly outstanding kid. 
MR. HANKY
After piling up nine penalties for 94 yards in last week's sloppy win over Buffalo, the Buckeyes were at it again, totaling eight flags for 75 yards. 
The offense was particularly awful, accounting for seven infractions, while the eighth was committed by an offensive player, Jordan Hall, when he foolishly roughed the SDSU punter as his punt block angle left him no choice but to barrel into a prone Joel Alesi.
Starting right guard Marcus Hall was abysmal, totaling four flags with three false starts and a 15-yard hands to the face. 
His opening false start put the offense into a 3rd and 10 situation and they were unable to convert. 
On Ohio State's opening possession of the 2nd half, easily their worst series of the day, Hall and Chris Fields (two flags on the day) teamed up to back the Bucks up 30 yards on successive plays. 
Fields wiped out a 9-yard run on 1st and 10 by Ezekiel Elliott with a facemask penalty and Hall erased an 8-yard completion to Evan Spencer with the hands to the face infraction. Their combined derps became contagious as the next two plays saw Philly and Smith drop passes to euthanize the possession. 
Left guard Andrew Norwell also had a false start on the day, giving the seasoned offensive line four such miscues on the afternoon. 
Meyer can't be pleased with 17 total flags in two weeks though it was nice to see the Bullets charged with zero accepted penalties on the day. 
A FINE LINE
It's always important to keep perspective when playing against inferior opponents but I liked what I saw from the refurbished defensive line. 
The group helped hold SDSU to a combined -4 yards on their first five possessions which totaled just 13 plays. In fact, the Aztecs totaled just 99 yards of offense in the opening half and were held to 1/9 on 3rd down conversions (3/16 for the game). 
Michael Bennett and reserve DE Steve Miller, playing in place of injured Adolphus Washington, were the standouts up front. 
Miller came up big on back to back possessions in the 1st half, picking up a sack on 3rd and 19 to force a punt then dropping into coverage on the ensuing SDSU "drive", stopping receiver Lockett for a 2-yard gain on 3rd and 3 to force another punt.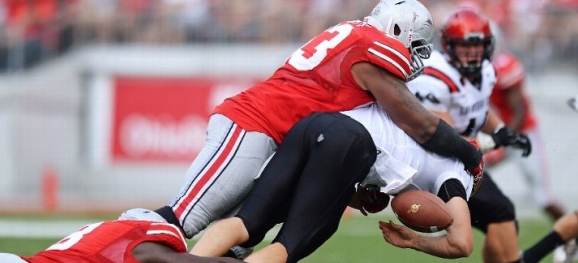 Bennett played one of his best games as Buckeye. He single-handedly blew up SDSU's next-to-last possession of the half beating his man with a spectacular spin move before forcing and recovering a fumble as he blasted QB Quinn Kaehler for a 10-yard loss and turnover. Rod Smith scored three plays later to make it 35-0 good guys. 
On the Aztecs' first possession of the 2nd half, Bennett was at it again, overwhelming his blocker on a 2nd and 6 before leveling RB Chase Price for a 4-yard loss. SDSU would put two plays later.
True freshman Joey Bosa also had another solid outing putting pressure on the quarterback up the middle and Noah Spence added 0.5 sacks and a hurry. 
Again, it was a joke of an offense they faced but it looks like the Buckeyes have at least four top-level guys in Washington, Bennett, Bosa and Spence with guys like Miller, Chris Carter, Joel Hale and true freshman Michael Hill adding rotational depth. 
DIRECTOR'S CUT
Excepting the precious few dinosaurs that say things simply for shock value, even Meyer's biggest detractors typically recognize him as the 2nd most dominant college head coach behind Tusca-Lucifer himself. 
He's earned such props mostly by way of winning two national titles, showing impressive creativity as an offensive mind and recruiting the pants off virtually everyone else in the sport. 
One of the more subtle things I'm growing to love about Meyer is how he uses games to get things on film that opposing coaches must spend time preparing for down the line. 
Ohio State 42, SDSU 7
In game one, Meyer employed a flex formations as the Buckeyes converted a pair of unconventional two-point conversions. Opposing coaches are now forced to spend time on at practice. 
Yesterday, Meyer put two more things on film that must be accounted for. First, he used that quad/bunch wide receiver formation split right, with another receiver split wide, creating space for Guiton to peel off his 44-yard touchdown jaunt. No question, teams will need to spend a few minutes scheming against that look knowing additional plays could emerge from that set – or worse, yet: Braxton Miller could be the quarterback running out of it. 
Meyer also rolled punter Cameron Johnston before a couple punts yesterday and with the kid's athleticism, opposing coaches will need to invest time in thinking of how Urban could take put said skills to use on fakes.
You have to love how Meyer trolls the conference coaches as he plows through the non-conference slate. (I do wish he'd stop trolling Bri'onte Dunn so hard though)